Even without its traditional headphone jack, the iPhone 7 is still selling out. Google just introduced the Pixel to great fanfare. And Samsung… well, it's on fire too, but for other reasons.
The South Korean smartphone maker has been delivering replacement Galaxy Note 7 devices to consumers following an exploding battery issue, but it may still have a problem.
Related: Feds Recall 1 Million Overheating Samsung Galaxy Note 7s
Smoke was reported in the cabin of a Southwest Airlines plane while it was parked at a gate in Louisville Wednesday morning. The culprit, according to reports, was a replacement Galaxy Note 7.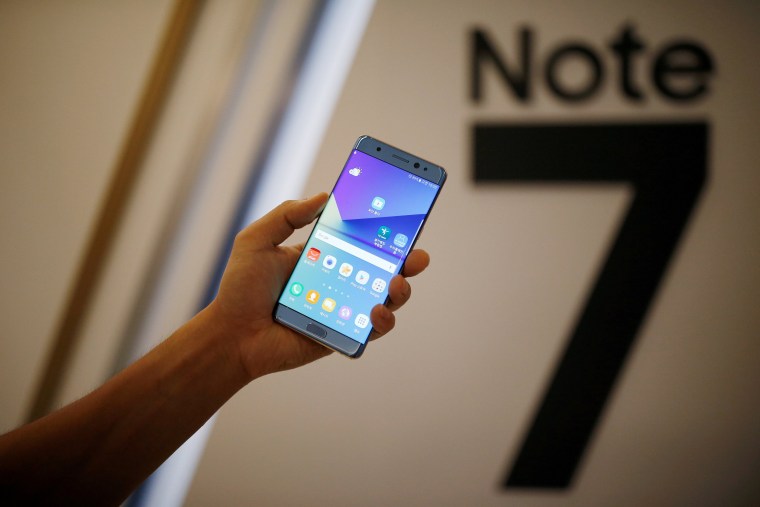 Samsung told NBC News in a statement, "Until we are able to retrieve the device, we cannot confirm that this incident involves the new Note 7. We are working with the authorities and Southwest now to recover the device and confirm the cause. Once we have examined the device we will have more information to share."
If confirmed to be a new Galaxy Note 7, the latest incident would be a blow to Samsung, Patrick Moorhead, an analyst at Moor Insights & Strategy, told NBC News. However, Moorhead said he doesn't think it would be a death knell for the company's mobile business.
"Let's say it's true. Samsung would have to regain the trust of consumers. I could see them very quickly moving away from the Note 7 and accelerating the Note 8," Moorhead said. "But we also can not forget they have a full line of other phones that don't have any reported issues."
The hot phone issue has been fodder on Twitter since the issue came to light shortly after Samsung released the device in August — spurring jokes, but also the question of who would still choose a Galaxy Note 7.
The answer, it turns out, is a lot of people. Samsung said 90 percent of Galaxy Note 7 owners have chosen to receive a new Galaxy Note 7 since the replacement phones became available on September 21.
Samsung also reported that about half of all recalled phones in the United States had been exchanged through a voluntary recall.
"I look at the recalls and safety issues with major auto manufacturers that have killed people," Moorhead said. "What we have learned in the auto industry is this is not a death blow by a long shot. Once they definitively see what happens, these things blow over in a few months."
The Consumer Product Safety Commission announced a recall of 1 million Samsung Galaxy Note 7 smartphones last month, calling the devices "serious fire and burn hazards."
The official recall came after nearly a month of turmoil for Samsung's new flagship device, which has been blamed for at least 92 incidents in the United States, according to a CPSC recall notice. Among those incidents were 26 reports of burns and 55 reports of property damage caused by fires in cars and a garage, the CPSC said.