Swipe right on... a sperm donor? An egg donor? Match up with a local surrogate or prospective co-parent? The new app Just A Baby is like Tinder on prenatal steroids. Its purpose is to bring people together solely based on their desire to make a baby.
Developed by two Australians — Paul Ryan and Gerard Edwards — Just A Baby launched in the U.K. and U.S. on Monday, following a soft launch in Sydney.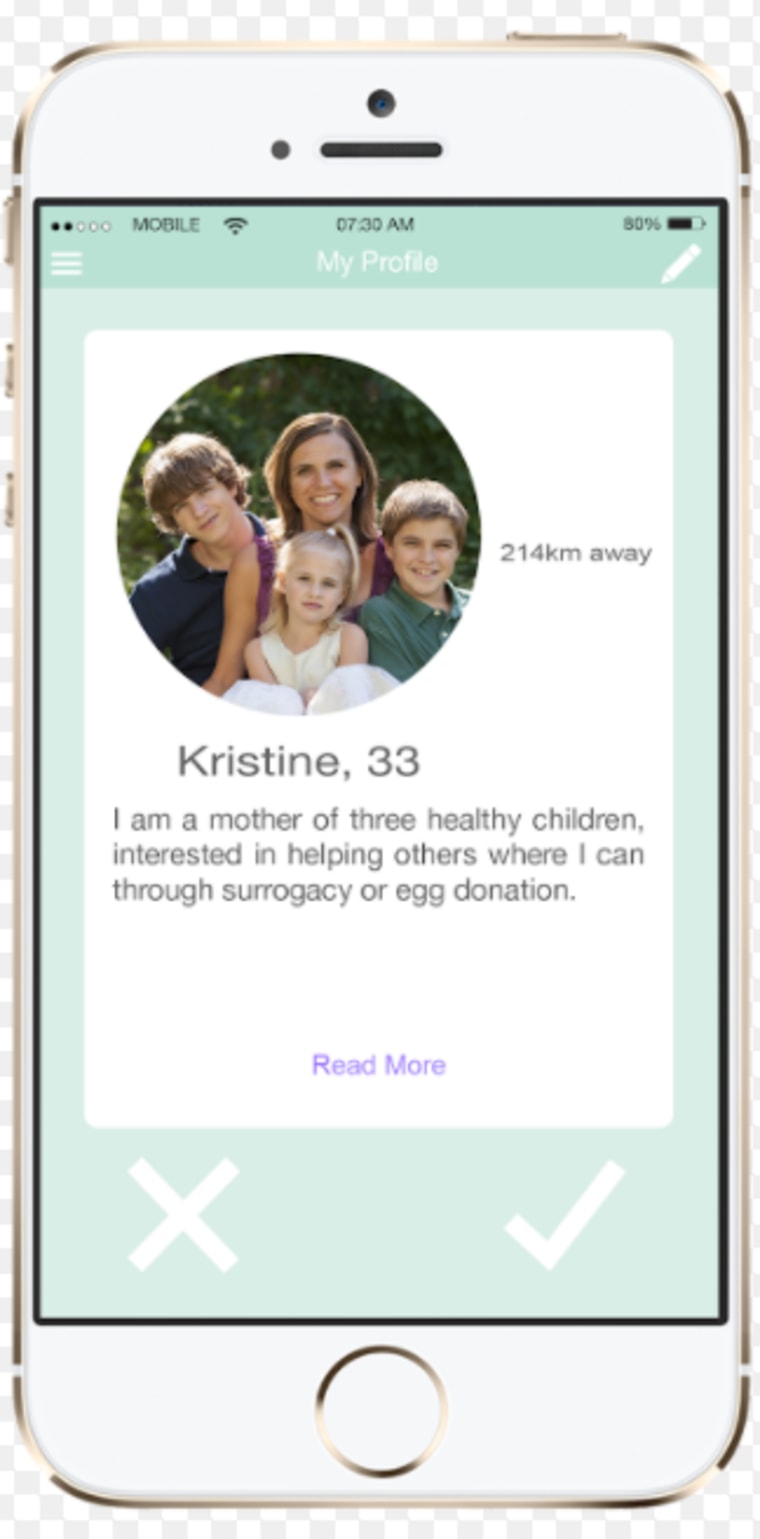 "We had a good response, [acquiring] about 3,000 to 4,000 people over the past couple months," Ryan told NBC News. "They're matching up and sharing great stories about starting families."
Users fill out a "biological profile" on the app, citing what it is they need or what it is they can provide, whether it's sperm or egg donations, surrogacy, co-parenting, or even good old-fashioned partnering. You can find people locally, as the app is GPS-enabled, but you can also zoom out and get a global view of what is out there. In an effort to keep the app "agnostic," Ryan said it doesn't invite users to give details on their race or body type, like a dating app might.
"Some people request that information, which is fine, but we want to get away from that catalog feeling you get at a sperm bank," said Ryan. "This is warmer, more human. Once you make it to that first stepping stone of going into a community and seeing who is out there, you can find the right person and move forward."
Humanizing Alternative Methods
A main mission of the app, as Ryan sees it, is to bring a personable, community vibe to the world of non-traditional biological conception, one that can often feel coldly clinical.
Ryan, 37, also thought it could cater to millennials who may be less inclined to settle down than previous generations, but still want to experience parenthood, no matter their relationship status.
"Millennials are often in this space where they're transient, their relationships don't last as long, and they're putting off having kids," said Ryan. "I noticed so much anxiety among my friends, and thought, 'Why not rid the stigma around trying alternative approaches, and make an app?'"
And so Just A Baby was, well, born. Free to install and use, its business model is, Ryan says, "under development," with the main goal of its makers now to just get it out into the world, and perfect for its users.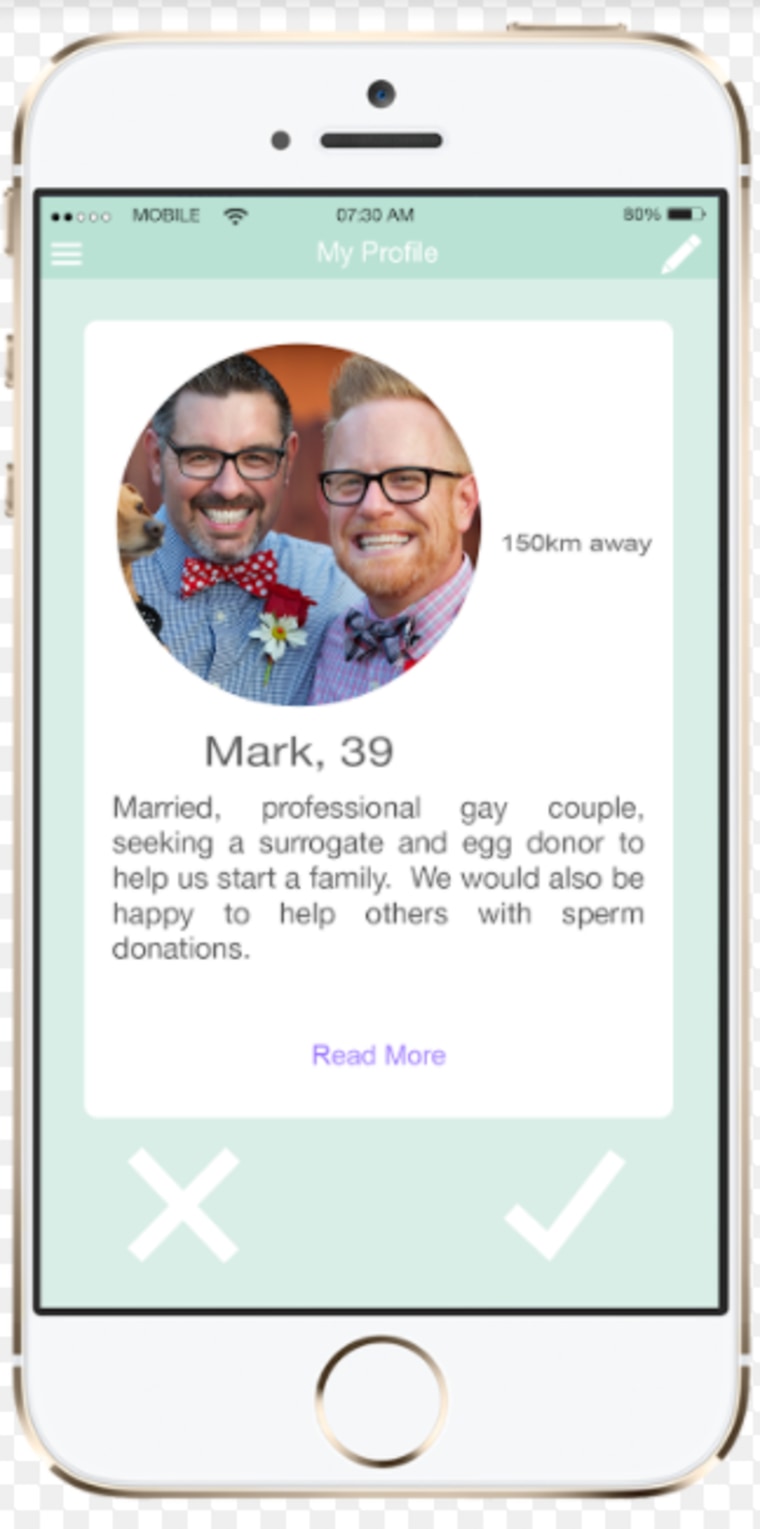 The Problem: It's Not 'Just' a Baby
Ryan is quick to assert that if two parties decide to try and make a baby upon meeting through the app, they should go through all the legal and medical channels necessary to have the healthiest arrangement. While it's strongly recommended, the app doesn't provide any of those services, so people are pretty much on their own when it comes to sorting out the nitty-gritty details.
One has to wonder if this app couldn't lead to some bad situations — like, Lifetime movie bad. Any social app can attract a psychopath — and for years many people avoided online dating out of the fear that Mr. Perfect online was Mr. Serial Killer in real life. And those fears could persist with Just a Baby. Could people be taken advantage of? Led on? Lied to? Or, to look at from the other side, what if you signed up thinking you wanted a baby, matched up with someone who desperately wanted your service, but then decided you weren't up for it? The stakes are so much higher than they are in dating.
Yet the app's mere name seems to suggest that having a baby really isn't all that big a deal, which draws criticism from some.
"There's no such thing as just a baby," said Dr. Aimee Eyvazzadeh, a fertility specialist. "From my perspective, pregnancy is the most important journey in someone's life."
And while Just A Baby could make procreation more feasible for individuals who need assistance, that whole warm, community vibe factor could actually make things more complicated than desired.
"When you're dealing with human beings, you're dealing with their extended families, and possible future families, and relationship dynamics get involved," said Eyvazzadeh. "That's where [this app] is more like 'Just A Baby, And Then All The Possible Complications That Could Go With It.'"
Relationship expert April Masini wonders if it couldn't pave the way to some nightmarish legal situations.
"If you think sex is intimate and causes fireworks when a hot relationship ends, take a stroll through family court and watch custody battles unravel," Masini told NBC News.
Dating coach Nancy Koenig points out that mismatches on dating apps are far more common than success stories. "If those same stats apply to co-parenting matches, I hope the next app these guys develop is to connect the kids with their ideal therapists."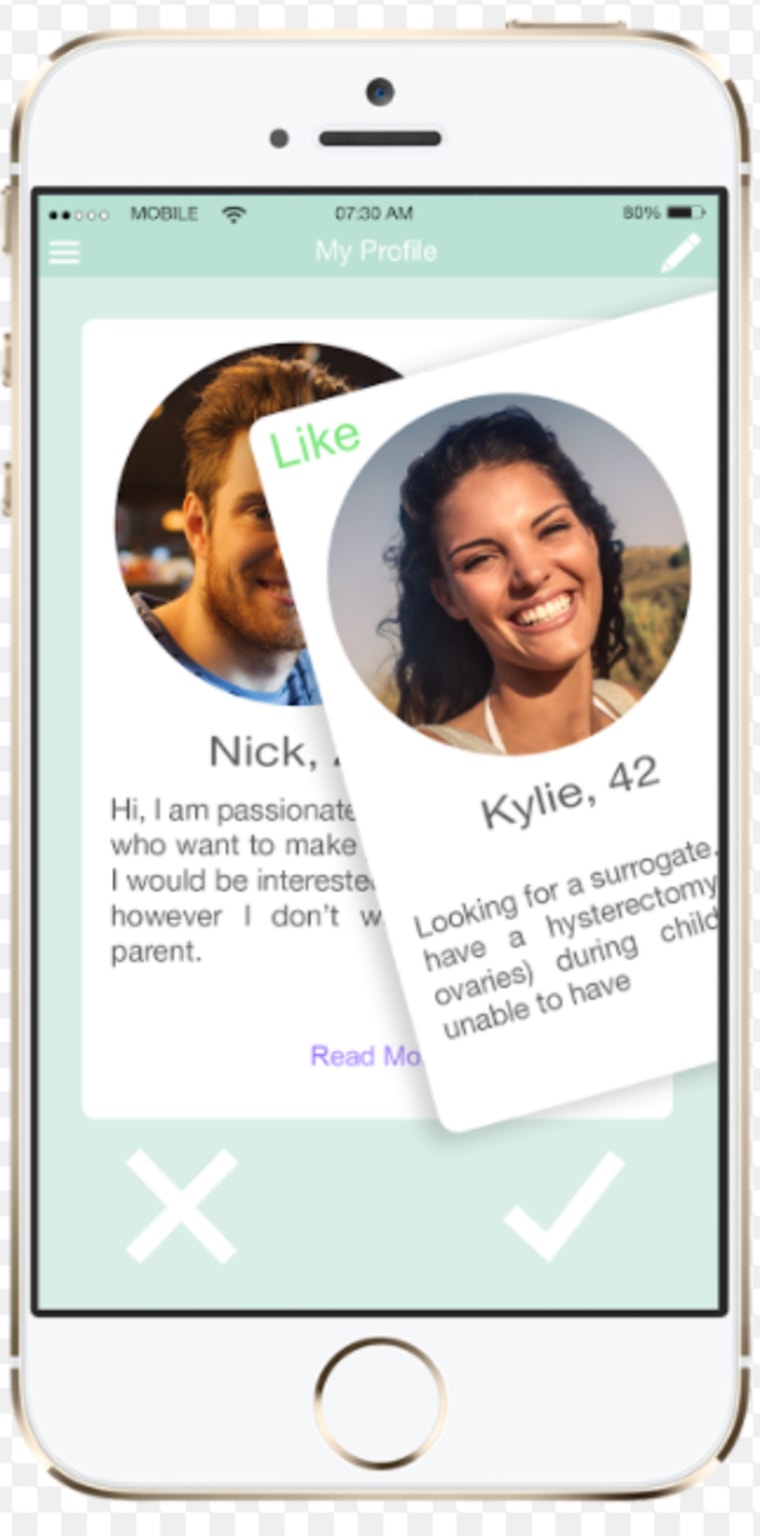 Cons Abound, But Pros Exist
Ryan notes that the divorce rate in the U.S is around 50 percent, suggesting that even the most traditionally moralistic arrangements are risky business. This app may bring more grey area than guarantee, but Ryan's perceived need for it is on point, at least for some.
Valerie Landis, a 34 year-old woman who works in medical sales, loves the idea of Just A Baby. And she's had some experience in the realm of alternative baby-planning: She's about to freeze her eggs for the second time.
"I think Just A Baby is a great idea," said Landis. "I believe social media has ruined dating: It's a hook-up culture and no one gets to know each other long enough to know if they would be suitable partners beyond the romantic sense. Oftentimes I'd go on meaningless dates, get stood up, blown off, or ghosted. How will those odds ever lead to a successful marriage or kids? Likely it won't. And it's rather exhausting."
As for the casual manner of looking for a potential co-parent or donor? Landis finds it refreshing.
"I want to swipe and see adult/baby photos of sperm donors so I could find one much easier," said Landis, adding she'd also like to "keep track of ones I like as I look for my match."
Jeremy Pozensky, a Los Angeles-based animator who, at 40, decided rather reluctantly to give dating apps like Tinder and Bumble a try, wonders if it isn't too soon for an app like Just A Baby.
"I admit I'm somewhat old-fashioned and I still question whether online dating can be as authentic or genuine as meeting someone in real life," Pozensky said. "This is definitely not an app I'd use, for many reasons, and I think a lot of people may feel that way — at least right now. In five or 10 years it could be not that weird, just like online dating has become not that weird."
Whether it's the right time or not, it's here, "just in time for Mother's Day," notes Ryan.