Tap a button on your smartphone and ride-sharing giant Uber will have a vehicle waiting at your door within a matter of minutes. But in the near future, Uber officials revealed during a Dallas summit meeting on Tuesday, the ride they send your way soon might have wings.
Flying cars have long been the stuff of science fiction, though it's a fantasy that confounded even Henry Ford, a pioneer of both the automotive and aerospace industries. But now, the idea seems poised to take off.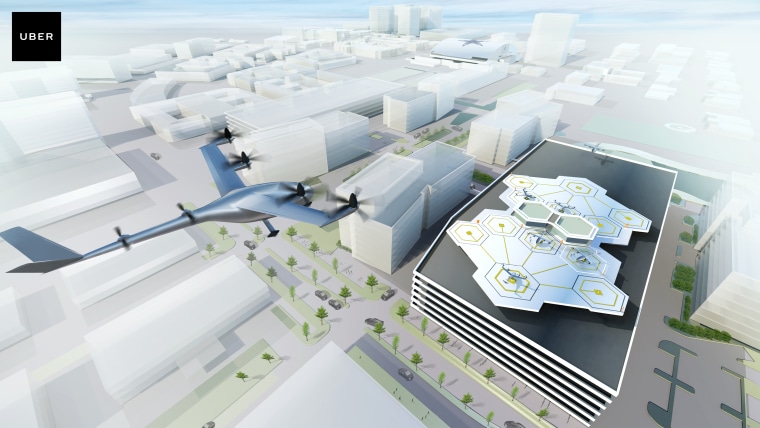 Uber is just one of a number of companies looking into the potential for flying taxi services, along with start-ups like Munich's Lilium and aerospace giant Airbus. Meanwhile, after years of delays and setbacks, a handful of firms have announced plans to begin taking orders on vehicles that can operate on both the ground and in the air.
That includes a Slovakian start-up that showed off its AeroMobil Flying Car at the annual Top Marques Monaco, the elegant principality's annual showcase of all manner of luxury goods, last week. Company officials announced they were ready to take pre-orders for the five-seater which is expected to carry a price tag of somewhere between $1.3 million to $1.6 million once deliveries begin by 2020.
Looking like it rolled off the set of a sci-fi flick, the Flying Car's wings can be opened or folded up in a matter of minutes, depending upon whether the vehicle was going to fly or drive. On the ground, AeroMobil claims its craft will top out at 100 mph and travel up to 434 miles between fill-ups. In the air, range jumps to 466 miles, with a top speed of 223 mph.
The AeroMobil Flying Car was actually one of two such crafts on display in Monaco, a Dutch start-up also exhibiting its three-wheeled PAL-V, which it claims to be "the first certified commercial flying car ever." At a more affordable $400,000 to $600,000, the PAL-V looks more like the offspring of a three-wheel motorcycle and a gyrocopter and will hit 112 mph in the air and travel up to 310 miles on a tank of fuel.
The downside of these and other flying cars now under development — such as the Terrafugia Transition, developed by a group of MIT alums — is that they will require operators to hold drivers and pilots licenses.
Uber expects to avoid that costly and time-consuming hassle with its proposed Uber Elevate Service.
Takeoff by 2020?
The San Francisco-based firm says it has already lined up a promising list of partners, including the cities of Dallas and Dubai — the latter hoping to have a pilot test ready to take place in time for its 2020 World Expo.
"Urban aviation is a natural next step for Uber," chief product officer Jeff Holden said ahead of the opening of the three-day Elevate Summit in Dallas. "That's why we're working to make 'Push a button, get a flight' a reality."
Uber says it also has five aircraft partners on tap, including Brazil's Embraer, best known for its widely used regional jets, as well as Bell Helicopter. Uber officials say their "flight on demand" service could ultimately make use of a wide variety of different aircraft. Most would likely be vertical take-off-and-landing, or VTOL, craft that could lift directly into the air and then fly more like conventional airplanes, switching back to VTOL mode to drop a passenger off.
Among the manufacturers exploring that option is aero giant Airbus, the European manufacturer recently releasing an animation of a concept it calls Vahana.
Developed in cooperation with Italdesign, it relies on modular components, including a four-rotor drone unit that would attach to the top of a passenger car's cabin. The vehicle's wheels and chassis would be left behind as the aircraft flew to its destination. There it would mount on a new chassis, the drone portion separating for use with another flyer, while the now-wheeled vehicle would drive to its final destination.
Munich-based start-up Lilium has already run test flights of a drone-like craft that would lift off and hover before extending its wings and then flying like a more conventional aircraft. The company plans to boost the capacity of that prototype from two seats to five and claims it will be able to travel up to 190 miles at a speed of 190 mph.
Related: A Look Inside the Heart of Uber
"We have solved some of the toughest engineering challenges in aviation to get to this point," said Lilium Chief Executive Daniel Wiegand in a recent statement.
With its well-established ride-sharing service now operating in nearly 600 cities around the world, Uber could have a wing up on competitors interested in establishing a flight-on-demand service. And with a market capitalization of around $70 billion, it has plenty of capital — some of which it is already using to fund development of autonomous and fully driverless vehicles.
Focusing on Other Issues
On the other hand, Uber has had plenty of problems of late, including allegations of sexual harassment and technical issues with its self-driving vehicles, that could be major distractions.
More broadly, the idea of filling the skies with flying cars and cabs might sound appealing — and it has become a staple of sci-fi films like "Blade Runner" and "Star Wars" — but there are a number of challenges that would have to be overcome, beyond the ability to get those vehicles off the ground. The current air traffic control system struggles with the load of aircraft in the skies today. Adding thousands, perhaps hundreds of thousands, more small craft would require some serious infrastructural updates.
But the prospect of adding that third dimension to urban travel, especially at a time when roadways around the world are increasingly overcrowded, could give the idea of flying cars and cabs the added momentum needed to finally take off.