There are now more Internet-connected devices, such as smartphones, tablets and gaming consoles, in the U.S. than there are people: 425 million gadgets in homes, according to The NPD Group.
While laptop and desktop computers remain the primary way for Americans to go online from home, these other means are "diminishing the computer's relevance" to the Internet, said John Buffone, NPD's director of device research for Connected Intelligence, in a report.
The "shared screen" experience — streaming a movie or photos from your smartphone or tablet to the TV — is expected to be used by more Americans in 2013, he said. 

"Smaller screens such as the smartphone have the greatest reach now with an estimated 133 million users, with tablets contributing another 31.8 million screens."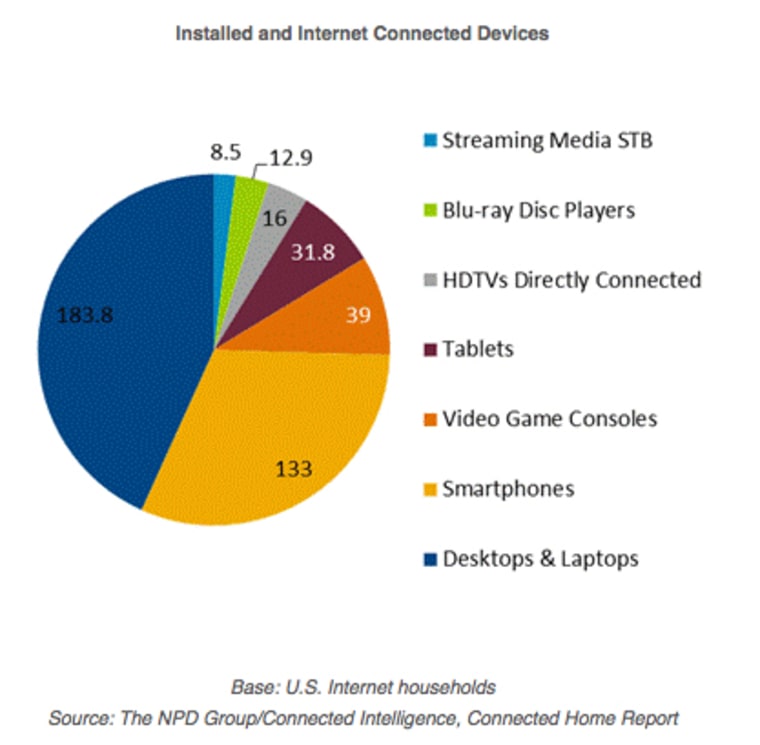 There are 311.5 million Americans, and many of them have a growing appetite for such screen-sharing. But using the TV itself as an Internet device has yet to catch on, in part because consumers haven't much wanted to fiddle with them (many of us view the TV as simple a great couch potato device only, no work, please). Manufacturers at the Consumer Electronics Show next week plan to make a stronger case for them this year.
Buffone says that through this year, "multi-screen and multi-device synergy will lead the growth in the broader connected device market, but only if services consumers desire are delivered in a simplistic manner."
The NPD Group based its findings on a survey of more than 4,000 U.S. consumers over age 18 in the fourth quarter of 2012.  Routers, modems mobile hot spots and pay TV set-top boxes were not included as Internet-connected products, nor were e-readers because of the "limited content" they offer in terms of a true Internet device.
Check out Technology, GadgetBox, Digital Life and InGame on Facebook, and on Twitter, follow Suzanne Choney.