Google is officially in the drone business. On Monday, the search giant agreed to buy Titan Aerospace, a company that makes solar-powered unmanned aerial vehicles.
Last month, it was Facebook that was supposedly interested in snapping up Titan Aerospace for $60 million, but the deal never went through. Instead, Facebook bought U.K.-based aerospace company Ascenta for $20 million. We look at why two of the world's largest tech companies are competing over drones.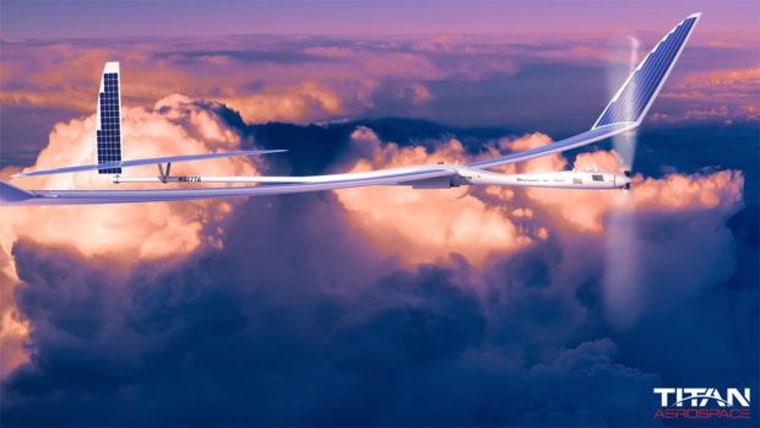 Why drones?
Currently, nearly two-thirds of the world's population does not have Internet access. That is a lot of people who can't browse through Facebook profiles or do a Google search.
Facebook's solution to the problem? The company's Connectivity Lab plans to "build drones, satellites and lasers to deliver the Internet to everyone," according to blog post from company CEO Mark Zuckerberg.
Google seems to have the same idea, telling NBC News through a written statement that "atmospheric satellites could help bring Internet access to millions of people." The company plans to pair the drones with the Internet-beaming balloons of Project Loon.
What is Titan Aerospace?
The New Mexico-based startup makes drones that fly at an altitude of 65,000 feet — high above commercial airplanes, which usually cruise at 35,000 feet to 39,000 feet above sea level. Titan Aerospace claims that its two solar-powered models, the Solara 50 and Solara 60, can fly for years without having to come down, providing the same coverage as 100 cellphone towers.
What else will Google do with these things?
Google has not divulged much about the deal, including how much it spent for Titan Aerospace, but the Solara drones do boast the ability to provide high-quality images of the Earth in real-time. That means they could provide lots of valuable content for Google Maps. A company said in a statement that the drones could also help with "disaster relief and environmental damage like deforestation."
Has Google created SkyNet from the "Terminator" movies?
Not yet! But considering the company's purchase of eerily realistic robot-maker Boston Dynamics, a fleet of perpetually flying drones feeding Google live data is a pretty good start.