Having conquered mobile gaming with its series of adorable and surprisingly complex puzzle games , Rovio Entertainment is aiming its slingshot ever higher with new "Angry Birds" adventures. The latest, "Angry Birds Go!," is set to snag the gold medal away from Nintendo's "Mario Kart" — the undisputed king of cute characters racing buggies.
At face value, Rovio is hitting all of the right notes: While Nintendo stubbornly refuses to release any of its beloved titles outside its proprietary hardware (the mobile 3DS and 2DS systems and the Wii U console), Rovio remains mobile first with games you can play on your phone you already own. The new game features the colorful assortment of playable critters, all the enraged fowl and dastardly pigs we know and love. And for the studio's first attempt to expand "Angry Birds" beyond its roots as a two-dimensional, side-scrolling game into fully-realized polygonal 3D, "Go!" looks gorgeous and runs smoothly on the iPad Mini we used to play the game.
There's only one problem: It's a free-to-play game, which means that you download and begin playing the game for a while before the app asks you to spend a few bucks here or there. This is not unique to "Go!" — almost every "Angry Birds" game has had some type of free-to-play version. But unlike its acclaimed predecessors, "Angry Birds Go!" asks for money at every turn.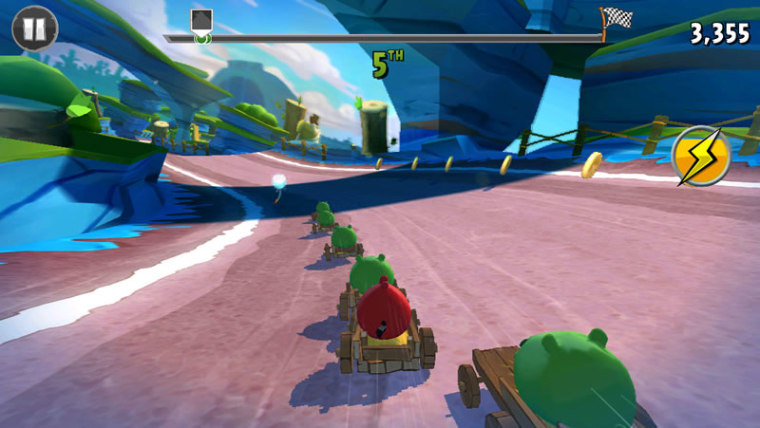 "Angry Birds Go!" gameplay revolves around driving different cars and deploying a number of cartoonish power-ups to help you go faster or outwit opponents. The pink bird, for instance, has a special ability to blow giant bubbles that act as large bumpers to slow down the cars behind her. The iconic red bird, meanwhile, has a booster pack that speeds up the car for a short period of time. And there's a plethora of different vehicles available, each with unique statistics for things like speed and handling that can be upgraded with gold coins.
If you've ever been stuck on a level of "Candy Crush" and felt that overpowering urge to spend a few bucks on some extra turns, you can probably see where this is going. Everything in "Angry Birds Go!" can be customized, and those customizations cost a chunk of change. But it doesn't stop there: In order to play new levels, you must upgrade your automobile (i.e., spent enough gold on them) to a certain level. Just playing the levels, meanwhile, expends tokens that are assigned to each of the birds. When those run out, you either have to spend more crystals to "recharge" your bird's energy or wait for the fowl to recuperate on its own. The gold coins you gather for racing in challenges run out fairly quickly, so the pressure to spend more money is felt constantly throughout the game. 
Pro Tip for Parents: Be advised, an in-app purchase of a new kart can run up to $50 and the "best value" bundle of gems is $100.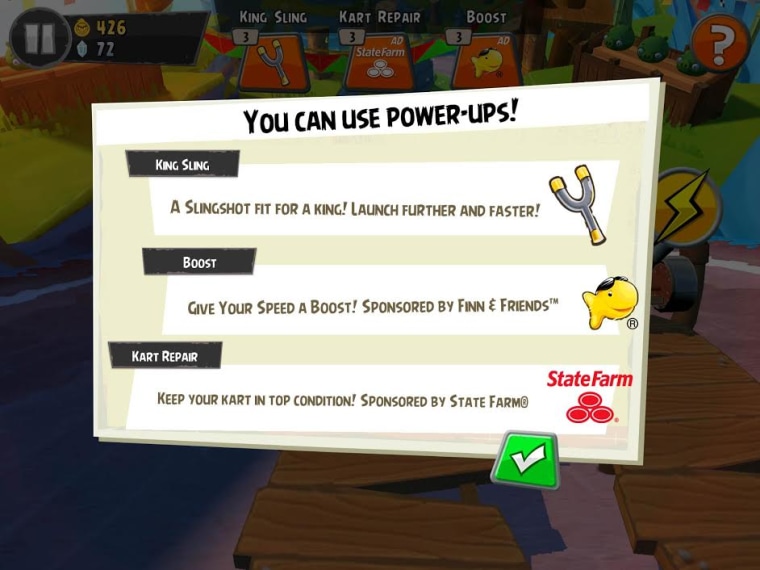 And that's not to mention the other kinds of merchandise that "Angry Birds Go!" wants you to buy. Like "Angry Birds Star Wars 2," which was also released this year, "Go!" was made in partnership with Hasbro, so there's a number of real-world toys into the mix. While the action figures (in this case, they're like tiny "Angry Birds"-themed versions of Hot Wheels) can be scanned into the game via their QR codes, this is more of a merchandising ploy than a creative endeavor to merge toys with video games since the two don't really interact with each other. While it's much cheaper than an excellent toy-gaming hybrid like "Skylanders: Swap Force," (with accompanying toys which run up to $100), Hasbro's "Telepod" technology isn't nearly as sophisticated either. The $10 toys in "Angry Birds Go!" are cute, but they're still just another purchase for players to "unlock" more content.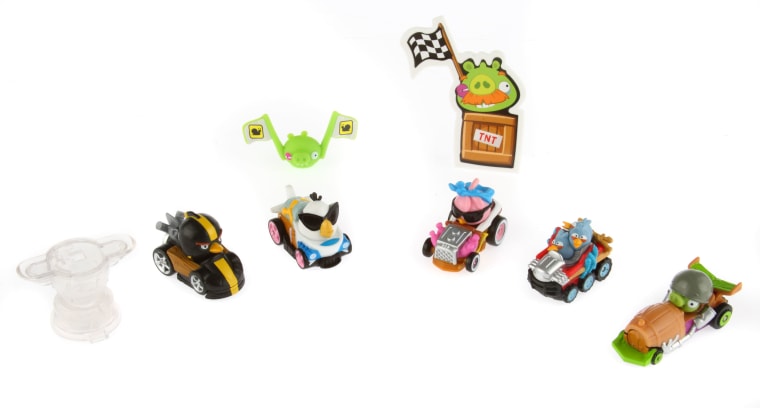 You'd hope that a developer that's created one of the most successful franchises in recent history wouldn't bother with monetizing every single portion of the "Angry Birds" experience. But even the power-ups in this game come with advertisements — one for State Farm! "Angry Birds Go!" is the unfortunate kind of work that, to borrow Wired's phrasing, feels more like "a perpetual motion money machine" than a real game. If you'd rather play something fun than sit through a virtual timeshare presentation during your morning commute, just pick up "Angry Birds Star Wars 2" instead. 
Yannick LeJacq is a contributing writer for NBC News who has also covered technology and games for Kill Screen, The Wall Street Journal and The Atlantic. You can follow him on Twitter at @YannickLeJacq and reach him by email at: Yannick.LeJacq@nbcuni.com.