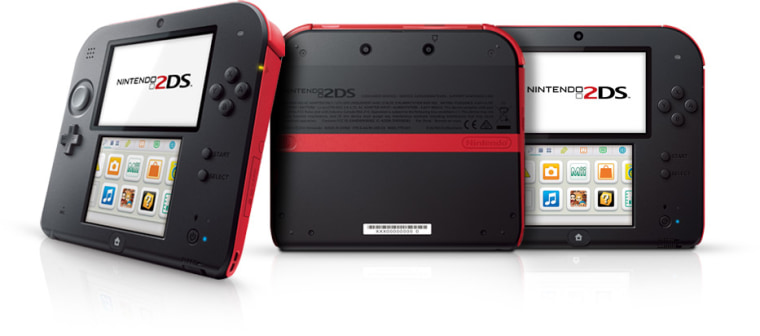 When Nintendo unveiled the 2DS, a new lower-priced member of its celebrated line of DS mobile gaming consoles, fans met the news with characteristic excitement. But for market watchers, the 2DS seemed like a peculiar answer to a persistent problem. The Wii U hasn't been selling very well, Nintendo admits, and the marketplace for mobile gaming devices has steadily shrunk as the one for other mobile products has exploded. Whether or not fans want the 2DS, is it what Nintendo needs to set itself back on the right course again?
"I think the 2DS is brilliant," Michael Pachter, an analyst at Wedbush Securities told NBC News. Pachter is one Nintendo's most vocal critics — he called the Wii U a "failure" and said Nintendo CEO Satoru Iwata "sucks." So it's surprising to hear him sound such a positive note.
Yet Pachter insists that Nintendo can't really go wrong with the 2DS, chopping 3DS bells and whistles — the stereoscopic 3-D effects and a bendable hinge for its two-screen display —  giving it a more affordable price ($129 vs. $169) in the process.
"It's going to lift sales," he said. "It just is!"
Other analysts like Piers Harding-Rolls of IHS Electronics and Media and Lewis Ward of IDC's gaming division, agree. Both told NBC News that Nintendo is essentially going down market to snag a new group of customers — prospective buyers, mostly young children or their parents turned off either by the price of the 3DS or the scary-sounding labels that warn about its potential to cause seizures. In the process Nintendo can then up-sell the 3DS as a "premium" counterpart to the new device, thus hitting the mobile gaming market with a sort of one-two punch.
"The 2DS launch removes the pricing pressure on the higher-end 3DS and gives the company a path to up-sell from 2DS to 3DS, with both the hinged form factor and 3D as a selling point," Harding-Rolls of IHS told NBC News.
This is how Nintendo itself sees the new product. The new console is "designed specifically for consumers looking for an entry point into or a new way to enjoy the Nintendo hand-held experience." Scott Moffitt, Nintendo of America's executive vice president of sales and marketing, told NBC News. He added that the launch of the 2DS does not mean the company had any plans to phase out the 3DS or spend any less time focused on that device as well.  "Content will be shared between both systems" Moffitt said, and that the 3DS is "very popular in the market, and we expect that will continue."
But Melissa Otto, an analyst at TIAA-CREFF, isn't convinced that a new DS will do Nintendo any favors.
"The DS was a huge success in the past," Otto told NBC News. "But we have a whole new group of products now — tablets and smartphones. We didn't have those five or six years ago!"
Now, Otto said, parents are no longer choosing between Nintendo or Sony when it comes to buying their children a portable entertainment device, but choosing between "tablet and console," or "smartphone and gaming device." And at the end of the day, a console "is not as multidimensional a product." It may cost less than a smartphone with a data plan, but it also gives its owners "less bang for their buck."
Other analysts didn't deny that smartphones and tablets have eaten away at the market for mobile gaming consoles, but questioned how profound the immediate impact of these devices would be on Nintendo's business.
Still, even Pachter said that the market for smartphones and tablets is now "10 times as large" as the one for mobile gaming consoles, describing Nintendo as "a victim of technological advances" that mean the latter is no longer a 30-million-sales-a-year market. The 3DS may be selling well — reaching 32.48 million units sold as of July 2013, according to Nintendo, and remaining the best-selling console for three months this summer in the U.S., according to NPD data. But that's nothing compared to the 153.93 million units the original DS has sold.
For Otto, that's the whole problem. "Hardware doesn't make Nintendo money," Otto said. "What makes them money is their content, their software."
But the company still won't separate the two by putting any of its franchises on massive platforms like the iOS app store or Android's Google Play. And as far as Nintendo is concerned, it's never going to.
"I think it's plain to see that Nintendo hand-helds offer a more complete gaming experience, with richer controls and more immersive gaming worlds," Scott Moffitt of Nintendo said. "One of the reasons that people have such a fondness for Nintendo franchises and characters is that their games are paired so well to Nintendo's hardware. Nintendo's IP works best on Nintendo systems, and that's where it will remain."
Yannick LeJacq is a contributing writer for NBC News who has also covered technology and games for Kill Screen, The Wall Street Journal and The Atlantic. You can follow him on Twitter at @YannickLeJacq and reach him by email at: Yannick.LeJacq@nbcuni.com.