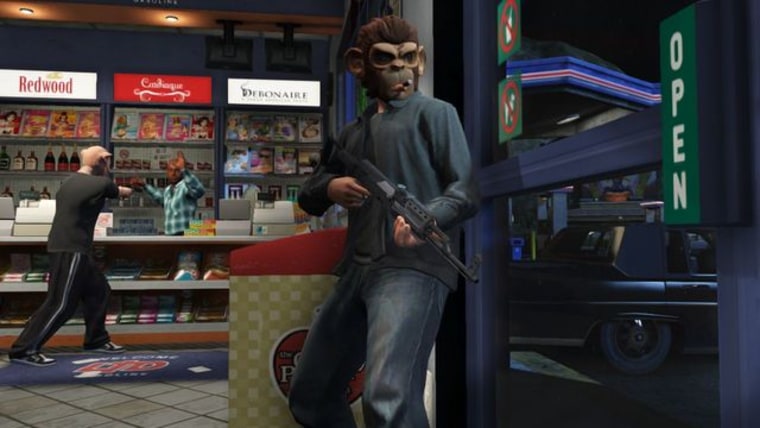 Rockstar Games, the acclaimed and often notorious developer of the "Grand Theft Auto" video game series, Thursday revealed the first details about "Grand Theft Auto Online," an ambitious new project to introduce new types of multiplayer gameplay to the GTA universe.
Rockstar described "Grand Theft Auto Online" as "a dynamic and persistent online world for 16 players" in a new trailer. While the game will be introduced alongside "Grand Theft Auto 5," Rockstar North president Leslie Benzies told the gaming site CVG that the "GTA Online" will "grow and evolve into its own thing."
Rockstar said that "GTA Online" will be released on Oct. 1, two weeks after "GTA V" first hits the shelves, and will become available to all "GTA 5" players through an in-game menu selection free of charge. The company hasn't given any details yet on how it plans to support the new game as a standalone product once the developers cut the cord from "GTA 5."
Rockstar first introduced multiplayer gameplay to the "Grand Theft Auto" franchise in 2008 with the release of "GTA 4," which offered a standard array of multiplayer offerings such as death match and racing competitions along with other more GTA-ish features like contract assassinations or carjacking.
According to an extensive preview published by GameSpot, the multiplayer options in "GTA Online" are far more ambitious in comparison. To give the craziest example, Rockstar said that the new game will feature a stock market that players can manipulate in true "Grand Theft Auto" fashion, for instance. So if you invest in a auto company, you can then run around the city destroying that particular manufacturer's cars in order to stimulate further production and bump up their stock. I'm not sure if that's how real-world economics works, but hey, as long as it helps the flagging auto industry, why not blow up a few extra cars?
"GTA Online" will also feature a "passive" mode to help players get acquainted to the new world before diving head-first into the carnage that will undoubtedly ensue once the game goes live. Benzies said that the two-week gap between "GTA 5's" release and "GTA Online's" launch was almost meant to help players get a grasp on all the different types of havoc they can wreak in the name game(s).
"We want to give people an opportunity to actually get their heads around what's happened, because even single-player is a big advancement from the old games," Benzies told CVG. "There's a lot of new things to learn."
Watch the new "GTA Online" trailer below.
Yannick LeJacq is a contributing writer for NBC News who has also covered technology and games for Kill Screen, The Wall Street Journal and The Atlantic. You can follow him on Twitter at @YannickLeJacq and reach him by email at: Yannick.LeJacq@nbcuni.com.