Chubby Checker, the musician best known for his 1960 hit recording of "The Twist," is suing HP over a novelty app for Palm OS of the same name that claims to check the size of your "chubby." The sum sought is a mind-boggling half a billion dollars.
The rock-and-roll star, whose real name is Ernest Evans, filed the suit this week in a Florida federal court, simultaneously releasing a statement describing the reasoning behind the suit. Willie Gary, an attorney who has already chalked up a number of large-sum legal wins, says that the app has caused "irreparable damage" to Evans' reputation and legacy.
"Chubby Checker" was a $0.99 app originally made for Palm OS (which was abandoned in 2009 in favor of Palm's WebOS). It allowed users to input the size of a male subject's feet and receive, in return, an estimation of the size of that guy's genitalia. For entertainment purposes only, of course.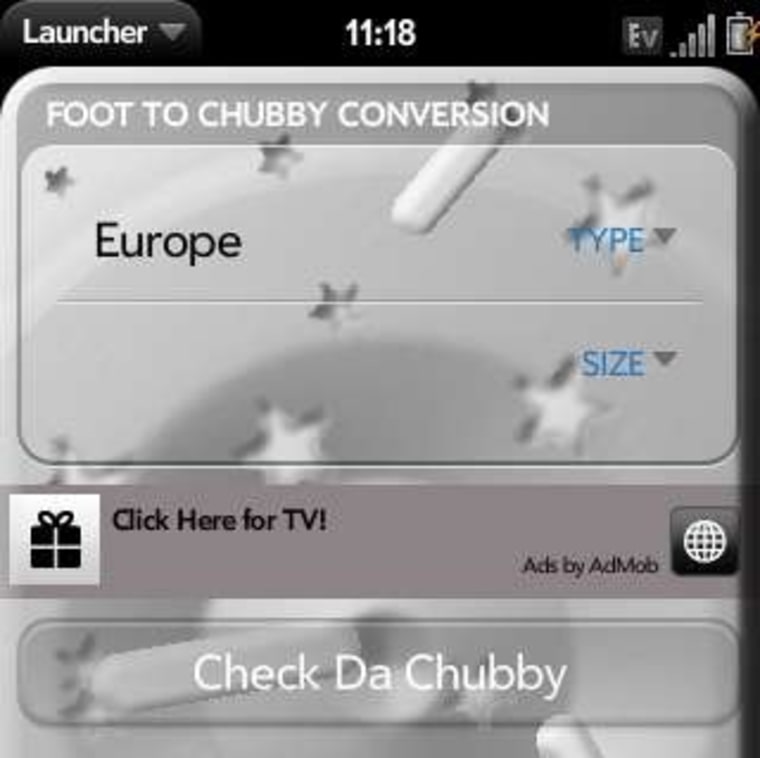 Such novelty apps are now commonplace, naturally, as is the understanding that such apps are developed by companies or developers totally independent of the larger corporations that offer them in App Stores, such as Apple or Google. Takedown requests for apps that abuse copyrights or trademarks are also commonplace, although going after damages is uncommon — and damages of this scale are unheard-of.
The suit and supporting documents can be read here (PDF), and readers can form their own opinions as to its merit. But factor this in: Though the $500 million requested in the suit includes compensation for damage to reputation and other measures, the app itself was a dud. According to records at unofficial Palm app archival site House of Palm, it was downloaded only 84 times, potentially netting the parent company a grand total of around $25.
HP, which bought Palm in 2010 and is thus the primary target of the lawsuit, issued the following statement to NBC: "The application was not created by HP or Palm. It was removed in September 2012 and is no longer on any Palm or HP hosted web site."
One thing seems certain: If no one thought of "Chubby Checker" as a euphemism for this type of thing before, they certainly will after this.
Devin Coldewey is a contributing writer for NBC News Digital. His personal website is coldewey.cc.