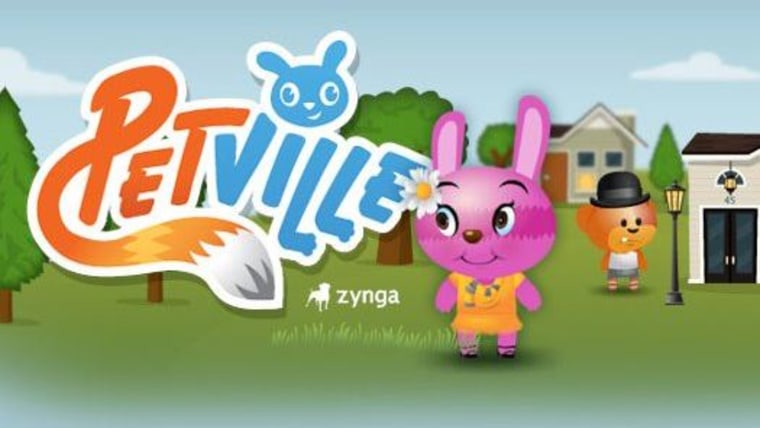 It was a little over a year ago that high-flying Facebook gaming giant Zynga was firing up "Mafia Wars 2" — the sequel to its hit mobster game — along with a string of other new games for Facebook and mobile devices.
Times were good. But here, on the cusp of 2013, those times are no more for the beleaguered game company. Over the course of the last few days, Zynga has shut down not only "Mafia Wars 2" but its long-running pet-simulation game "PetVille." The company has also closed down and pulled from app stores nine other games.
As TechCrunch first reported, the closures — part of an attempt on Zynga's part to restructure and thus pull itself out of a business tailspin — are as follows: 
PetVille – Shut down December 30thMafia Wars 2 - Shut down December 30thFishVille – Shut down December 5thVampire Wars – Shut down December 5thTreasure Isle – Shut down December 5thIndiana Jones Adventure World – Closed to new players, shuts down January 14thMafia Wars Shakedown – Pulled from app storesForestville – Pulled from app storesMontopia – Shut down December 21stMojitomo – Pulled from app storesWord Scramble Challenge – Pulled from app stores
Zynga CEO Marc Pincus originally announced in October that 13 games in total would be shuttered and 5 percent of the full-time staff cut as part of  drastic cost-saving measures needed to bring the company back in line. These moves come after a very bad year in which Zynga has seen its share price tank, has been accused of insider trading and has been sued by gaming giant Electronic Arts for allegedly copying its gameplay.
As it announced closures of its various games via Facebook, Zynga tried to encourage players to pick up one of its other games instead, offering them free credits in games like "ChefVille, "Farmville 2" and the original "Mafia Wars" game, all of which are all still operating.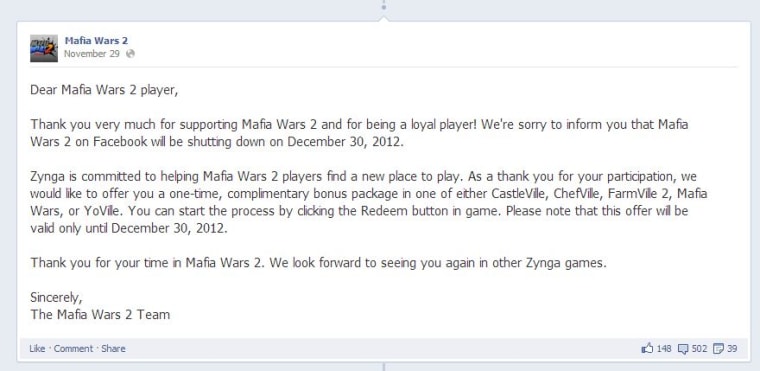 Still, news of the game closures was met with anger and sadness and seemed to hit players of "PetVille" the hardest. "PetVille" tasked its players with creating and then caring for their very own virtual pets — virtual pets that are all now gone.
"Goodbye to all my friends and a sad farewell to my pet Bailley — I'll miss you all," wrote PetVille player Jan Brandner Heier on the game's Facebook page.
"I loved my bbunny now i will never get to see her again it is not fair at all," wrote PetVille player Vick Lawson.
"Please don't remove PetVille," begged player Cynthia Diaz. "I been playing for 4 yrs. and I'm going to miss my pet Jaime....WHY DO YOU WANT TO KILL MY PET???"
"PetVille" player Judith Baur was especially devastated by the game's closure. "My Autistic son and I had played Petville together for two years," she wrote. "It was something we could do together, and made us very happy. I wish you 'people' could have seen the streams of tears running down both our faces as we played our last session. We even took photographs. I guess money trumps everything!!"
- Via TechCrunch
Winda Benedetti writes about video games for NBC News. You can follow her tweets about games and other things on Twitter here @WindaBenedetti and you can follow her on Google+. Meanwhile, be sure to check out the IN-GAME FACEBOOK PAGE to discuss the day's gaming news and reviews.