With their soft, tender texture and knack for absorbing and delivering bursts of flavor, noodles are one of the most satisfying and crave-worthy dishes around — and perfect for the long days under lockdown when we all need some comfort in a bowl. Of course, it's easy to hit up your favorite food delivery app, where you'll no doubt find a wide assortment of noodle dishes. However, an even better option is to ditch the takeout and make your own noodles.
Homemade noodle dishes are not just easier and faster than you think; they're also far better for you. When you choose the ingredients and do the cooking, you know just what's going in your bowl — and belly — and can control not only the quality and nutrition, but also the flavor. You'll likely want to follow a recipe, but if you love red peppers yet loathe green ones, you can customize the ingredient list to suit your palette.
Looking for recipe inspiration? We've got you covered. Here, food pros, including Giada De Laurentiis, Serena Wolf, Kelly Senyei, Kevin Curry and Alexandra Stafford, share their best noodles dishes, plus cooking tips and ingredient swaps. With these recipes and tips, all that's left is to stock the pantry and boil some water!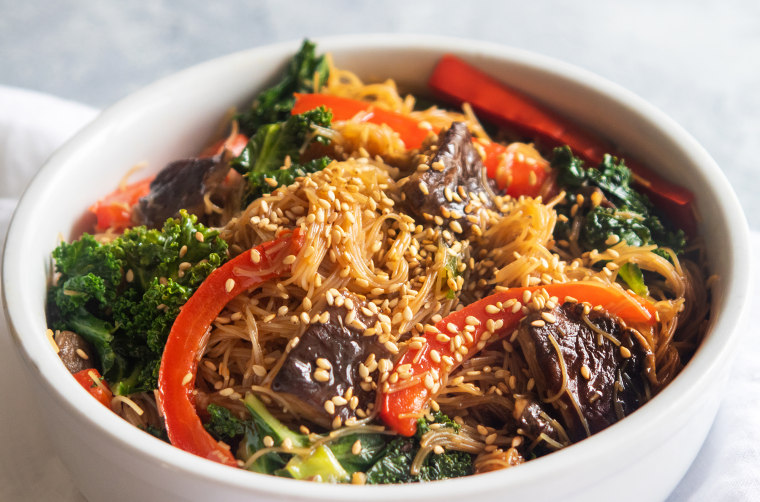 "Making your own japchae at home is really quite easy and quick to do," insists TV personality, cookbook author and restaurateur Giada De Laurentiis. This Korean stir-fry is traditionally made with potato starch vermicelli noodles, but you can substitute angel hair pasta. "You also get to control the amount of oil and sugar in the dish," says De Laurentiis. "In my version, I swap in honey for refined sugar and pack it with tons of healthy and colorful veggies for a bowl of noodles everyone will enjoy."
"A flavor journey," is how fitness influencer and "Fit Men Cook" author Kevin Curry describes his Chicken Pad Thai. "It's a robust medley," featuring crunchy cabbage, chewy chicken and a vibrant and complex sauce, plus hearty brown rice noodles. To make his version of this takeout classic a bit lighter and leaner, Curry doubles down on the cabbage and pulls back on the noodles. "I like to prioritize vegetables, because they're "filling and help cut calories," notes Curry. And if chicken's not your thing, swap in shrimp, tofu or flank steak.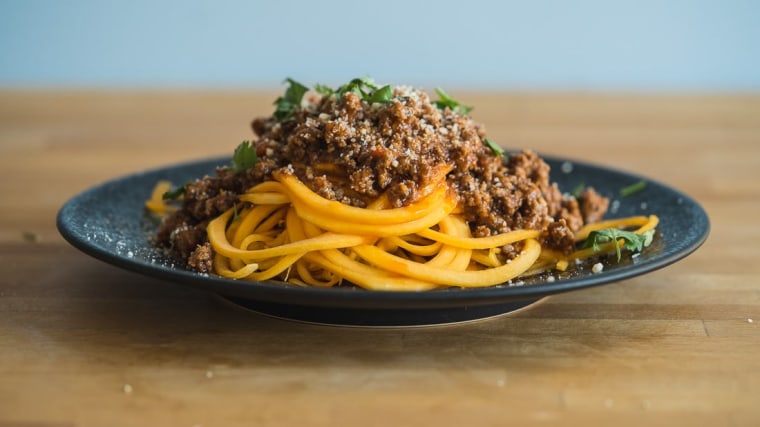 Love spaghetti and meat sauce but not the weighed down feeling you get after devouring a big bowl? We feel you and so does Curry, who created this better-for-you version made with butternut squash noodles and ground lamb. In addition to being gluten free, butternut squash noodles add an extra serving of vegetables to your day. Ground lamb is a fattier meat, which means you need very little oil to cook it in. Alternatively, you can sub lean ground beef or turkey. If you're short on time — or don't have a spiralizer — Curry says it's fine to use pre-spiralized veggies from the supermarket and says he sometimes does so, too — just make sure they're as fresh possible.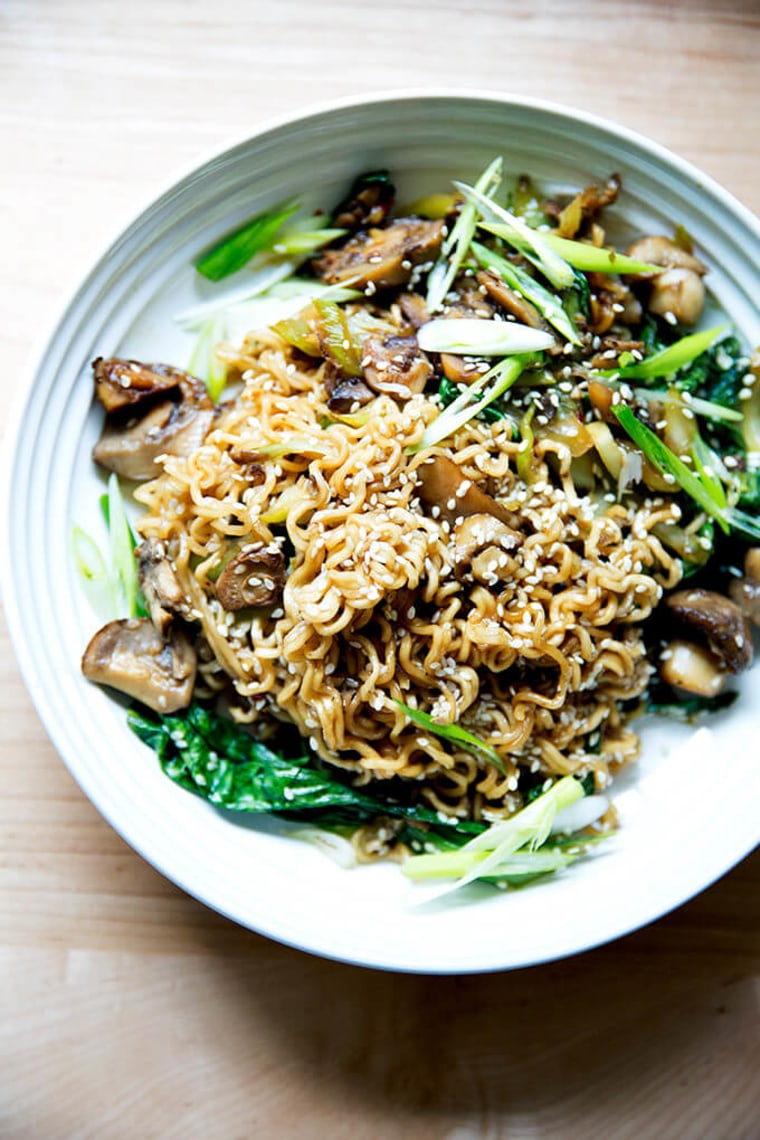 "I love so many things about this recipe," says "Bread Toast Crumbs" author and Alexandra's Kitchen blogger Alexandra Stafford. "It's fast, it's loaded with vegetables and the dressing is made with pantry staples, so when time is at a premium, I can throw these noodles together." And then there's the taste. The sauce has a "salty-sweet dynamic" and "a nice amount of heat thanks to crushed red pepper flakes," says Stafford. Best of all, this dish can be made with so many different vegetables, from cabbage, Swiss chard, kale and bok choy to carrots, bell peppers and snap peas. "The key is to cut the vegetables thinly, so they cook quickly," notes Stafford.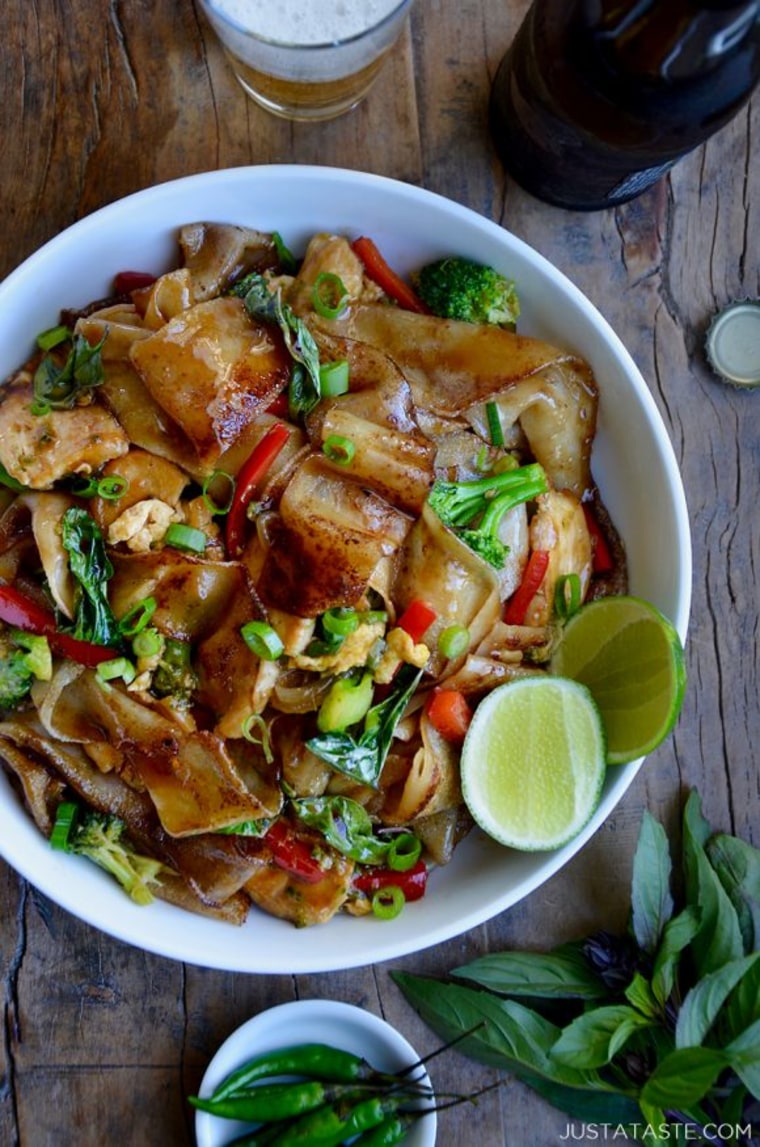 "Making takeout-inspired dishes from scratch guarantees you know every single ingredient that goes into it," says Just a Taste blogger Kelly Senyei. "Best of all, you can customize with different proteins or varying degrees of spice to suit your palate." This Thai favorite is traditionally made with wide rice noodles, and though it might not be authentic, "any noodle will work, including Italian varieties, such as pappardelle and tagliatelle," says Senyei. "The thicker the noodle, the more surface area to soak up all that garlicky sauce." And when it comes to stir-frying, Senyei's top tip is to have all your ingredients fully prepped before you start cooking. "Stir-frying is a very fast cooking technique, and you don't want to have to stop mid-process to find the garlic or dice the peppers."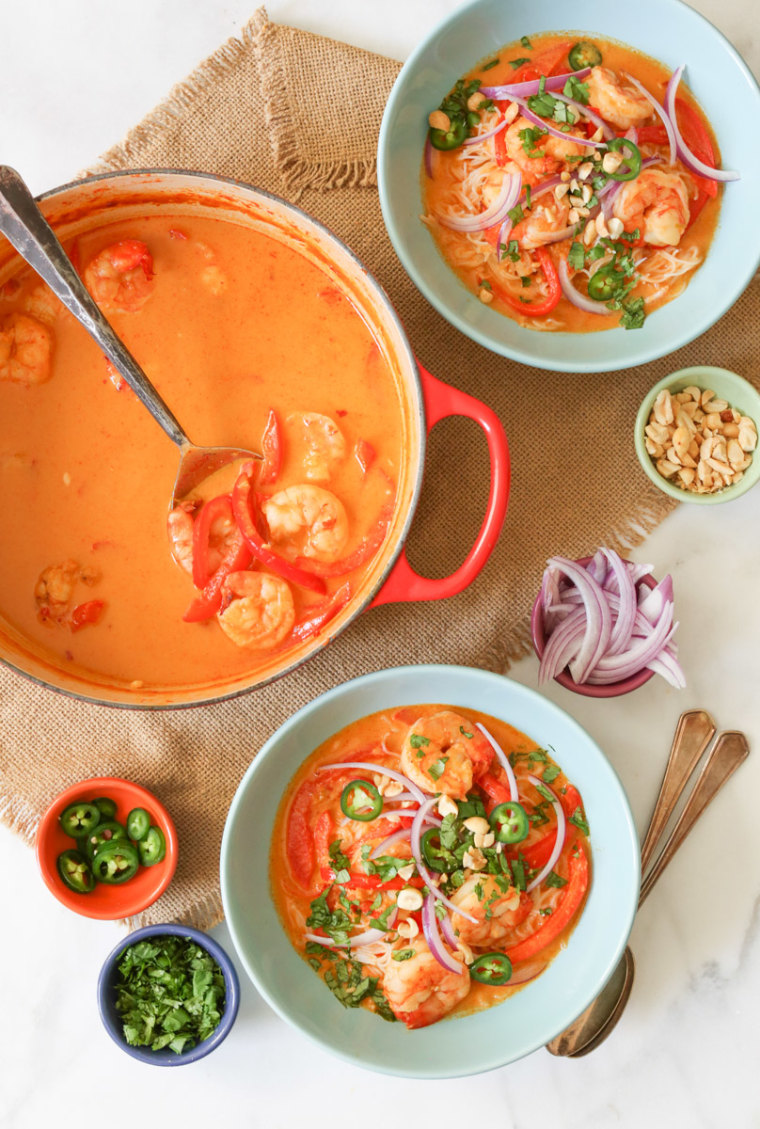 "This dish comes together in less time than it takes to get takeout or delivery — 25 minutes max," says Serena Wolf, the blogger behind Domesticate Me and author of "The Dude Diet Dinnertime: 125 Clean(ish) Recipes for Weeknight Winners and Fancypants Dinners". It's also "loaded with bright, fresh flavor, tender shrimp and plenty of delicate rice noodles." Despite its decadent flavor, this Thai-inspired curry "is made with good-for-you ingredients, including veggies, lean protein and coconut milk." And like most noodle dishes, it's ripe for improvisation. Halibut, cod, salmon or chicken make great swaps for the shrimp. Or, go vegan with tofu or chickpeas.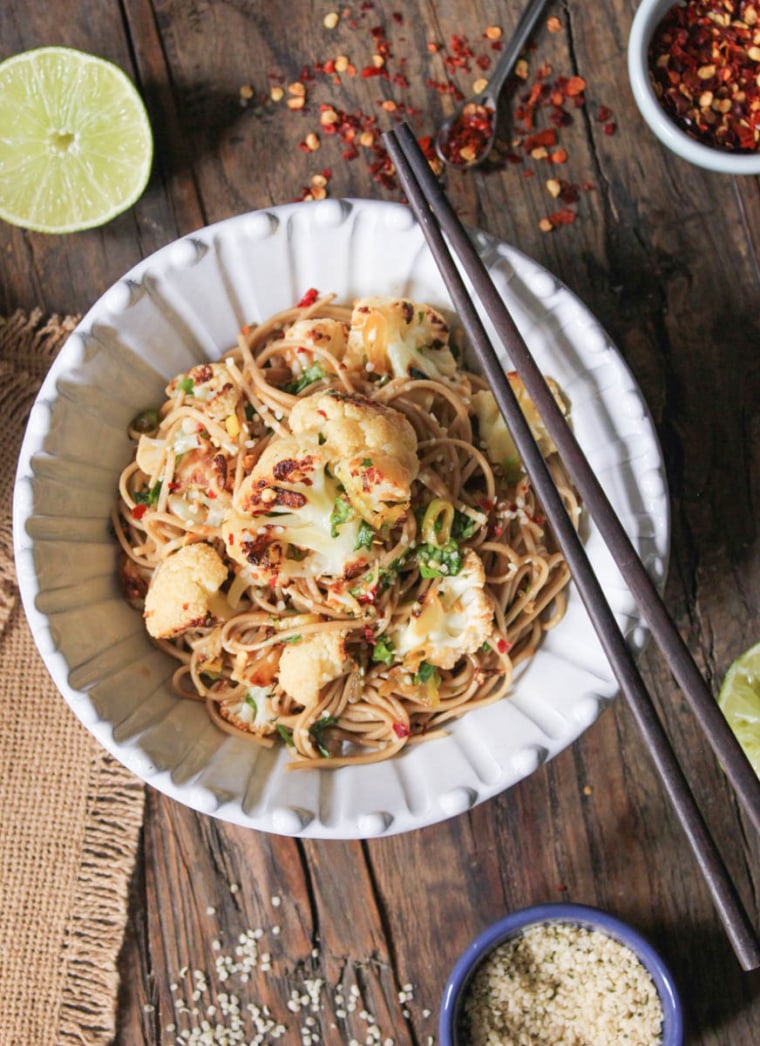 Roasted cauliflower turns "beautifully caramelized and buttery in the oven and pairs amazingly well with the slight nuttiness of buckwheat soba noodles," says Wolf of this unexpected veggie and noodle combo. Her ginger-scallion dressing is simple but lends "awesome umami flavor with just the right amount of heat," while "a squeeze of fresh lime juice just before serving brightens things up." This is also a plant-based dish, packed with filling fiber and protein and comes together in about 30 minutes. Be sure to save any leftovers — these noodles are just as good served cold or at room temperature, notes Wolf.
More better than takeout dishes
Want more tips like these? NBC News BETTER is obsessed with finding easier, healthier and smarter ways to live. Sign up for our newsletter and follow us on Facebook, Twitter and Instagram.