Facing increasing pressure as its sales, earnings and stock price all slide, the Ford board of directors has ousted CEO Mark Fields.
The 56-year-old Fields, who attempted to lead Ford in a new direction focusing on high technology, will be replaced by former Steelcase CEO Jim Hackett, according to those sources and reports. Hackett, who joined the Ford board last year had also served as interim director of the University of Michigan's athletics program.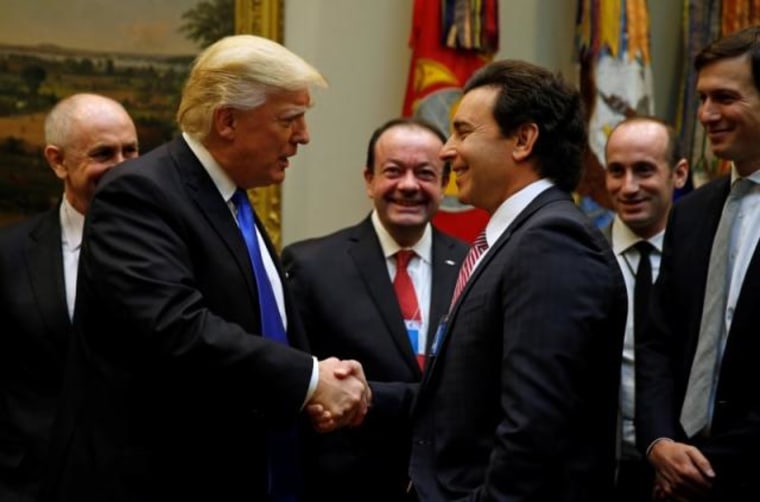 The shake-up comes just weeks after Bill Ford Jr., the automaker's chairman — and great-grandson of founder Henry Ford — told stockholders, "Look, we're as frustrated as you are by the stock price," adding that for he and the rest of the Ford family, "most of our net worth is tied up in the company."
The ouster of Fields will be accompanied by other changes in senior management. Among those, Jim Farley, the head of the maker's slowly rebounding European operations, is expected to return to the U.S. For a more senior role.
Several other executives could be pushed out or reassigned:
Joe Hinrichs, currently President of the Americas;
Raj Nair, the global technology and product development director; and
Mark LaNeve, head of sales, service and marketing.
Related: Dramatic Changes Coming for Detroit's Big Three
Ford has taken hits on a variety of fronts in recent months:
Its sales have been tumbling sharply since the beginning of the year, even more rapidly than the overall decline of the U.S. new car market;
Its earnings tumbled by 37 percent during the first quarter, to $1.6 billion; and
Its stock is down by more than 40 percent since Fields took over as CEO from the widely respected Alan Mulally three years ago.
The share price continued to tumble to a 52-week low before rebounding slightly to close at $10.81 on Friday, despite the announcement of plans to trim 1,400 salaried workers in North America and Asia — a smaller reduction than some news reports had originally suggest.
Fields became CEO at the nation's second-largest domestic automaker on the recommendation of Mulally, his personal mentor. He had spent 28 years with Ford and had worked his way through a number of high-profile positions, notably serving as head of Mazda at a time when the U.S. maker held a controlling stake in the Asian carmaker. Fields also served as head of Ford's short-lived, luxury focused Premier Automotive Group, and its European operations, eventually rising to become President of the Americas under Mulally.
High-Tech Thinking
What helped him rise to the top spot, however, was his role in putting together the turnaround plan that helped Ford avoid the fate of its two domestic rivals, General Motors and Chrysler, both of which fell into bankruptcy in 2010, surviving only with the help of massive federal bailouts. Ford lined up lines of credit just before the industry fell into recession that allowed it to remain solvent — and which let the Ford family retain control of the company.
As CEO, Fields quickly began shifting the direction of Ford, describing it as a "mobility company," rather than an automotive manufacturer. He put an emphasis on high technology. That included so-called "connected car" systems like Sync 3, with Ford recently announcing a tie-up with Amazon and Starbucks that will allow a driver to tap a button to access the Alexa voice assistant and order a cup of coffee while driving to the local restaurant.
Ford was also hailed in a recent study by Navigant Research as having the industry's most advanced autonomous vehicle development program, leapfrogging Waymo, the Google spin-off that many had previously considered the leader in that emerging field.
Ford has promised to not only develop a self-driving car but a fully driverless one, with production set to begin in 2021, according to global product development director Raj Nair.
Picking Up the Pickup
But critics faulted Fields for some of his moves on the products that still generate the vast majority of the company's earnings. Though Ford has the best-seller in the full-size pickup segment, the F-Series, it was slow to recognize the revival of the mid-size pickup market, belatedly announcing a U.S. version of the new Ranger sold abroad. It also was criticized for not adding more utility vehicles to its line-up.
Related: Ford CEO Warns of Huge Impact of Trump's Trade Plans
And some observers felt Fields did not take the steps necessary to rebuild the long-struggling Lincoln Motor Co. brand. While the luxury marque has started gaining momentum, notably in China, it lags far behind import rivals such as Mercedes-Benz, BMW and Lexus.
Investors have become increasingly skeptical in recent months — though all three of the Detroit makers have been struggling to prop up their stock prices. Ironically, Ford's tech-oriented strategy reflects, in many ways, what new rival Tesla has tried to do. But shareholders have largely bought into the vision of that company's chairman Elon Musk and last month Tesla's market capitalization surged ahead of both General Motors and Ford before settling back.
Neither Fields nor Ford representatives have yet responded to direct requests for comments.
It remains uncertain what Hackett's appointment, if that proves to be accurate, will mean to Ford's overall strategy. Many of the basic elements of the maker's high-tech push are likely to continue, however, according to sources.
Hackett may have immediate challenges, however, setting Ford up to remain profitable if, as expected, the U.S. auto industry continues to lose momentum in the coming months. IHS Automotive has estimated sales will dip to 17.4 million from last year's record 17.5 million. But based on the weak numbers during the first four months of 2017, many observers have begun wondering if the industry will slip even faster than forecast.