General Motors filed an explosive federal racketeering lawsuit on Wednesday, alleging crosstown rival Fiat Chrysler Automobiles spent years working with the United Automobile Workers labor union to undermine GM and cause "substantial" damages.
Under the Racketeer Influenced and Corrupt Organizations Act — also known as RICO — the largest of the Detroit Big Three could receive three times whatever damages it might be able to prove.
The allegations follow revelations that FCA executives had paid off a number of union representatives, including officials involved in contract bargaining. GM claims that the payoff came in the form of concessions that lowered production costs for the smaller automaker, in turn making GM less competitive.
The complaint alleges that former FCA head Sergio Marchionne, who passed away suddenly last year after complications from surgery, orchestrated the conspiracy.
"We have alleged in the complaint that Mr. Marchionne is responsible for conceiving, executing and sponsoring the alleged wrongdoing," said Craig Glidden, GM's executive vice president and general counsel. "We plan to hold FCA responsible."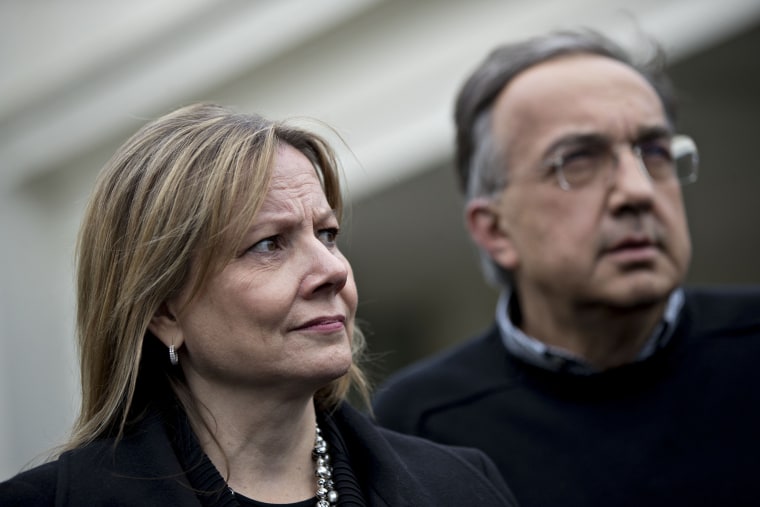 The lawsuit alleges, among other things, that FCA corrupted collective bargaining agreements between the giant automakers between 2009 and 2015. That outcome meant GM spent almost a decade operating at a disadvantage, since it was forced to pay higher labor costs, Glidden said.
"By 2015, FCA slashed its labor costs to $47 — in the range of non-unionized foreign automakers operating in the U.S. — and $8 less on average per hour than GM ($55)," alleges the lawsuit, further claiming that "FCA directed key UAW officials to deny similar labor advantages to GM, inflicting significant additional costs on GM."
"We are astonished by this filing, both its content and its timing," wrote FCA in a statement on the lawsuit. "We can only assume that this was intended to disrupt our proposed merger with PSA as well as our ongoing negotiations with the UAW. We intend to vigorously defend against this meritless lawsuit and pursue all legal remedies in response to it."
For his part, Glidden insisted the timing of his company's RICO suit was not meant to influence either the FCA-UAW contract talks or the proposed merger with Peugeot (PSA).
The corruption probe into the UAW has been underway for four years, but broke into the headlines when 65-year-old Virdell King was indicted in August 2017. She was accused by the the Department of Justice of taking part in a multiyear conspiracy for UAW officials to accept money and items of value from FCA between 2011 and 2015. Since then, an array of union officials and executives have been charged with a variety of crimes involving kickbacks, fraud and money laundering.