Tesla just got a new competitor.
Early next year, ground will be broken in Casa Grande, Arizona, for a $700 million factory set to produce a new line of electric vehicles developed by Lucid Motors. The California-based company plans to join a growing procession of manufacturers, from start-ups like Tesla to traditional auto companies like General Motors, betting millions of Americans will soon trade in their conventional, gas-powered cars and trucks for a new generation of battery cars.
Related: Will Trump Unplug the Electric Market?
Whether that market will prove nearly as large and lucrative as they hope is far from certain, however. Pure battery-electric vehicles, or BEVs, currently account for barely 0.4 percent of U.S. new vehicle sales — even with subsidies and the strong support of the outgoing Obama Administration. Lucid and its competitors will now have to gain momentum under a new administration whose leader has publicly rejected the concept of global warming.
Tesla Broke the Mold
Lucid is actually one of the older players now looking to enter the battery-electric vehicle, or BEV, market. Founded in Menlo Park, California in 2007, what was then Atieva was one of a handful of start-ups that focused on making advanced lithium-ion battery technology. But it began shifting course in recent years as it hired on talent from the automotive side of the business. Peter Rawlinson, a former Tesla executive, is now Lucid's chief technology officer.
To proponents, Tesla has shown there really can be a market for battery-electric vehicles. It will sell almost 100,000 of its Model S sedans and Model X SUVs this year, and it's hoping to boost volume to 500,000 by as early as 2018, following the debut of its first mainstream model, the Model 3.
Lucid plans to follow the Tesla playbook. It will initially bring to market a high-end battery car set to pump out a whopping 1,000 horsepower — which would make it one of the most powerful automobiles ever built. Driven a bit less aggressively, it would deliver about 400 miles per charge, according to Rawlinson, who has also said Lucid is working on autonomous driving capabilities.
The company has shown off a heavily camouflaged concept vehicle it is using for the development of its battery drive system. The design is surprisingly conventional but Rawlinson suggested the prototype will be "reimagined and redesigned" before it reaches production. Since the batteries and motors are expected to be mounted under the car's floorboards, there won't need be much of a hood. The Lucid model to be built in Arizona will likely feature a much roomier passenger compartment, analysts expect.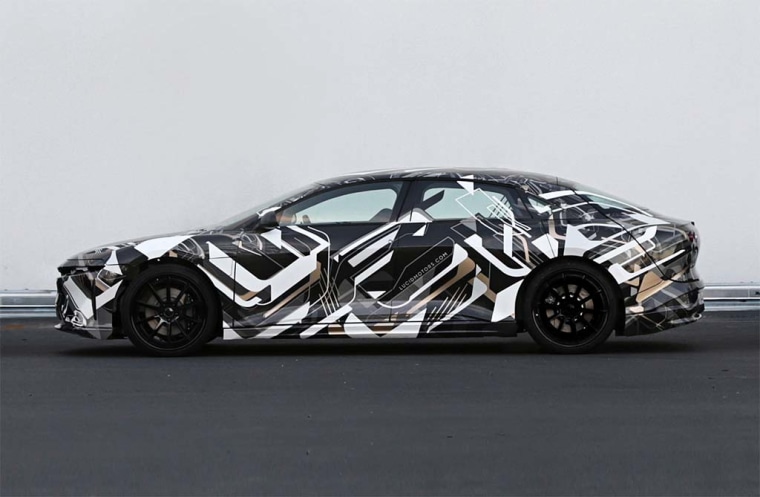 But simply coming up with an appealing design and a fast electric powertrain won't ensure success, according to Joe Phillippi, senior analyst with AutoTrends Consulting. Just ask the numerous other battery-car wannabes, such as Amp Automotive, Bright Automotive and Fisker Automotive, that never made it very far.
Even Tesla — despite the wide praise it receives, the inflated stock price and the modest third quarter earnings — is far from a certified, long-term success. None of its products has ever come to market on time, a real concern for those betting on the upcoming Model 3.
And even after a more than two-year delay, Tesla's Model X battery-SUV has suffered such serious quality problems that influential Consumer Reports magazine has issued a warning to potential buyers.
Two other aggressive new battery-car start-ups have been having their own troubles. Chinese-funded Faraday Future recently had to put work on temporary hold at the $1 billion assembly plant it is building near Las Vegas due to financial concerns.
The delay raises questions about not just Faraday's future, but that of another BEV start-up, LeEco, both backed by the Chinese electronics billionaire Jia Yueting. LeEco ran into its own setback during the official premier of its first car, the LeSee, last month. The prototype shorted out and failed to roll onto the stage during an event in San Francisco.
Related: What is Mystery Car Maker Faraday Up to in the Nevada Desert?
Even well-funded establishment automakers have struggled with their electric vehicle programs. Sales have fallen way short of expectations for models like the Ford Focus Electric and the Volkswagen e-Golf. General Motors will face a big test in the coming weeks as it launches sales of the new Chevrolet Bolt, its first long-range, mainstream-priced electric vehicle.
GM has heavily promoted the fact that the Bolt will come in at $29,995 after factoring in a $7,500 federal tax credit on qualifying battery cars. But the incoming Trump administration, backed by a reluctant GOP-controlled Congress, is expected to reconsider that incentive program.
CAFE Culture
The auto industry got something of a mixed blessing when, on Wednesday, the Environmental Protection Agency said it was not going to roll back the aggressive Corporate Average Fuel Economy, or CAFE, standards phasing in between the 2017 and 2025 model-years. To reach the end-goal of 54.5 mpg, industry experts anticipate most new vehicles would have to use some form of electrified drivetrain, from microhybrids to full BEV systems.
Related: With Chao as Transportation Secretarty, Trump May Have Just Built a Bridge to Silicon Valley
A forecast by IHS Automotive indicates pure electric model sales could climb into the millions by mid-decade. And some observers believe that is conservative.
But one of president-elect Donald Trump's key policy advisors, John Mashburn, has said the incoming administration would launch a "comprehensive review" of all federal regulations, including another examination of CAFE.
"The brief answer is that we don't know what will occur with a Trump administration and electric vehicles," said Dave Reichmuth, an executive with the Union of Concerned Scientists.
But proponents hope that as battery prices fall, even as vehicle range increases, the government will have less of an impact. "I don't think people are choosing electric cars only because of subsidies," said Annette Winkler, the head of Daimler AG's Smart brand, which is launching a new version of its Fortwo Electric Drive.
Even her competitors have to hope Winkler is right. Billions of dollars of investments, including the new Lucid Motors plant in Casa Grande, hang in the balance.