Only a handful of the world's best drivers will ever get to strap themselves inside a Formula One racecar. But those with a fat enough wallet may soon be able to come close, whatever their driving skills.
The exotic car market already is full of 600, 700, even 1,200-horsepower sports cars. Now, the high-performance arm of Mercedes-Benz is kicking things up several notches, confirming long-standing rumors of a hypercar borrowing much of its basic technology from the German automaker's dominant Formula One program.
Known internally as the AMG R50, it won't be just for weekend warriors who have access to one of the many private tracks popping up across the country where they can pretend they're F1 drivers. It will be a road car "you could drive every day," according to Chief Executive Tobias Moers, the head of the AMG division.
As for timing, if you've got the necessary bank account, you won't have to wait long. The AMG boss said during the Paris Motor Show that the first of these so-called hypercars could be ready for delivery around 2018 or 2019.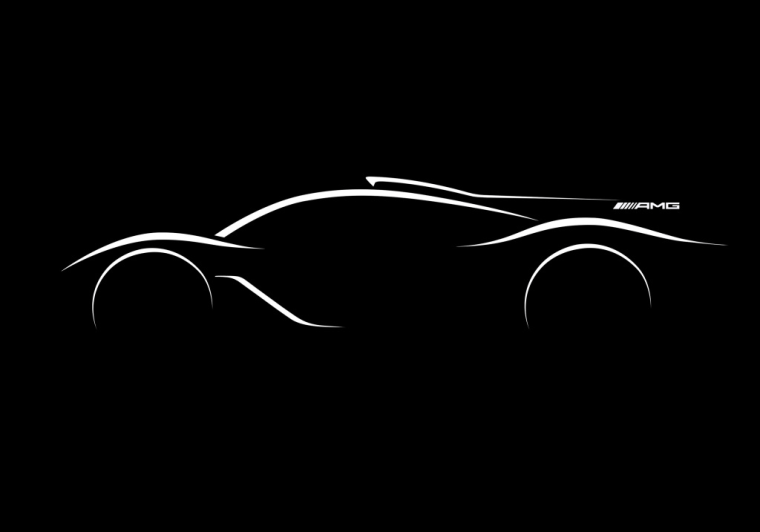 Automakers have long claimed to transfer technology from track to street, whether from that classic blue-collar series NASCAR, or from more elite endurance events such as the 24 Hours of Le Mans. Those claims have often been overstated, more marketing than reality. But there's no question that efforts to increase this tech transfer is accelerating as manufacturers face the demand for ever higher levels of performance.
At the beginning of the Millennium, launching a new model with 400 horsepower was a rarity. Today it's barely the price of admission. The new Bugatti Chiron will reach 1,500, and few believe that's the upper limit.
But it's about more than just power for demanding – and wealthy – performance aficionados. And nothing can accelerate, brake or turn like a Formula One racecar, developing the sort of G forces that only military fighter jets can match.
Mercedes now plans to join a small club of manufacturers looking to put F1 technology on the road. More precisely, the German maker is working on the development of what is essentially a street-legal F1 race car.
Related: Paris Motor Show Shines Headlights on Electric
At the Paris Motor Show, AMG offered a hint of what's to come in the form of a silhouette of the R50. While the image was intentionally vague, it suggested some key elements of the maker's race-winning F1 model will be carried into production. One key difference: there will be a roof, as a completely open cockpit would make it difficult to use as a daily driver.
Asking reporters what they might want in a Formula One-inspired street car, Mercedes-AMG tech boss Thomas Weber answered the question himself by suggesting, "You would combine the best of both worlds."
According to background comments from AMG insiders and reports that have been surfacing, the AMG R50 will primarily use carbon fiber construction, with a 1,300 horsepower engine mounted in the middle of the vehicle. That would be slightly less than the 1,500 hp Bugatti Chiron, but the R50 is also expected to weigh less, perhaps as little as 2,800 to 2,900 pounds versus Chiron's 4.200-pound mass. And when you have foot to the floorboards, power-to-weight ratios are what really matters.
Top speeds of 220mph
Sources are talking numbers in the 220 mph range for top speed, and 0 to 60 times of 2.5 seconds or less.
As with the latest Formula One race cars – and a growing number of street models, such as the new Ferrari Aptera supercar, expect the AMG R50 to use electric boost to maximize acceleration, both at launch and for coming out of corners.
To ensure as much of that power as possible gets to the pavement, meanwhile, all-wheel-drive will be standard. So will four-wheel-steering to enhance cornering.
Though this might become the ultimate driver's car, the R50 will still offer a variety of safety and driver assistance technologies, apparently including an electronic system smart enough to assess the driver's abilities and automatically dial up or down the level of controls that would be used to keep the hypercar's wheels firmly attached to the pavement.
...And the price?
As for pricing, don't be surprised to see a number moving into the $2 million range or higher. That would be in line with what Ferrari is getting for the Aptera — which debuted in Paris — as well as the Bugatti Chiron.
Mercedes-AMG isn't the only maker looking to notch the tech transfer concept up to new levels. Aston Martin recently confirmed it is developing its own F1-based hypercar. In this case, it teamed up with its own racing partner, Red Bull, to pull the Aston 001 together.
Related: At Pebble Beach, $500 Million of Cars on Display
Ironically, Mercedes now owns a small piece of that British automaker and is planning to supply engines for some of Aston's new street models.
How much further might automakers go with their exotic street cars? It will help to keep an eye on what they're doing on the track in the years to come.