Wrecking the North American Free Trade Agreement deal could scuttle many of the job gains the U.S. auto industry has experienced since emerging from the Great Recession, and lead to job losses by many of the blue-collar workers who helped President-elect Donald Trump win in November.
That's the message from a new study by the Center for Automotive Research.
After entering the presidential race in 2015, then-candidate Trump began targeting NAFTA as a major factor behind the loss of American manufacturing jobs. He has repeatedly called out automakers, including Ford, General Motors and Toyota, for importing Mexican-made vehicles, and threatened to either end or modify the trade deal or, alternatively, to enact a 35 percent tariff on goods brought in from the country.
Related: Trump Blasts GM on 'Mexico-Made' Chevy
"Counter to the incoming Trump administration's goal of creating manufacturing jobs, the withdrawal from NAFTA or the implementation of punitive tariffs could result in the loss of 31,000 U.S. jobs," said CAR, a highly respected automotive research firm in Ann Arbor, Michigan.
Blue Collar Workers Could Lose Bigly
That conclusion runs counter to what Trump and his transition team have made a bedrock position in their economic and manufacturing policies. And it could come as a big surprise to GOP voters in the American heartland who helped the maverick New York businessman win the election. He was able to narrowly nudge past Democratic rival Hillary Clinton in key automotive bases including Michigan, Ohio, Pennsylvania and Wisconsin during the November election, clinching the Electoral College vote.
Related: Trump Threatens Toyota Over Mexico Plans
Trump's position on NAFTA and, more specifically, Mexican imports, has been underscored by a series of tweets he has posted since winning the election. Since the beginning of this month, he has called out General Motors for importing some of its Chevrolet Cruze Hatchbacks, and last week added Toyota to his list of companies who need to move back production from Mexico.
"Make in U.S.A. or pay big border tax," the businessman-turned politician declared in a January 3 tweet.
Playing Nice
Auto industry executives gathered at the North American International Auto Show in Detroit this past week went out of their way to promote their investments in the U.S. market and sing the incoming president's praises. But whether his threats will actually result in changes to their manufacturing strategy is another matter.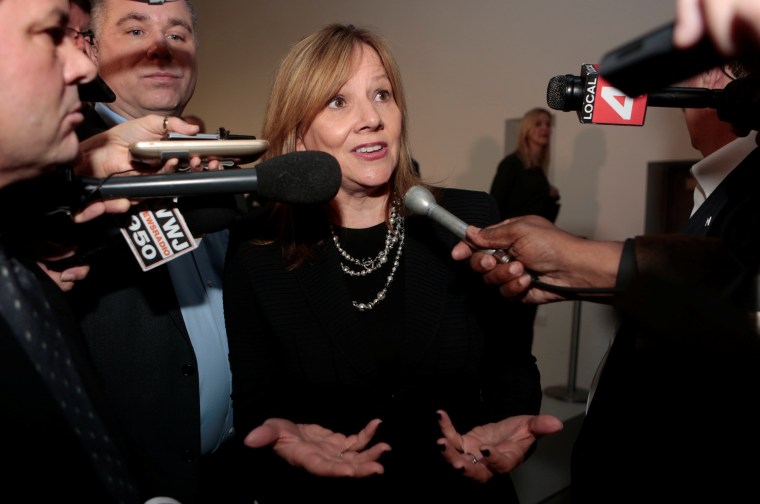 Mary Barra, the Chairman and CEO of General Motors, said the country's biggest domestic manufacturer will stick with existing plans that include extensive Mexican operations.
One week before, Ford CEO Mark Fields did announce plans to scrub a new Mexican plant, but that move was due to revised sales projections, not any issues with NAFTA. The number two automaker still intends to move its small car production to Mexico.
Related: Ford Cancels Mexico Plant but is Still Moving Small Cars to Mexico
Not an Overnight Move
Industry officials emphasized at the Detroit show that they simply can't shut down their Mexican operations which are part of tightly integrated global manufacturing plans. Such moves would have consequences beyond what the Trump transition team has indicated, according to the new CAR report and other experts.
"The prospect of trying to put some trade barriers up between those countries is extremely troubling," said Linda Hasenfratz, CEO of Linamar Corp. The Ontario-based firm is Canada's second-largest auto parts supplier.
The average automotive part crosses a border seven times in North America before it ends up in a consumer's driveway, said Hasenfratz, during a speech at this week's Automotive News World Congress. That could mean that any tax the Trump administration might impose would actually be multiplied repeatedly.
"It would add enormous cost that no one can bear," she said, noting that consumers would ultimately be hit in the pocketbook. It could price some vehicles out of the market and ultimately limit consumer choice.
The CAR study notes that after a generation under NAFTA, it would be no easy feat to restructure the auto industry's manufacturing footprint. And, even then, the results would likely not be what the Trump Administration has promised.
If not Mexico, then China?
Unless the new president and a GOP-controlled Congress were to enact tough new barriers and tariffs on other trade partners, in fact, automakers would simply shift "near-shore" operations to manufacturing bases further away, notably China.
Meanwhile, reducing trade with Mexico would have a two-way impact. Mexico has rapidly expanded as a vehicle manufacturing center over the last decade, but the new study points out that factories like the older Ford plant in Hermosillo, and the all-new Audi plant in the state of Chiapa are exporting vehicles to markets all over the world. That recently opened Audi factory, for example, is the sole production site for the all-new Q5 SUV.
And many of the parts — and much of the engineering work — for those plants come from the U.S., Michigan in particular. Mexico and Canada, in fact, "are the top foreign markets for Detroit exports," the CAR report noted.