In the days after Donald Trump was declared the President-elect, the American Civil Liberties Union received an outpouring of donations. But it was #GivingTuesday that saw the organization shatter fundraising records.
"We had been seeing so much incredible support [right after] the election and that support was already way over the typical amount," said Mark Wier, chief development officer at ACLU. "But #GivingTuesday reflected another huge outpouring, and was our biggest day."
Giving Tuesday, which falls directly after Cyber Monday, is a five-year-old tradition meant to highlight online philanthropy amid all the holiday spending.
This year, the ACLU received over $1.7M in online donations, a 965 percent increase over last year. The organization also received 20,548 gifts this year; on Giving Tuesday 2015, it received 1,288.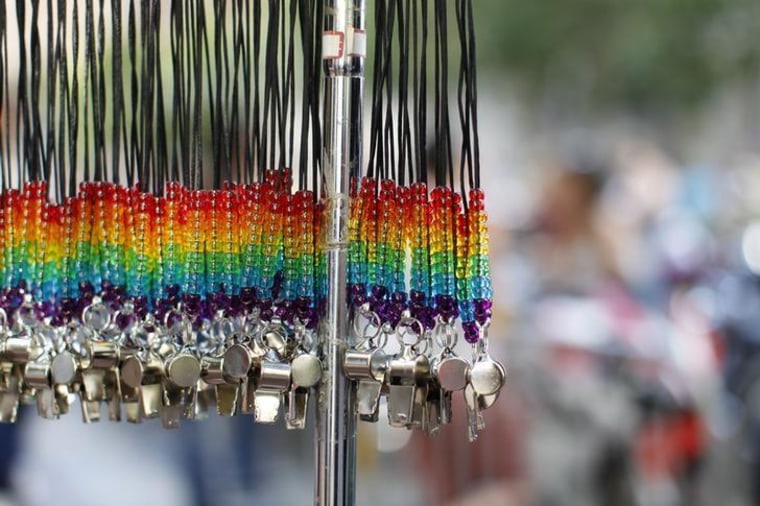 Politically Tense Times
While the ACLU always aims to raise more than it did the previous year, such a tremendous increase was unexpected.
"The promotions we did this year in terms of scale were not significantly different than last year," said Wier.
But the political climate, Wier noted, is radically different than it was in late 2015, and the main catalyst behind the donations.
"There is an [enhanced] awareness that we can no longer take our rights for granted," Wier told NBC News. "We can't sit back and feel okay without acting. And #GivingTuesday, a touch-point for an organization like us, is an opportunity for people to channel their philanthropy."
Dumping on Trump
Along with their online donations, donors expressed both their desire to fight for the rights of Americans, and also their not-so gracious feelings about Trump.
"At least one-third of the comments from the donors had the word 'Trump,' in them," said Wier. "Some would say, 'Love Trumps Hate,' or 'turning my rage [about Trump] into action.' Others simply said 'Trump.'"
The Trevor Project, a non-profit that provides crisis intervention and suicide prevention services to LGBTQ youth, surpassed $85,000 in online donations, exceeding what it received during #GivingTuesday 2015 by more than eight times.
Related: Trump Protesters Fear Rollback of LGBT Rights
"This year, Giving Tuesday was a two-week campaign for us," said Steve Mendelsohn, deputy executive director at the Trevor Project. "The goal began at $20,000, double what we raised last year. A week prior to Giving Tuesday we were already at $20,000, so we set the goal for $25,000. Then last week, we raised it to $40,0000, and it just kept [being met] so we raised the goal to $60,000 on Giving Tuesday — and reached $85,000."
Mendelsohn added that virtually all of the donations made included comments rooted in anxieties about Trump, and more specifically, VP-elect Mike Pence, who has long opposed the rights of LGBTQ people. "There were plenty of comments about Mike Pence," Mendelsohn told NBC News.
But more than Trump or Pence bashing, there was hope among supporters that their donations could make a positive difference.
"Almost everyone left a comment of some support and hope for the future," said Mendelsohn, adding that since Trump was elected, calls to the organization's suicide hotline have shot up by 123 percent.
With the new funds, which stands now at about $86,000, the Trevor Project can keep two, instead of one call center fully staffed and "save the lives of around 4,000 LGBTQ youth," Mendelsohn said.
Everybody Wins
Taking a big picture look at #GivingTuesday 2016, as its founders, the 92nd Street Y did, shows that while politically progressive non-profits like the ACLU and the Trevor Project raised tremendous funding, many types of organizations prospered.
Blackbaud processed $47.7 million in donations, a 20 percent increase over 2015; DonorsChoose, which connects donors with classrooms and teachers, raised $1.8 million — its most successful #GivingTuesday ever; and the Humane Society surpassed its goal of $200,000, bringing in $350,000.
Related: Trump Victory Has Fearful Minorities Buying Up Guns
"The election helped [prompt donations], as people were responding to the way in which philanthropy is part of our democratic spirit," said Henry Timms, executive director of 92Y and co-founder of #GivingTuesday. "Democracy is much bigger than politics: It's about community and how we think of ourselves as citizens, and knowing that we can contribute to the future of our country through philanthropy."
Timms noted that the data collected only reflects online donations, and that it is quite likely that donations made by check succeeded those made online, as "most of the giving in this country is actually still done offline."