NEW YORK — Former California Gov. Arnold Schwarzenegger will try to fill Donald Trump's shoes on "The Celebrity Apprentice."
NBC announced Monday that the movie star and two-term governor will be the new host of the competition show, which is returning to the network for the 2016 television season. (NBCUniversal is the parent company of both NBC News and the NBC TV network.)
Trump made the show a success, with first regular folks and then celebrities competing in business-related tasks. In seven seasons, NBC said "The Celebrity Apprentice" has helped raise more than $15 million for charity.
Schwarzenegger, who has long had a range of business holdings, from restaurants to real estate development to sports franchises, told Variety he is eager to begin filming the series.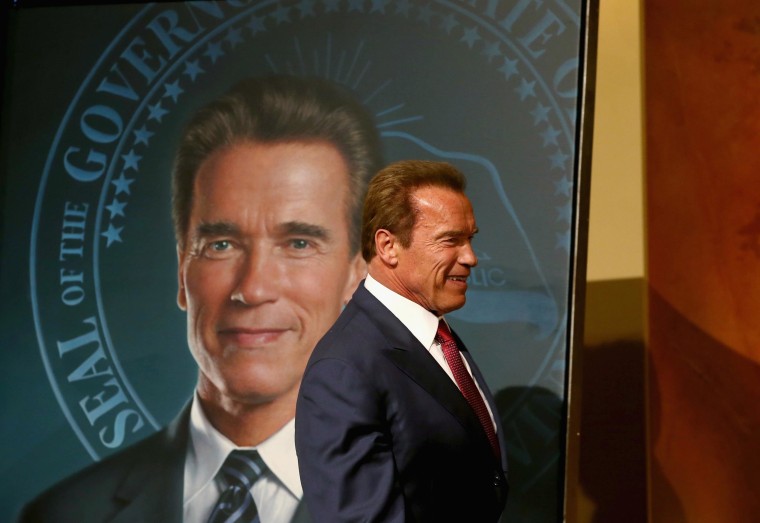 "I have always been a huge fan of 'The Celebrity Apprentice' and the way it showcases the challenges and triumphs of business and teamwork," Schwarzenegger said. "I am thrilled to bring my experience to the boardroom and to continue to raise millions for charity. Let's get started!"
Trump left the show that originated as "The Apprentice" in 2004 because of his decision to run for the GOP nomination for president.
"After leaving the show to run for political office, Donald made it clear that he wanted 'The Celebrity Apprentice' to be able to continue to raise millions of dollars annually for worthy causes, and now NBC and I have found an amazing new leader to do just that," the show's executive producer, Mark Burnett, told Variety. "Gov. Schwarzenegger will use his vast and highly successful business, political and media experience to drive this hit franchise to new heights."
NBC has not yet said when "Celebrity Apprentice" will return to the airwaves, apart from sometime in the 2016-17 season.
There's no word on whether Schwarzenegger will replace Trump's "you're fired" catchphrase with his own "you're terminated."