Mint juleps, fabulous hats, and legal bets: The Kentucky Derby's staying power draws equally from long tradition and the novelty and speed of the race. While it's not surprising that horse breeders and racers, as well as residents and business people in Louisville, reap the benefits of Kentucky's biggest sporting event, the Kentucky Derby has now spread its economic umbrella far and wide, and benefits an array of small businesses, from milliners to mint farmers.
For Kentuckians, Derby Week is a joyous romp of garden parties and charity events. It's also by far the greatest moneymaker of the year: According to the Horsemen's Benevolent and Protective Association, the national group composed of racehorse owners and trainers, the annual economic impact of the Derby tops $217 million.
"It can definitely make or break your year," said Jonathan Klunk, President of Key Source Properties, a short-term property management group that hosts properties through AirBnB and other clients. "The Derby is quickly becoming more of a bucket list item than it was even three or four years ago." His company will see $200,000 in rental income across 35 properties during Derby Week, and he notes that high-end and celebrity visitors to Louisville are often willing to pay any sum for the full Derby experience, with some visitors shelling out $20,000 a day just for a driver.
The horse may be king in Kentucky, but the impact of the Derby can be felt across the country, as retailers and entertainment venues cash in on the craze. Bet makers, too: Horse racing is the only sport that can be legally bet on in the U.S., and casual and die-hard bettors wager enthusiastically. The Kentucky Derby Online Betting website predicts that this year's race will be the closest and most bet on since 2011. More than $120 million is bet on the Derby annually.
The Derby's unique traditions are also a boon for bars, with many spots hosting viewing parties to get in on the action. Clyde Mashinter, general manager of Joebar in Hazel Park, Michigan, expects this year's Derby revenue to match, if not top, last year's numbers. When nearby Hazel Park Raceway, the state's only thoroughbred racing venue, abruptly shut its doors just a few weeks ago, neighbors and horse enthusiasts were stunned. They had been looking forward to another year of action and Derby betting, but Mashinter thinks "people might stay here longer because they're not running off to the track," he says. Joebar's Derby event will, like many bars, feature mint julep and spiked sweet tea specials all day long. Last year the bar ran through more than 15 pounds of mint.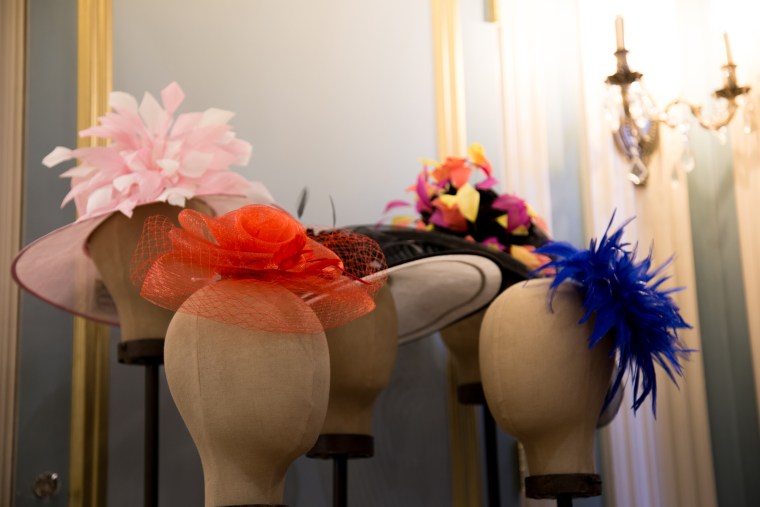 For many, though, the Derby isn't about betting and juleps. It's an opportunity to showcase creativity and individuality in the form of ostentatious headpieces. Like Joebar, Fort Worth's PROPER will have cocktail specials and will open early for the Derby. They also host a popular Best Hat contest, which Lisa Little Adams said is one of the highlights of the year. "We're running out of space for all the people who show up," she told NBC News, noting that she is "thinking of ways to expand it as a street party" to aid a local charity.
Rachel Lutz, owner of the Peacock Room in Detroit, agrees that the Derby is a major contributor to her spring retail boom. Her retail store sells high-end women's fashion, and hats are a big seller this time of year. She sees sales increase by thousands of dollars come Derby week, and Mother's Day following shortly after helps that trend.
"I think it's surprising that something that originated in Kentucky has spread all over the country and left its mark on the fashion community," Lutz told NBC News. "Derby season has definitely made an impact on our boutique business."