The New York Daily News announced on Monday plans to eliminate half of its newsroom as part of a broader effort to refocus the newspaper.
Daily News staff members were notified of the cuts in an email sent by the company's human resources department. The note also detailed a new direction for the paper, with an increased focus on breaking news, particularly stories about crime, civil justice and public responsibility. The paper will still cover local news and sports, the email said.
Journalists for the newspaper were called to a 9 a.m. meeting and then told to wait for the email, which notified them of the cuts and the paper's new direction.
The email also notified employees that editor-in-chief Jim Rich and managing editor Kristen Lee were among those leaving their jobs. Rich tweeted early Monday an ominous warning: "If you hate democracy and think local government should operate unchecked and in the dark, then today is a good day for you."
Robert York will be the new editor-in-chief. He was most recently the publisher and editor-in-chief of The Morning Call, a newspaper serving eastern Pennsylvania and western New Jersey.
York, speaking to Gothamist, a website that writes about New York, said that the news of the layoffs had caught him off guard
"I need to regroup and figure this out because there was a timing sequence to this that's now, not being adhered to, in terms of the announcement," York told Gothamist.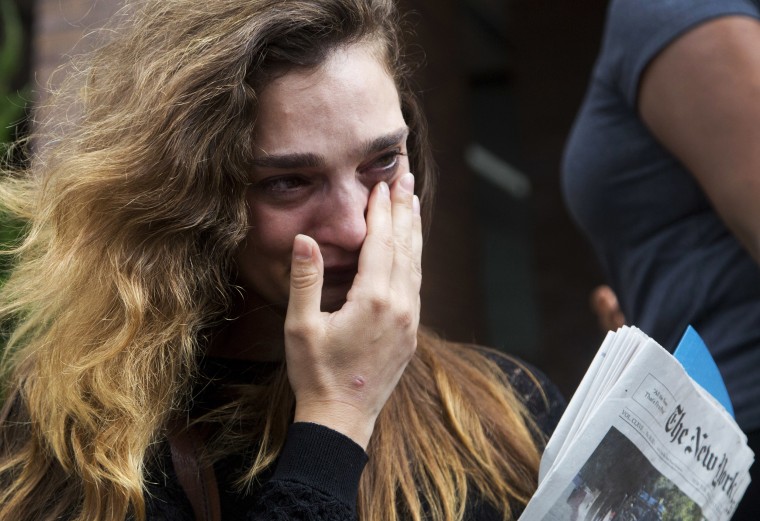 Various Daily News journalists tweeted that they had been let go from the paper, including Zach Haberman, who had been breaking news editor. In response, staff reporter Chelsia Rose Marcius posted a video that appeared to Haberman being clapped out of the newsroom, a tradition at many newspapers when a colleague departs.
Haberman told NBC News he hoped for the best for all his colleagues who had been laid off.
"This is a loss for New York City, for journalism, and on a smaller scale there are a lot of really good people going to be looking for work," Haberman said. "I will be cheering their success in other newsrooms."
Among the 40 or so people let go on Monday were many from the newspaper's photo department, including veteran Todd Maisel, and many of the court reporters from the outer boroughs.
The Daily News had recently upbraided New York City Mayor Bill de Blasio for the city's treatment of people living in public housing. But even the Mayor had some kind words for the newspaper via Twitter.
"It's no secret that I've disagreed with the Daily News from time to time," de Blasio said in the tweet. "But Tronc's greedy decision to gut the newsroom is bad for government and a disaster for NYC. Tronc should sell the paper to someone committed to local journalism and keeping reporters on the beat."
Laid off staff were commiserating over beers at the Bavaria House in South William Street. One journalist there who asked to remain anonymous said the layoffs indicated that the newspaper would be reducing its coverage of the city in lieu of reporting primarily on Manhattan.
"What I gather about the Tronc restructure is that we only care about Manhattan, we don't give a F*** about the outer boroughs," the person said.
The Daily News lost some $90 million between 2014 and 2016, according to an SEC filing.
In what appeared to be a small act of rebellion, the main Twitter account of the Daily News began tweeting memes and jokes, one of which was a GIF of a well-known meme — John Travolta in "Pulp Fiction" that's generally known as "Confused Travolta."
The tweets were later deleted.
Media conglomerate Tronc bought The Daily News in September, adding it to a stable of other newspaper and magazines that includes The Chicago Tribune and The Baltimore Sun.
The Daily News, once the country's largest-circulation newspaper, has been among the most aggressive New York City publications in its coverage of President Donald Trump, with the newspaper's cover often needling Trump about recent scandals or missteps.
The paper has received 11 Pulitzer Prizes including one in 2017 in conjunction with nonprofit investigative organization ProPublica for coverage of evictions based on obscure laws that pushed business owners and residents from their property.
The layoffs caught the attention of New York Governor Andrew Cuomo, who issued a statement calling for Tronc to hold off on letting go of any employees.
"I urge Tronc to reconsider this drastic move and stand ready to work with them to avert this disaster," Cuomo said in the statement. "I understand that large corporations often only see profit and dividends as a bottom line. But in New York, we also calculate loss of an important institution, loss of jobs, and the impact on families affected."
Local newspapers continue to operate in a difficult economic reality, with publications across the country cutting jobs. The Pew Research Center published a report on Monday finding that more than one-third of U.S. newspapers experienced layoffs between January 2017 and April 2018.
The email received by the Daily News staff said those laid off would be told on Monday if they had lost their jobs and would receive 90 days of severance pay.
"The decisions being announced today reflect the realities of our business and the need to adapt [to] an ever-changing media environment," the email stated. "They are not a reflection on the significant talent that is leaving today. Let there be no doubt: these colleagues are highly valued and will be missed."
Those words did not seem to resonate with Rich, the former editor-in-chief, who changed his Twitter bio to, "Just a guy sitting at home watching journalism being choked into extinction."