Even as the price of a first-class stamp rose a penny Sunday to 46 cents, the U.S. Postal Service is operating on borrowed time. "We are currently losing $25 million per day," Postmaster General Patrick Donahoe warned earlier this month. The agency lost nearly $16 billion in its last fiscal year, and its line of credit with the U.S. Treasury is tapped out.

If lawmakers don't act, it could run out of money "between six months and a year at most," said Richard Geddes, associate professor of policy analysis and management at Cornell University.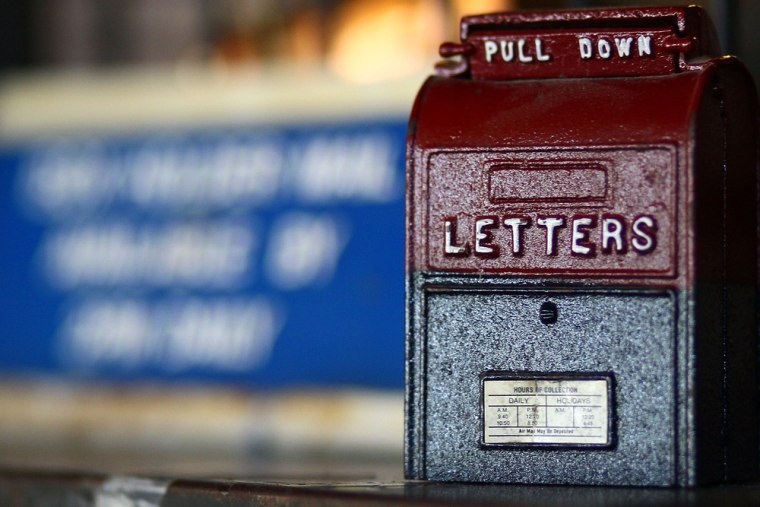 "There could be a period when mail is not being delivered," said Michael Crew, director of the Center for Research in Regulated Industries, and professor of regulatory economics at Rutgers University. 
The Postal Service said keeping letters moving is its top priority, even if it means defaulting on its retirement benefit funding again. "Although our liquidity situation remains a serious concern, the Postal Service is continuing to prioritize payments to ensure employees and suppliers are paid on time, preventing any interruption in our operations," spokesman David Partenheimer said via email.

How did the Post Office get into these dire straits when the price of stamps keeps going up? 
As it turns out, 46 cents is a really good deal. In the United Kingdom, for example, a first class stamp costs 60 pence, or roughly 94 cents. In Canada, it's 63 cents (which is about the same in U.S. currency). Geddes said if our postal service was refashioned to be more of a delivery system for still-plentiful but lower-margin commercial mail — ads, catalogs and the like — Americans could pay 30 percent to 40 percent more to send that birthday card — which would bring the price of a stamp to about 64 cents.
The Postal Service is limited in how much it can raise the price of postage, but that's only one of the factors keeping it from financial solvency. 
"The other thing that's hurt the postal service is it's an industry where we have scale economies," Crew said. The post office's fixed costs — keeping the lights on at its huge network of facilities, maintaining its fleet and paying its employees — are amortized across the amount of mail it processes. "As you increase volume, unit costs decline." 
But volume isn't increasing; it's plummeting. First-class mail volume — which earns around three times the profit of bulk mail — has dropped by about a third in a little more than a decade, Geddes said. "That decline is just enormous in a historical context," he said.
The decline was sparked by the rise of the Internet and exacerbated by the recent recession, when companies cut their budgets for mailings. "About a quarter of their traffic has been lost in the period since 2007-2008," Crew said. The agency has shed thousands of workers, but it's losing business faster than it can save money by shrinking its work force.
Crew also blamed "a flawed governance structure and flawed business model" for the agency's woes. "Any significant changes that have to take place have to be approved by Congress. This is not a way to run a business if you're in a fast-moving environment," he said. The Postal Service has expensive benefit obligations for retirees, a bill the agency is currently putting off and on which it owes $11.1 billion.  
"The main problem here is Congress had introduced too many conflicting and inconsistent demands," said James I. Campbell, an attorney and consultant on postal policy. 
The USPS has to deliver mail six days a week to everybody in the country who has been sent mail, and it has to maintain a network of around 32,000 post offices — a much bigger footprint than other industrialized nations have. The post office wants to eliminate Saturday delivery, which Partenheimer said would save $2.7 billion a year. But to do this, it needs Congressional approval, which — so far, at least — it hasn't received.
"Essentially, Congress has got to rethink the legislation that establishes the post office," Campbell said. 
That is easier said than done, even with dire consequences looming. "The information I've gotten is not looking good," Geddes said. "The reason they've been able to last this long is because they have gotten the low-hanging fruit … but they're at they're bare bones now."