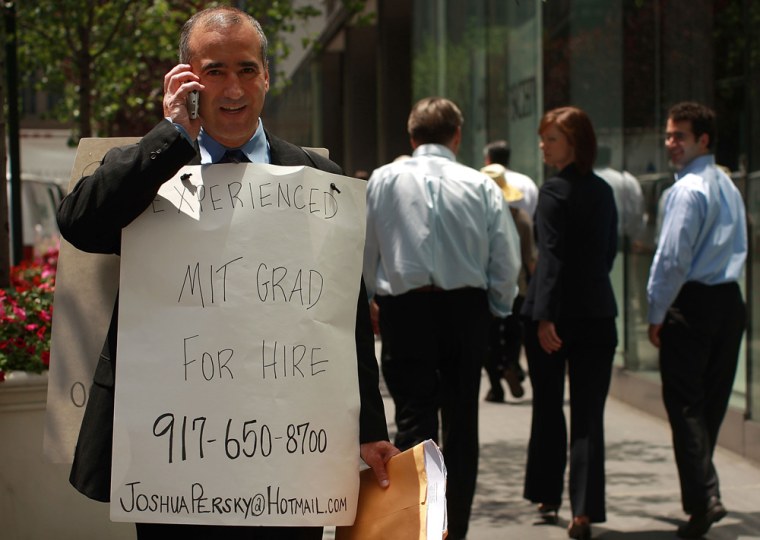 If necessity is the mother of invention, recession is the mother of extreme job searches.
Last week, we brought you the story Jadiam Lopez, a Miami dad facing unemployment and steep credit card bills. His prospects were so bad that he took a dangerous job working as a firefighter in Iraq. His story is a stark glimpse into the world of harsh choices that many Americans are facing right now as the sluggish economy drags into its fourth year.
Have you been forced into a crazy situation by the economic downturn? As America readies for a sober Labor Day weekend, we want to hear from you. Tell us about your extreme employment situation below. But first, a little more discussion.
We know that Lopez's dilemma — stay unemployed or take a job that would have seemed crazy five years ago — is common. While we don't know how many Americans have been forced to work in a war zone to provide for their families or how many Ph.Ds are flipping burgers at midnight, there are hints everywhere.
The Labor Department says there are 14 million unemployed adults, but there's also 8.4 million "involuntary part-time workers" whom you rarely hear about. These are adults who can't find full-time jobs but are trying to make ends meet by piecing together hourly work. Some are in their chosen fields, forced to work fewer hours. But many are working in restaurants or doing other blue-collar jobs they'd never imagined. Another 2.8 million people are "marginally attached" to the labor force, meaning they'd been job hunting in the past 12 months but recently had simply given up.
Joshua Persky became the face of desperate job seekers in 2008 when the laid-off investment banker resorted to wearing a sandwich board with his phone number and walking around Wall Street. Persky became an international sensation as his poignant image catapulted around the Internet, and he got eceived a few job offers. But nothing panned out. Persky doesn't have a full-time job now, athough he is trying to parlay his fame into a business by selling a gadget called Twisplays that helps companies program digital message boards with Twitter.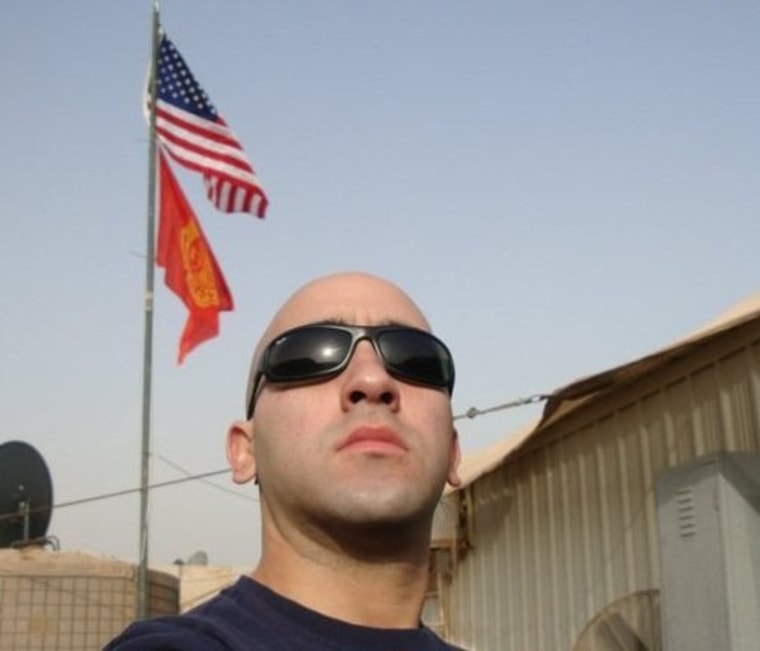 There are jobs being created, albeit at a rate much lower that needed to restore the 8 million lost to the recession. In July, for example, 110,000 new jobs were created. But even this crumb of good news isn't what it seems. The National Employment Law Project says that, of the 1 million private-sector jobs created last year, most came in low-wage industries like temp work, retail or restaurants. High-wage jobs made up 40 percent of job losses during the recession, but they make up 14 percent of new jobs today, the report says.
And just because someone has a full-time job doesn't mean his or her life is normal. Last year, my colleague Allison Linn highlighted a new breed of "supercommuters": workers who drive nearly 100 miles just to get the office. The U.S. Census Bureau already had a term for people with oppressive commutes, but its definition for "extreme commuters" — 90 minutes total travel time each day —sounds eerily normal now. Needless to say, extreme commuters are on the rise, as are supercommuters.
In her careers column this week, Eve Tahmincioglu describes the lengths that job seekers are going to in an effort to attract attention. Some are making Web sites aimed at specific employers, or even writing and recording songs with lyrics like "Yes we can change the world today. Take a look at my resume."
Active employment bulletin boards devoted to helping workers find jobs are filled with dark stories about the sacrifices workers must make now. The harshest and most obvious — steep wage cuts.
"I actually read a blog of the CEO of a recruiting firm who said that candidates should accept a 40-50% salary cut if they want to get a job," wrote one. "They are fleecing us. ... I just interviewed for a job that is identical to the one I was laid-off from last year — same exact duties, same size firm — but they are only paying $38-40K for the same job I made $70K working at. With 15 years of experience under my belt, this was more than insulting, it was downright depressing."
Deep wage cuts — extreme commutes — hazardous work — burger flipping. Has the economy forced you into an extreme situation? Let us know, below. We'll compile a report based on your stories after Labor Day. 
Follow Bob Sullivan on Facebook or Twitter.  
Comments begin below. Tasteless or insulting comments will be removed.  Comments can be posted anonymously by sending an e-mail to BobSullivan@feedback.msnbc.com.