Mylan CEO Heather Bresch faced brutal questioning spanning over six hours Wednesday from members of the House Committee on Oversight and Government Reform, which convened to investigate the company's stratospheric price hikes on its EpiPen emergency epinephrine auto-injectors.
After not getting the full transparency it sought, the committee gave Mylan and the FDA ten days to produce additional documents, including Mylan's contracts with suppliers and pharmacy benefits managers, which could include proprietary agreements and trade secrets.
Frustration was high: "I talked in my opening statement about rope-a-doping," said Representative Elijah Cummings of Maryland, the ranking Democrat on the committee. "I feel like you're not giving me answers. You knew what this hearing was about."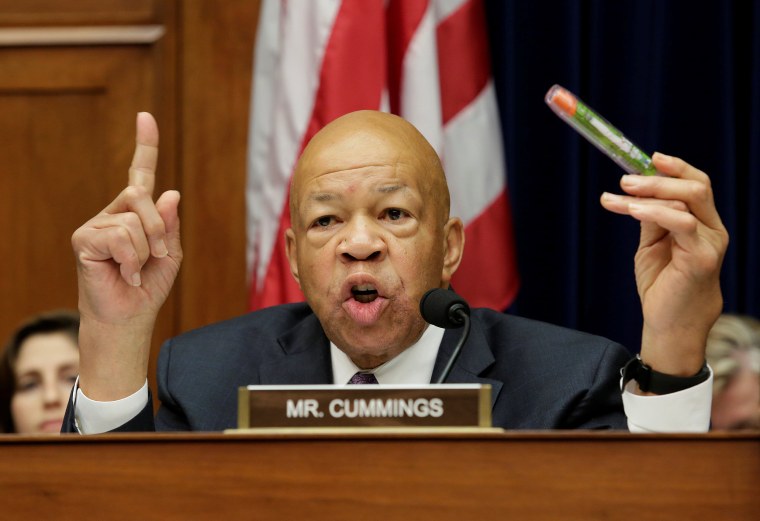 He continued to slam Bresch, saying Mylan had "jacked up the price of a life-saving product for no discernible reason other than to get filthy rich at expense of our constituents."
"The actual juice that's in here that you need costs about a dollar," said Jason Chaffetz, committee chairman, holding up an EpiPen. "When the juice is $1 and they're selling it for $600 there's room for profit," said Chaffetz, a Republican from Utah.
"Every day four people are going to die if they don't have this product," he said. "Parents don't have a choice. If your loved one needs this, it better darn well be in your backpack."
Relentless Back and Forth
Lawmakers pounded Bresch for answers on EpiPen's costs, strategy and money spent on research and development for EpiPens. Bresch largely stuck to overall numbers or described numbers on the level of an individual package. At several moments, she brought out various charts to illustrate her points.
"We have given 700,000 free Epipens across 65,000 public schools, something I'm very proud of," said Bresch, a figure she quoted several times in response to different questions. "We expanded access and reach to patients who are at risk," she added, citing that Mylan had doubled the number of patients with access to EpiPens.
The committee members remained steadfast in their grilling and, at times, appeared to be alternately flummoxed or bemused by what they heard. At some points committee members asked Bresch to not use her charts or complained that the charts she brought out weren't addressing the questions they were asking.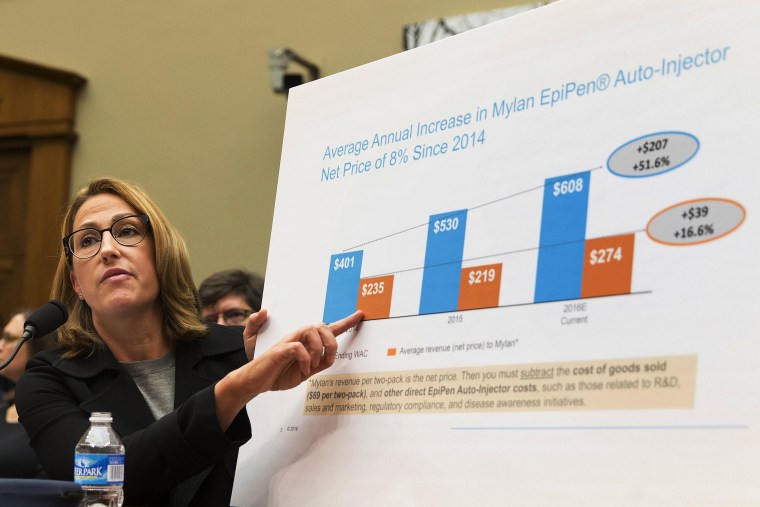 For her part, in a calm, soft voice, Bresch stayed on message. She also announced that Mylan would be filing an application to extend the shelf life of EpiPens from 18 months to 24 months. "We want everyone who needs to have an EpiPen will have one," she said.
"I'm struck by what great humanitarians you are," said Congressman Gerry Connolly, a Virginia Democrat. "Do you understand what the uproar is about?"
Out of chambers, at recess, Cummings compared Bresch's testimony to "Pharma Bro" Martin Shrekli's smirking refusal to answer answer questions asked by the same committeethis February.
"She's shown us no more than Shkreli did. I guess what we have here is a technical 'taking of the 5th'," said Cummings.
Following the recess Representative Earl Carter, a Republican from Georgia and a pharmacist, attempted to pin Bresch down on the rebates pharmacy benefits managers pay back to Mylan.
"Do you know how much the PBM receives?" asked Carter.
"I don't know specifically the breakdown between those four buckets," said Bresch.
"How much do you get back in rebates from the PBM?" said Carter.
"I don't know want to give an inaccurate number," said Bresch.
At another point in the back and forth, she started to talk, as she had many times during the hearing, about how the company had introduced its own generic.
"This is a crock don't try to convince me that you are trying to do us a favor," said Carter, cutting her off. "This is a shell game," he added later, throwing up his hands.
What About the FDA?
Also facing the House committee was the FDA Deputy Director for Regulatory Programs at the Center for Drug Evaluation and Research, Dr. Douglas Throckmorton, whose agency is responsible for approving new drugs.
During the hearing, Throckmorton highlighted the agency's advisory role in the new drug application process and said it's up to drugmakers to introduce generics and resolve patent squabbles.
The regulator continues to "streamline and improve its review and approval of generic drug applications" but ultimately the decisions to apply and market generics "are controlled by the generic drug industry," said Throckmorton. "We take our role seriously," to speed innovative products, he said.
The committee pressed a sometimes flustered Throckmorton for specifics on the number of backlogged drugs in the FDA approval system and requested additional documents with 10 days.
Wednesday's heated exchanges are the latest ratcheting up in the pressure for Mylan as public outcry and a flurry of investigative activity has followed NBCNews.com reporting in August that asked public officials whether they were looking into how the price increases were affecting families ahead of the new school year, and an NBC Nightly News report in June.
A Triple-Digit Price Increase
Prices on the EpiPen have gone up from around $100 for two since Mylan acquired rights to the device in 2007, to a list price of over $600 in 2016, an increase of over 400 percent.
It has been a profitable foray into branded medicine for a company previously known for making lower-cost generics of other drugs.
The medicine inside the EpiPen is epinephrine, more commonly known as adrenaline, and available as a cheap generic for decades. Industry insiders and experts told NBC News they estimated the pen itself costs less than $30 for Mylan to buy from the manufacturer Meridian Medical Technologies, a wholly owned Pfizer subsidiary, and then remarket.
As Mylan spent millions publicizing the dangers of anaphylactic shock and successfully lobbying for more favorable regulation, the surging revenues rewarded Bresch with $19 million in overall compensation, a 600 percent increase, and generating over a billion dollars in annual profits for the company. Last year the EpiPen alone accounted for over 40 percent of Mylan's operating profits, Bloomberg reported.
And after a recall forced its chief competitor, Auvi-Q, to withdraw from the market in 2015, Mylan has enjoyed a de facto monopoly. Since Auvi-Q's maker Sanofi introduced it in 2013, the two had charged similar prices and raised them by similar amounts.
Market Dominance for a Life-Saving Drug
Mylan has made its crown jewel product ubiquitous. With an estimated over 90 percent of the market share, EpiPen has become the "Kleenex" of epinephrine autoinjectors. School nurses stock them, some getting four for free per year through a Mylan-sponsored program. Children walk to school with EpiPen carrying cases decorated with cartoon characters clipped to their backpacks. Families are encouraged to keep multiples of the device around, which are now only sold in the two-pack version, effectively doubling their price.
For years the actual price was largely hidden to consumers who only saw the $30 to $50 copay they had to pay at the pharmacy counter. Behind the scenes a clockwork of players processed the true cost and issued payments to various points in the supply chain. The rising price tag was silently redistributed in the form of gradually rising insurance premiums for plan members.
But as more patients have chosen or been steered into plans with higher deductibles, more families began to pay full sticker price. And they had to shell out every year, as the emergency pens expired and needed replacing.
Media reported on the price increases, occurring as many other drugs also saw their cost jacked over 100 percent, but the uptick continued unabated. Public ire rose by word of mouth and the numbers signing online petitions in protest swelled. Patients and EMTs sought alternatives, like asking for the less-well-known competitor Adrenaclick, or carrying pre-loaded epinephrine syringes. The DIY solution is economical, if imperfect. If administered incorrectly, it could lead to over or underdosing.
What's next?
"She knew exactly what this hearing was about but she didn't provide many answers," said Representative Cummings to a diminished press contingent outside the hearing room afterward.
While Mylan used the same "playbook" as other pharmaceutical companies who have been excoriated for alleged price gouging only to "go back on their jets and laugh and drink champagne" and "hoard their blood money," Cummings said this time things were different.
"The will is coming from the people. Never have I had an issue that has gotten as much response as this with consumers," he said.
When asked if Bresch should resign, Representative Chaffetz said Mylan and the FDA were "on the clock" to provide additional documents and answers in ten days time.
"She's begging us to look deeper," Chaffetz told NBC News.