Mars, the one-time maker of king-sized chocolate bars, is considering taking its M&Ms out of sugary dessert treats, including McDonald's McFlurry.
An industry source familiar with Mars' thinking said the company has had talks with the world's largest fast-food chain and other partners about its candies' inclusion in super sugary products.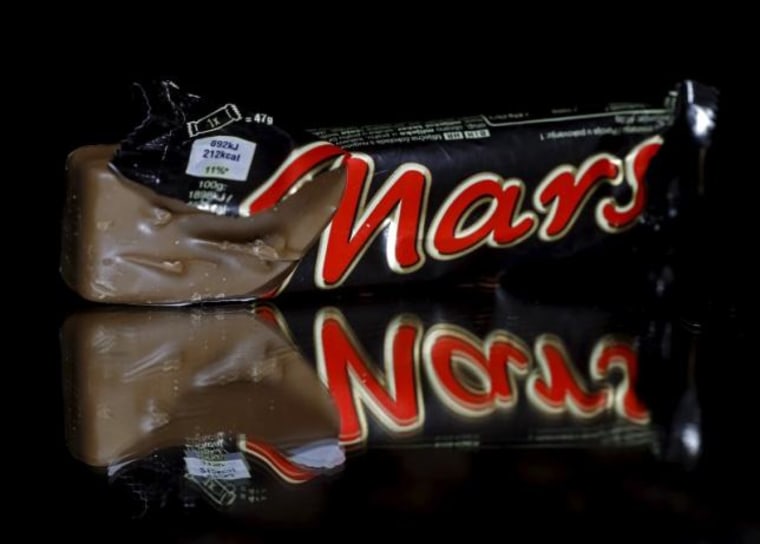 The elimination of M&Ms - which contain 7.5 teaspoons of sugar, about a third as much as the large McFlurry, per serving - is just one idea on the table; also under consideration with McDonald's and other partners, are recipe reformulations, the source said.
Mars is concerned desserts that feature its candies - such as the McFlurry, Burger King's Snickers pie and Dairy Queen's Blizzard - exceed in a single serving the amount of sugar the U.S. government recommends anyone eat in a day, the source said.
That kind of sugar load conflicts with Mars' public stance that sweets are best enjoyed in moderation.
The company has promised publicly to limit sugar in all of its products to match guidelines from the world's leading health authorities, including the World Health Organization and nutrition committees in the United States and United Kingdom.
A Mars spokesman declined to discuss details of any discussions with partners. But, in a statement to Reuters, the spokesman said, "We are now working alongside our suppliers and customers to bring this commitment to life."
That the world's largest confectioner is fretting about the inclusion of its marquee candy in popular fast-food concoctions is the latest reflection of how the sugar backlash is roiling the industry.
To some, Mars' qualms miss the bigger picture.
"This is all junk food," said Michele Simon, public health attorney and author of "Appetite for Profit," a critique of the food industry.
"It's kind of silly."
Among candy companies, a group known for promoting super-sizing rather than restraint, any move that could hurt sales stands out. Mars sells an estimated $25 billion in sweets a year, according to data firm Euromonitor International Ltd.
Mars' examination of brand marriages, such as M&Ms and the McFlurry, is part of an evolving strategy to shield its products from growing concerns about the health effects of sugar and address higher scrutiny from regulators and consumers, according to sources at rival companies, former employees and industry experts.
As a private company, Mars has had more leeway to make riskier moves than competitors, such as Hershey or Mondelez. and it has been ahead on issues, such as sustainability, those sources said.
In 2008, Mars was the first confectionery company in the United States to list calories and sugar on the front of chocolate bars and other products. Competitors, initially baffled, later followed suit.
In 2013, Mars stopped selling king-sized candy bars and limited candy packages to 250 calories per serving.
And earlier this year, Mars advised customers to eat its most indulgent Dolmio pasta sauces and macaroni and cheese no more than once a week because of their high levels of salt, sugar and fat.
The company spokesman said Mars was promoting transparency and factual labeling, so that customers can enjoy its chocolate and confections as "occasional treats" in a balanced diet.
When Robin Schepper ran Michelle Obama's "Let's Move!" campaign aimed at improving children's health, she said Mars executives were very interested, wanting to know, "What did the Administration want? What did the first lady care about?"
Their strategy of early engagement was unusual among food companies, Schepper recalled. "They were doing the research to take it into consideration for their business planning."
Mars has made what Marion Nestle, professor of Nutrition, Food Studies, and Public Health at New York University, described as "significant steps."
"They must think it's to their marketing advantage," she added.
The private U.S. company does not disclose detailed financial results, so the bottom line impact of its decisions is unknown.
Candy has gotten something of a pass in the war on sugar as health advocates focused on "hidden" sugar in beverages and food, such as pasta sauce and salad dressing.
The National Confectioners Association said chocolate, candy, gum and mints account for less than 2 percent of the average American's overall caloric intake.
But U.S. guidelines adopted in January amid a growing body of evidence linking sugar to obesity and diabetes could put the bite on sweets.
The new guidelines recommend added sugars be less than 10 percent of caloric intake, which works out to about 12.5 teaspoons of sugar per day in a 2,000-calorie diet.
Last month, the U.S. government required packaged food makers to begin disclosing the amount of added sugar in products - a change Mars publicly supported.
Restaurants are not subject to the disclosure rule. But industry experts said Mars' conversations with McDonald's could prompt the fast-food chain to voluntarily list the amount of added sugar in the McFlurry and other products.
It's better to "err on the safe side so the food police don't get to them," said Bob Goldin, who leads the food industry consulting and research group at Technomic.
Representatives from McDonald's and Burger King declined to comment.