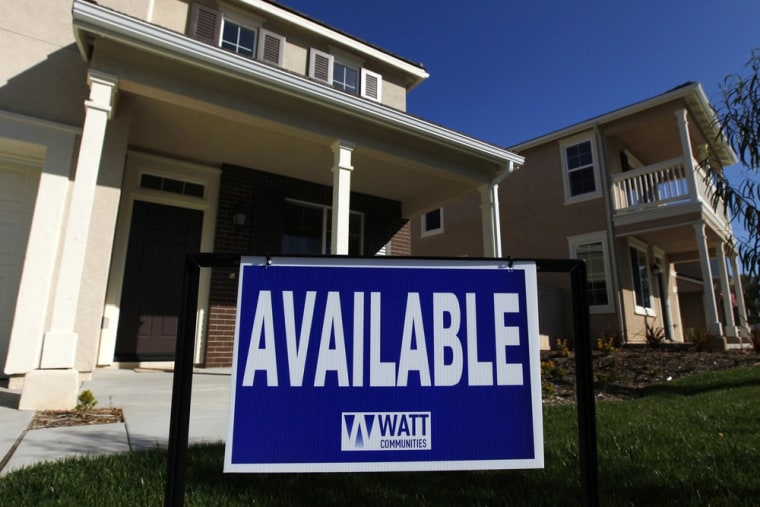 Plunk another nail in the housing-bust coffin: A closely watched survey showed Tuesday that single-family home prices in the nation's biggest metro areas  pushed higher for the fourth consecutive month.
The S&P/Case Shiller composite index gained 0.9 percent in May from April on a seasonally adjusted basis. Meanwhile, 18 of the 20 cities measured by the index recorded gains in May, heaping still more evidence onto the case that U.S. housing prices have bottomed and that a recovery seems to be budding. The year-over-year gap in housing prices continued to shrink: compared to May 2011, prices were just 0.7 percent lower in May 2012. 
"With another one-month increase, and a slower (year-over-year) decline, we're there," said Joel Naroff, chief economist at Naroff Economic Advisors. 
"Now we're wiping out just about all of the decline," Naroff said. "It indicates the market has turned the corner on the pricing side.
"And it's telling us we're not far from when the year-over-year number could turn positive. Once you cross that, you now know you're in good shape because you you'll be (even with 2011 prices) real quickly."
In most cities, the month that local real estate prices hit bottom is becoming more clear with each new data release. For Minneapolis, it was October 2011; for Miami and Tampa, it was November; and for and Seattle, it was December.
Nationally, home prices in the 20 cities followed by Case-Shiller peaked in April 2006, and it appears that, on average, they bottomed in January 2012.
Overall the national real estate market still has some melting to do before experts formally declare that the chilliest days have given way to the warmth of a true recovery.
But with Case-Shiller offering a three-month snapshot of the 20 largest metropolitan areas -- and the fact that it takes into account more distressed properties than some other housing-market measures -- experts say May's figures were even healthier than expected.
In February, the U.S. government announced a $25 billion settlement with five of the nation's largest banks over charges of widespread mortgage fraud. It was billed as the largest-ever deal on such charges. That settlement was expected to potentially help more than 1 million struggling homeowners, and it marked the largest multistate agreement since the nationwide tobacco settlements in 1998. Forty-nine states signed on to the deal with Bank of America, Citigroup, JPMorgan Chase, Wells Fargo and Ally Financial. 
"The turnaround in home prices was unexpected," said Patrick Newport, an economist with IHS Global Insight. "The conventional wisdom in February, following that landmark agreement, was that we would see a surge in foreclosures of some size that would lead to lower home prices. This surge never materialized and home prices have turned."
Newport also notes four more data points that point to a firm move up and off of the bottom: Housing starts hit a low in the fourth quarter of 2011; residential investment has added to gross domestic product growth for five straight quarters; and the FHFA monthly House Price Index in May was up 3.7 percent from a year earlier, higher than inflation, "which means that real housing wealth, a consumer spending driver, was also up."
It hasn't actually translated into higher consumer spending yet, however. Government data released Tuesday showed that inflation-adjusted consumer spending fell for the first time in a year in July as Americans saved more amid worries about jobs, wages and Washington.
What's more, the pickup in house prices helped lift 700,000 homeowners above water during the first quarter of 2012 while the number of underwater homes fell from 12.1 million properties at the end of 2011 to 11.4 million at the end of the first quarter, according to CoreLogic.
"The best news on the housing front is that house prices are stabilizing in over half of US cities," Newport said, "and that includes some cities where foreclosures remain high" such as Miami, Phoenix and Las Vegas, which all notched another month of home-price gains in May. 
More money and business news: