Carli Lloyd, a two-time Olympic gold medal winner and member of the 2015 World Cup winning team, is now turning her energies toward a new match-up: equal pay for equal play.
"Simply put, we're sick of being treated like second-class citizens. It wears on you after a while. And we are done with it," Lloyd wrote in an essay published in the New York Times.
Lloyd and four other members of the U.S. Women's Soccer team filed a wage-discrimination complaint with the Equal Employment Opportunity Commission seeking equal pay in late March.
NBC News previously reported that although female players are paid as little as 40 percent of what a male player could make, attendance for women's national soccer team games has risen to striking range with the men's game levels in the past year.
And the women's team has had more success in tournament play than the U.S. men's team could dream of.
"If I were a male soccer player who won a World Cup for the United States, my bonus would be $390,000. Because I am a female soccer player, the bonus I got for our World Cup victory last summer was $75,000." Lloyd says in her essay.
Related: U.S. Women's Soccer Team Could Boycott 2016 Olympics
On Sunday, U.S. women's soccer team co-captain Becky Sauerbrunnsaid players could decide in July to boycott August's Olympics if nothing has changed regarding the complaint. Lloyd strikes a similar affirmative tone in her essay.
"We are not backing down anymore," Lloyd wrote.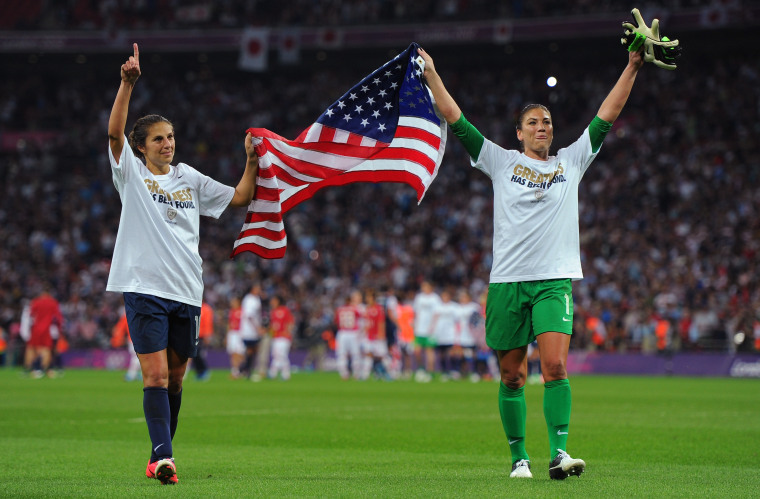 "If I've learned anything in my career, it's that nothing worthwhile in life comes easy. That's just the way it is. This isn't about a money grab. It's about doing the right thing, the fair thing," she continued.