No man is an island when it comes to climate change -– even if he owns one.
Famed illusionist David Copperfield is among the few handfuls of A-list celebrities and billionaire businessmen who own private islands around the world. But he's also part of an even more exclusive club: Island owners who say they are concerned about climate change and are making efforts to address its impacts.
"It's something I'm extremely concerned about," Copperfield, who owns Musha Cay and the Islands of Copperfield Bay, a private island resort off Great Exuma in the Bahamas, told NBC News. "We have 11 islands here and we'd like to keep it that way."
Such concerns -- even when offered somewhat tongue-in-cheek -- pale in comparison to the threats faced by the millions of people living on low-lying islands and continental coastlines whose homes and livelihoods are threatened by rising sea levels. On the other hand, issues often get more attention when bold-faced names get involved.
Copperfield is one of just a few island owners who have publicly addressed climate change. Sir Richard Branson, for example, is working to switch from diesel to renewable power on Necker Island, his private retreat in the British Virgin Islands. And Leonardo DiCaprio is in the process of restoring Blackadore Caye in Belize, undoing decades of deforestation and coastal erosion as part of plans to build an eco-conscious resort.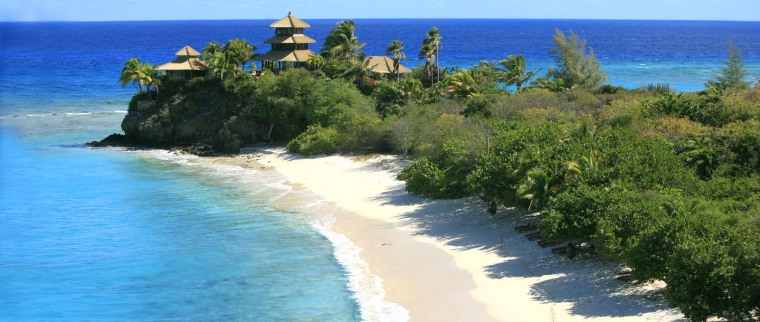 Such efforts no doubt belie the public view of private islands, which are more often seen as trophy assets for the rich and famous. (Nor, of course, do they offset the carbon footprint required to build, access and support such places.) In 2012, Oracle CEO Larry Ellison bought (98 percent of) Lanai, Hawaii, for an estimated $500 million while Google CEO Larry Page is believed to own Eustatia Island, a short hop from Sir Richard's Necker Island hideaway.
But for true private-island star power, it's hard to beat the string of cays and islets that stretch northwest from Great Exuma. Johnny Depp, Tyler Perry and Faith Hill and Tim McGraw have all purchased their own private paradises in the archipelago. The key word, of course, is "private," as access is limited to friends, family and other special invitees.
Revised Global Warming Records Show No Sign of Long-Debated 'Hiatus'
Not so Copperfield's Musha Cay. Comprising 11 smaller islands, it features five luxury guesthouses and a host of all-inclusive amenities. The only catch: You have to rent the entire island, with rates that start at $39,000 per day for up to 12 people.
Battening down the hatches
As with the rest of the region, the most immediate threat from climate change isn't rising sea levels, but rather the increased intensity of hurricanes. And with ample resources, the resort has taken steps to address the issue.
"The island is built similar to a fort," said Island Director Cathy Daly. "All the buildings have strong hurricane shutters and everything is able to be bolted down. Even our guest docks were built to completely disassemble in less than two days and can be stored inside to prevent loss."
The resort has also built several breakwaters to prevent the loss of sand from the surrounding beaches, and is designing "new structures which will capture rainwater for repurposing, as well as solar and wind energy technologies" to reduce its environmental footprint, Daly said.
Longer term, more people will be forced to make similar preparations. Not only are extreme-weather events becoming more common but so, too, is private island ownership.
Demand is strong, says broker Farhad Vladi, owner of Vladi Private Islands Ltd., in Hamburg, Germany, who estimates that there are around 800 private islands currently on the market. His company alone currently lists 248 island properties for sale with prices ranging from $555,000 for 8.9-acre Kalskar Island, off the coast of Finland, to Cave Cay, a move-in-ready getaway near Musha Cay, for $90 million.
Vladi said the threat of climate change is unlikely to dampen enthusiasm, as anyone who can afford a private island can also afford the necessary steps to protect their investment: "They're aware of it but not overly concerned," he told NBC News. "They'll do everything they can to safeguard their homes."
Climb Inside the Jets of the Super-Rich
For his part, Copperfield believes the more appropriate response is to combine defensive measures with proactive efforts to mitigate his islands' long-term impact on the environment. Individual efforts, he suggests, including those of private-island owners, add up: "There isn't one thing that's going to solve the problem; every single human being on this Earth can do one small thing that will add up to the final result," he said.
"At the end of the day, nobody really owns anything. We're temporary custodians who get to take care of it for a while."