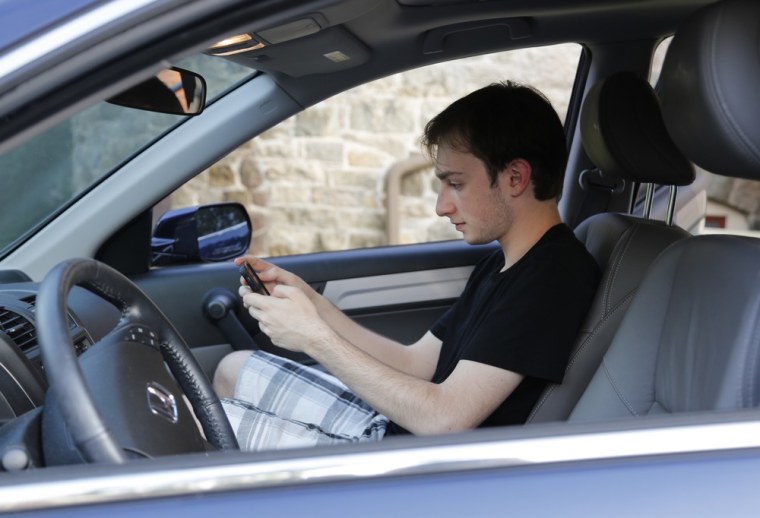 For the parents of today's teens, getting a driver's license was a rite of passage often considered crucial to everything from dating to working -- and feeling like an adult.

For today's teens themselves? Not as much.
The percentage of teens with a driver's license has fallen significantly over the past few decades, and experts suspect there's no one explanation for the shift. Instead, they cite a host of reasons, including everything from high gas and insurance prices to more of a willingness to let Mom and Dad drive you around.
"The numbers suggest that fewer teens are wanting to drive," said Karl Brauer, senior director of insights at Kelley Blue Book.
About 28 percent of 16-year-olds had their driver's license in 2010, compared with about 46 percent of 16-year-olds who were licensed drivers in 1983, according to an analysis of data from the Federal Highway Administration and the Census Bureau data compiled by Michael Sivak and Brandon Schoettle at the University of Michigan.
Those numbers go up as teens get older, but today's older teens are still less likely to be driving than the teens of the 1980s, according to the University of Michigan analysis. About 70 percent of 19-year-olds had their license in 2010, according to the University of Michigan analysis, compared with 87 percent of 19-year-olds in 1983.
One big potential culprit: Cost. Anyone who's filled their tank lately knows that it takes more than pocket change to drive around, and that's not even including insurance and other maintenance. A recent study from InsuranceQuotes.com found that adding a teenage driver to the family car insurance policy can double annual premiums in some states.
Related: 14 best (safest, most reliable and fuel-efficient) cars for teens
"The total cost of operation has gone up," said George Magliano, senior principal economist with IHS Automotive.
Many older drivers would argue that's why they had a job as a teenager. These days, that's easier said than done, thanks to the difficult job market.
The unemployment rate for 16- to 19-year-olds stood at 24 percent in June, according to the Bureau of Labor Statistics, more than three times the overall unemployment rate of 7.6 percent that month.
The weak economy of the past five years has likely played some role in keeping teens from getting a driver's license – and parents from footing the bill for their car. But the general trend toward fewer teen drivers has been going on since before the recession began, said Magliano.
"Part of it is a long-term trend and part of it is temporary," he said.
There's also been a shift in parenting styles in recent decades, and some speculate that today's parents may not be as bothered by being the chauffeur.
"There's a lot of people who know their parents are willing to drive them around," said Brauer, of Kelley Blue Book.
Brauer thinks another big factor is that teens in many states are subject to more stringent rules about when they can drive, and with whom.
"From 16 to 18, it's essentially just more difficult to get your license," he said.
According to the Insurance Institute for Highway Safety, those changes have led to sharp reductions in traffic fatalities for younger drivers.
The changes also may be causing some teens to put off getting their license.
'I can't really take myself anywhere'
When she first became eligible to get a license, Kayllin Downing had a boyfriend and other friends who were usually willing to give her a ride, so she said she didn't really have the motivation to get her license.

After some friends moved away and she and her boyfriend broke up, the Framingham, Mass., resident figured it was worth waiting until she was 18 so she could get her license faster and not face restrictions on things like driving at night.
But even after she turned 18 in December, Downing dragged her feet. That means the recent high school graduate has had to rely on her parents to drive her to her retail job, and can't always join friends for things like trips to the beach.
"It's really difficult because I can't really take myself anywhere," she said.
That's gotten the recent high school graduate motivated to get her license before she starts community college in the fall.
"I wish I had done that sooner," she said.
Max Sauberman also didn't get his driver's license before graduating from high school earlier this year – because he couldn't fit it into his busy schedule.
"There really wasn't any time in the day to drive," said Sauberman, now 18.
At his high school in Millburn, N.J., Sauberman said his days often stretched from 7:15 a.m. to 9:30 p.m. thanks to AP classes and extracurriculars including musical theater, speech and debate.
Sauberman only lives a few blocks from school, and he said his mom or another family member was usually willing to give him a ride whenever he needed one. Plus, he knew that even if he had his license his parents weren't planning to get him a car.
"I wasn't going to get a surprise birthday present," he quipped.
Sauberman has finally made an appointment for later this summer to take the road test. But even after he gets his license he doubts he'll drive much. He said Yale, where he'll be going, doesn't offer parking to freshmen and he won't have a car anyway.
Another theory as to why teens aren't driving as much as they used to is because the Internet and social media such as Facebook has made it easier for teens to connect with one another without being physically together.
Sauberman, at least, says that wasn't his reason for not getting a license.
"I certainly believe that Facebook is a distractor of life in general, but I don't think it's really (rational) to say that I could go visit someone but instead I'm going to stay home and go on Facebook," he said. "I don't see that as a reason to not get a license."
As more teens put off getting a license, the next question if whether they will end up not being drivers at all. Sivak's data also shows that the percentage of people in their 20s who had a driver's license in 2010 is lower compared to 1983.
"I expect that a part of the decrease in the licensure of young persons is permanent, meaning that a substantial proportion of those without a license now will never get a license," he said.
Allison Linn is a reporter at CNBC. Follow her on Twitter @allisondlinn or send her an e-mail.