Google, flush with cash and mulling a way to extend its reach into television, has held meetings with the National Football League, whose lucrative TV package Sunday Ticket is up for renewal next year.
The league confirmed it had met with Google officials, but declined to comment on specifics.

But it raises the tantalizing possibility that the online search giant could launch a bid for the rights to Sunday Ticket. Sources tell CNBC that Sunday Ticket was one of several items that emerged in the context of the discussion.
The acquisition, if consummated, would dramatically boost the media efforts of Google, which is trying to ramp up original programming and earn subscription revenue as opposed to advertising income.
The subscription TV service, Sunday Ticket, is currently owned by DirecTV, which offers fans a season pass to their favorite teams and reportedly pays $1 billion a year for the privilege of running NFL content. DirecTV's deal with the NFL will end next year, meaning that possible bidders would begin indicating their interests around this time.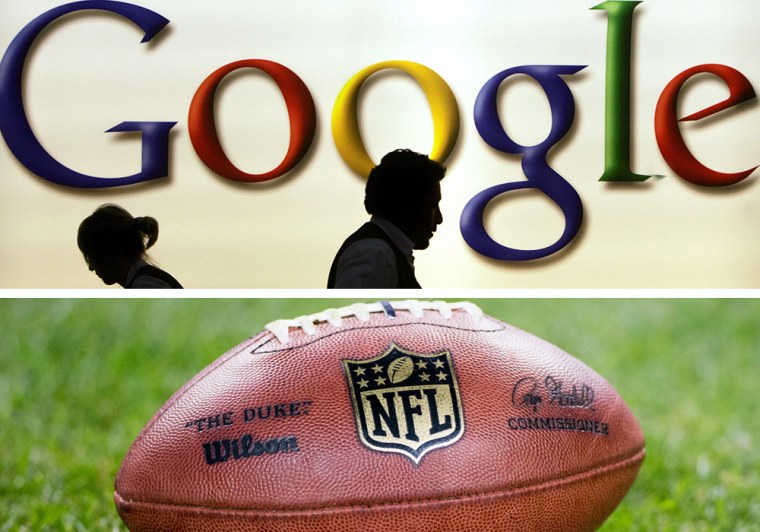 "Members of our office meet often with innovative leaders in Silicon Valley and around the world," the NFL said in a statement. "We are constantly looking for ways to make our game better on the field, in the stadium and for fans. We are not commenting on any specifics of the meetings."
Sources also told CNBC that the NFL is also in conversations with DirecTV about renewing its deal, and has also spoken with cable TV companies.

NFL Commissioner Roger Goodell and league officials called on Google, Facebook and several other key Silicon Valley companies in recent days, as part of efforts to improve their content, NFL spokesman Alex Reithmiller confirmed on Wednesday. He did not elaborate. 

The tech blog AllThingsDigital, meanwhile, quoted sources familiar with the matter, saying Google CEO Larry Page and YouTube content chief Robert Kyncl specifically discussed acquiring the rights to the Sunday Ticket package with Goodell. 
Google's YouTube last year expanded its stable of original content by promoting and investing in hundreds of dedicated channels, hoping to shed its image as a repository for grainy home videos and to start putting out quality content to boost advertising sales and earn subscription revenue. 
A content tie-up between the NFL and Google could have ripple effects throughout the media industry, analysts said. It could bolster demand for services that bypass traditional cable, pressure values for some TV and satellite networks, and encourage users to sign up for broadband, Janney Capital Markets analyst Tony Wible said. 
Neither Google nor DirecTV responded to requests for comment. 

(Reuters contributed to this report)