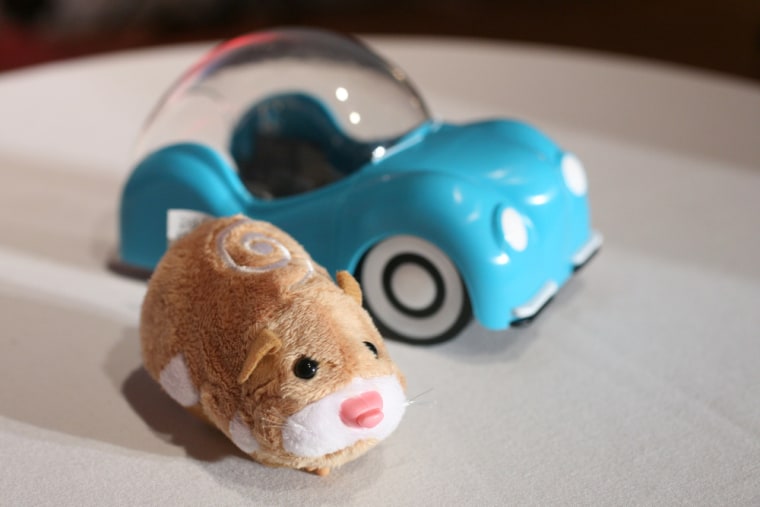 Santa can be swayed with hot chocolates and cookies, but toy retailers may find it's a little tougher to get in parents' good graces this year. So they're heating up the competition.

The outlook for the holiday season has been lackluster, with the National Retail Federation expecting shoppers to trim their budgets for gifts and other purchases by 2 percent, to an average $737.95. Toys are no exception.
Half of consumers plan to purchase toys as holiday gifts this year, down slightly from 52 percent in 2012, according to a Harris Poll survey of 2,638 adults conducted in October. And while 20 percent expect to spend more on toys than last year, another 32 percent said they'll spend less.
"It's been a pretty weak toy year," said Gerrick Johnson, a toy industry analyst at BMO Capital Markets. Consumers' reluctance to spend has influenced toy manufacturers to play it safe, which means fewer toys that generate excitement. "They're a little more cautious about what they develop and bring to market," he said.

Electronics are also luring parents out of the toy aisle. Tablets and apps are taking kids' time and attention away from traditional toys, said Johnson. New Xbox One and PlayStation 4 consoles are likely to take a big bite out of shoppers' budgets and also make video games an even more popular gift.
As a result, there's no one must-have toy parents will need to fight frenzied crowds for, a la the Tickle Me Elmo craze of '96 or the Zhu Zhu Pets in '09. (Whew!)
Still, that doesn't mean that stockings will be left unstuffed, and no toys under the tree. There are likely to be 20 to 30 toys that sell out over the course of the season, said Jim Silver, editor-in-chief of TimetoPlayMag.com. Popular picks include games and figures in the Disney "Infinity" and "Skylanders Swap Force" lines, kids tablets such as the LeapPad, "Monster High" dolls and components for the Cra-Z Loom and Rainbow Loom bracelet makers.

But that complicates matters for retailers, who must compete more on price and selection to pull in shoppers. Exclusive toys and toy lines have become a preferred tactic, said Silver. The aim: If one such toy is on a child's list, then parents may do more of their shopping at that retailer when they come in to buy it. "That's how retailers separate themselves," he said.
Target has 350 exclusive items this year, up from 300 last year, said spokeswoman Erin Conroy. That includes a two-pack of action figures that interact with the popular "Skylanders Swap Force" video game as well as toddler dress-up and doll sets for Disney's forthcoming movie "Frozen."
At Toys 'R Us, where the number of exclusives has topped 3,000, there's a different "Skylanders Swap Force" set, the Tabeo e2 Android tablet and Ugglys electronic pets, among others. "It's part of our competitive business strategy," said Lisa Harnisch, senior vice president of merchandise and toys at Toys R Us. "As a specialty toy retailer, we're uniquely positioned to deliver exclusive product."

But exclusives are a risky proposition. "I don't know that it's worked, really," said Johnson. "Kids don't necessarily know they're missing out, since it's different variations [of one product]." Parents are still likely to shop on price for most items.
Wal-Mart based some of its inventory on a "Chosen by Kids" event earlier this year, which brought 1,000 kids into stores to play and pick their favorites, said Scott McCall, senior vice president of toys and seasonal. "In some cases, the kids changed our mind," he said during a media tour Tuesday.
Otherwise, items such as the Playskool Sesame Street Big Hugs Elmo might not have been on the radar, McCall said. "We weren't sure if kids still gravitated to Elmo."

Silver said parents' best strategy is to wait until mid to late December for most of their toy shopping. "That's when there's going to be great deals on a lot of toys," he said. But inventory is likely to be slim, so aim to buy any must-have items soon. "Later sales aren't going to be on the hot items, because the hot items won't be there," he said.
—By CNBC's Kelli B. Grant. Follow her on Twitter @kelligrant.
Will it be a blue retail Christmas?
Santa may deliver for video game makers this year
Advantage Amazon... at least for now
Holiday gift guides
10 must-have gifts for gadget lovers