Juan Chavez Carrillo's family has gone almost four months without seeing him. 
The 86-year-old was last seen at his home in San Benito, Texas, on the morning of July 18, 2023.
His wife, Maria Carrillo, told police that she remembered hearing him waking up around 5 a.m. that morning. According to Detective Jose Santos from the San Benito Police Department, Maria got up around 7 a.m. and recalled seeing her husband around the house while she was in the kitchen.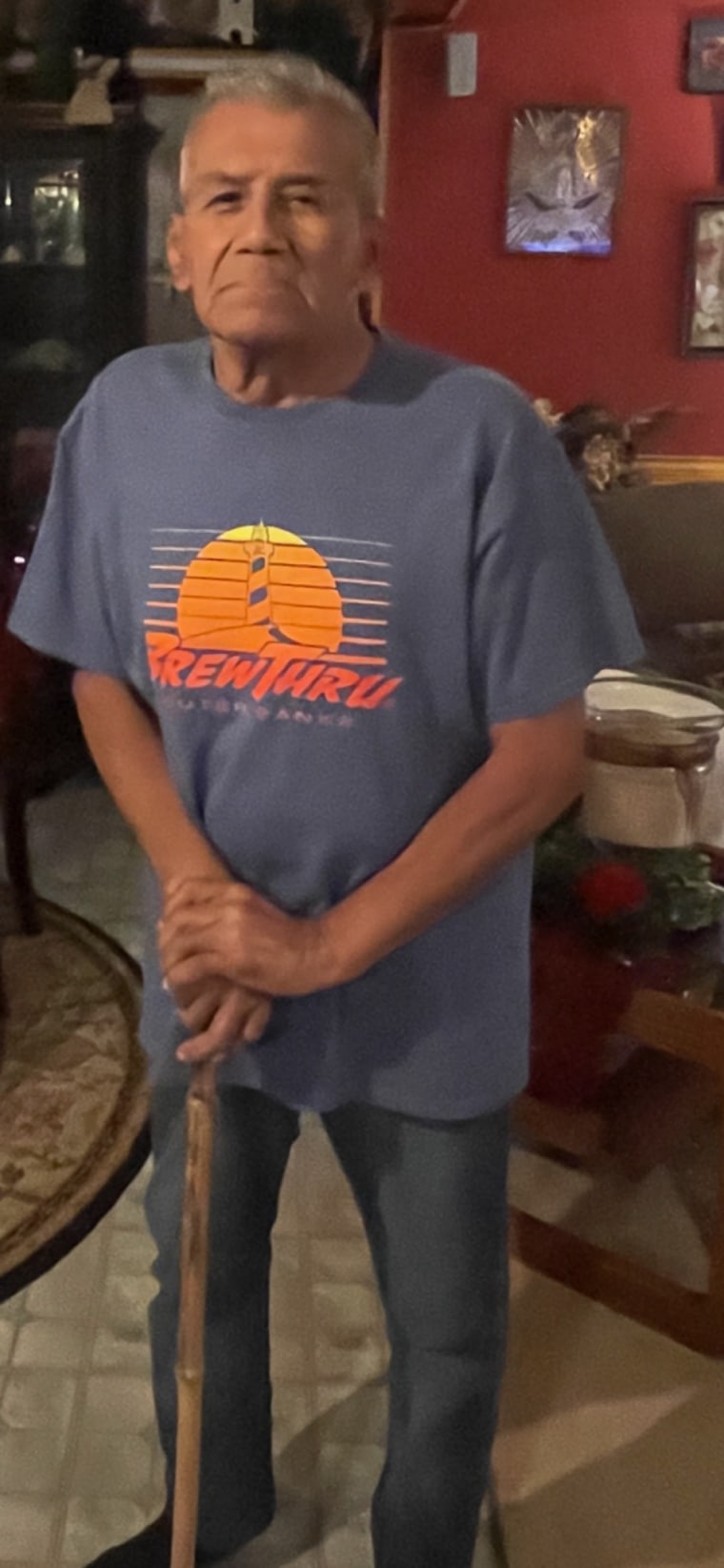 Juan suffers from Alzheimer's disease, Stage 4 kidney disease, and asthma. According to the San Benito Police Department, his medication, inhaler, eyeglasses, and dentures were left behind at his home. 
Dateline spoke with Lisa Carrillo, who is married to Juan's youngest son, Michael. She told Dateline that she has known her father-in-law for 35 years. "He's always there when [his children] needed [their parents]," she said. "I know whenever we needed help… [Juan and Maria] were always there for us."
Lisa and her husband live in Fort Worth, Texas, about an eight-hour drive from San Benito. She told Dateline that Juan would give her family a tour of San Benito every time they came to visit, which consisted of going to his childhood home, his elementary school, his middle school, his high school — and the memorial of singer Freddy Fender. Lisa said that Juan always ended the tour at the graves of his parents, whom he missed dearly.
Lisa told Dateline that she once went to a music festival with Juan in Detroit to see Freddy Fender perform. "We went because Freddy Fender was gonna be singing, and [Juan] grew up with him — he went to school with him, " she said. "He actually introduced us to him, which was really amazing."
Lisa told Dateline that her husband, Michael, has been having "mixed emotions" following his father's disappearance, unsure of whether he should accept the idea that he may be dead. "He's just scared. He sometimes wishes he could just see him again," Lisa said. "[Juan's children] just want closure at this point."
According to Lisa, Juan has disappeared twice before — both times returning home after a few hours — after forgetting where he was while running errands around town. 
Lisa said that because of that, Juan's wife, Maria, was extremely worried after he didn't come home for several hours on July 18. Lisa said that when they heard the news, all four of Juan's children traveled to San Benito to help search.
Detective Santos told Dateline that Juan's purple bicycle was not at his residence, leading the department to believe he may have ridden away on his bike somewhere. 
Juan did have his wallet with him when he left that day. His wife holds on to his credit cards for fear he may lose them, but told police that she routinely gives her husband cash to keep in his wallet. Authorities estimate that Juan had about $200 on him when he went missing. The couple shares a phone, which was left at the home.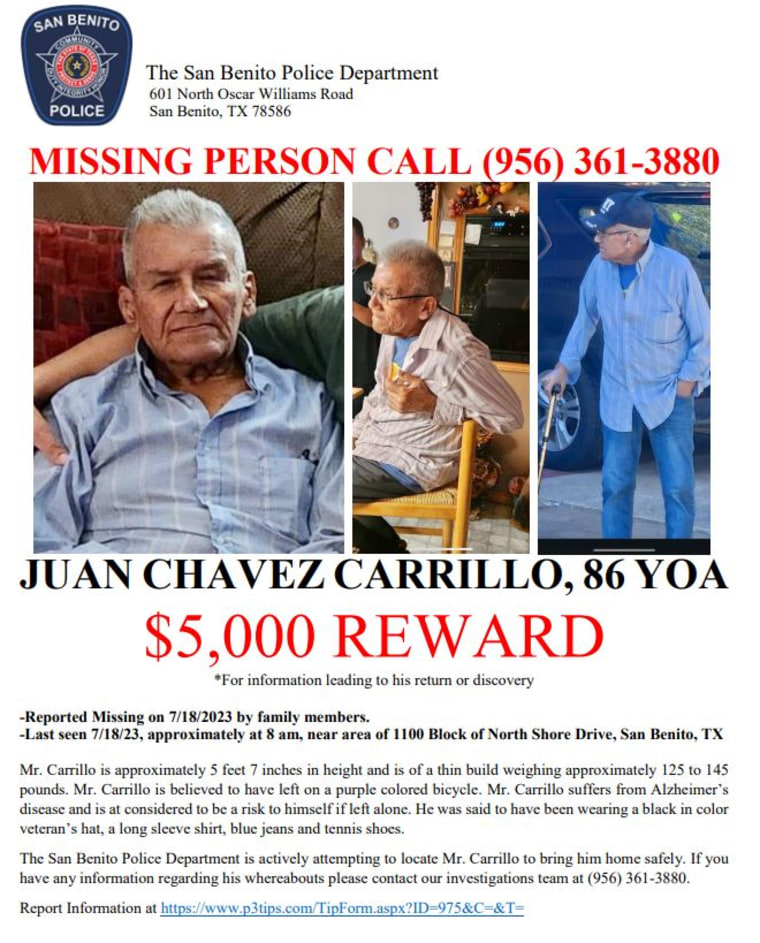 According to a Facebook post from the San Benito Police Department, Juan was said to have been "wearing a black in color veteran's hat, a long sleeve shirt, blue jeans and tennis shoes."
Detective Santos told Dateline that the police, along with private companies and other public agencies, have used search parties, drones, and ATVs to help find Juan. Santos said the police searched several places that Juan frequented, including a nearby McDonald's and Walmart. They checked his childhood home and also looked through heavy brush areas and dry riverbeds near his current home. So far, there has been no trace of Juan or his purple bicycle.
"[The case] has gone cold," Det. Santos said. "We're just waiting for a tip to come in or a lead to come in. But at this point, we've pretty much run cold and we don't have any other leads to go off of."Detective Santos told Dateline that the police do not suspect foul play in Juan's case.
Juan's daughter-in-law, Lisa, told Dateline that the family is offering a reward of $5,000 for information leading to Juan's discovery. She says the family's focus at this point is on getting closure for his wife.
"We would just really really appreciate it if anybody knows anything or sees anything," she told Dateline. "Anything, so that way -- to give his [wife] the closure that she needs."
Juan Carrillo is 5'7", weighs 125-145 lbs. and has white hair. Anyone with information on his whereabouts is asked to contact the San Benito Police Department at (956) 361-3880 or Det. Santos directly at extension 200.
If you would like to give an anonymous tip, you can also do so by clicking on this link.