Travelers can instantly share their favorite vacation moments — from the most exotic thrills to the ubiquitous toes on a beach photo — via Instagram, Twitter or Facebook with friends and family back home.
But keeping up with social media while on vacation may make it difficult to mentally recharge, which has some travelers intentionally turning off their devices and embracing a "digital detox."
"We're in a shift," says National Geographic Traveler Editor-in-Chief Keith Bellows. "We've emerged from a decade of being fastidious about recording our experiences — but spending so much time recording that we're stealing a little bit of the actual experience. People are going, 'Wait a minute, if I'm going to the beach do I want to be sending endless tweets and Instagrams?' This constant documenting robs ourselves of the ability to just be."
More than four in 10 Americans reported checking work email while on vacation, according to a 2013 survey conducted by Harris Interactive on behalf of the American Psychological Association. And a separate survey by TripAdvisor found that 61 percent of U.S. travelers say they use social media while on vacation.
As National Geographic's Digital Nomad, Andrew Evans' job is to always be connected while on the road. He once live tweeted his ascent of Mount Kilimanjaro, and it's not unusual for him to post 100-200 tweets a day while on assignment. But even he unplugged last year while on vacation in Mexico City.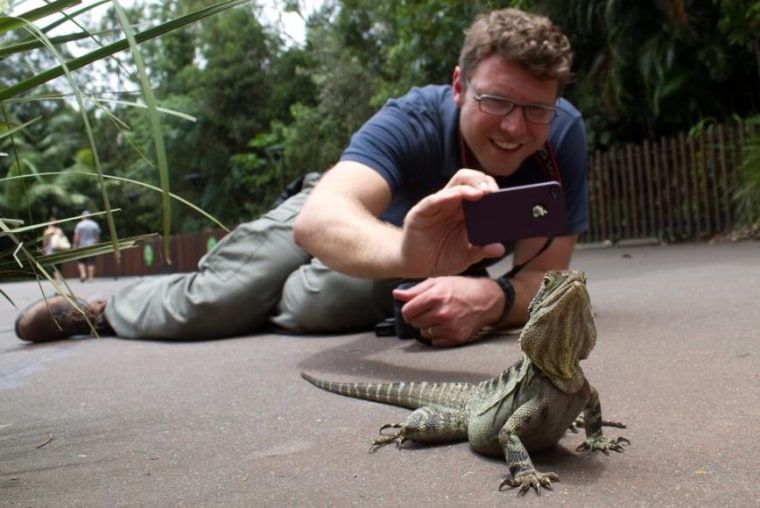 "I believe strongly in disconnecting," he said. "For five days, there was zero social media and that was a big deal for me, especially in such an exotic place. It was a very different experience because I didn't feel the pressure to share it, and I could just enjoy it."
If a traveler is going to spend $2,000 to fly to Thailand just to have their face in their phone, he said, they are going to miss the full experience. "I don't believe in multitasking. You're either paying 100 percent attention to what's happening in front of you or you're not."
Evans is part of a new trend, said Andrea Vahl, a social media expert. "The really high power users are unplugging," she said. "People who have been on it for a long time now intentionally take digital vacations."
Some may be getting pressure from family members who want their undivided attention while on vacation, she added.Digital detoxes aren't always intentional. Sarah Spagnolo, Travel + Leisure's new media editor, drastically scaled back on social media while on a recent family vacation to the U.S. Virgin Islands after discovering that roaming costs would make access cost-prohibitive.
Although she was not on a work trip, part of her job is to be an ambassador for travel, she said. "I did want to share some of the experiences I had."
However, Spagnolo does see an upside to connectivity while on the road. It can be a great resource for connecting with locals, scoring deals or getting faster customer service, she said.
After her unexpected unplug, Spagnolo was more than ready to re-connect. Although, she said, "Sometimes that's what travel is about — these unexpected hiccups and obstacles that challenge your expectations."
Travel blogger Sherry Ott endures a "love/hate relationship" with social media. She recently experienced a "forced unplugging" for two days at an eco-resort in Jordan. Preparing to go offline often comes with an increase in work ahead of time, she said, but it's worth it. "I love having the excuse to not have to share stuff. To not have to answer emails. To ignore people [and not] beat myself up for it."
"It's a good thing for us, mentally, to take a digital detox vacation. That being said, it's really hard to do."
When she started travel blogging in 2006, Ott said, there was no social media.
"I would give anything to go back to those days," she said. "I don't think [constant connection] is good for us."
Sometimes we just need space to think and relax, Vahl said. "It's a good thing for us, mentally, to take a digital detox vacation," she said. "That being said, it's really hard to do."
When he's away from his phone, Evans said he still reaches for it constantly. "I'm not proud of myself but it's true. It's become an appendage."
Even if travelers don't unplug, there's no guarantee that online friends are even paying attention.
"This desperate need to document your experiences, we're dull to it," said National Geographic's Bellows. "When you go on Facebook and see someone having a rhubarb pie in Portugal, you're bored. I don't think it's as thrilling anymore."