For Vanderbilt first-year Tyra Searcy, balancing studying with socializing isn't just a juggling act. It's a financial necessity.
Searcy's freshman year is fully paid for with scholarships. And although college has just begun, Vanderbilt's hefty price tag looms large for sophomore year.
"It's almost that time for me to start looking for scholarships for next year," Searcy said. "You always want to keep your GPA up, so that you can stick out from some of the other freshmen who may not have worked as hard, or may have had a fluke semester."
But, said Searcy, finding time to get in everything she wants and needs to do — from setting up a campus job to joining groups to gabbing with new friends in the dorm — has proven a challenge.
NBC News Special Report: Get College Tips and Advice at the Freshman Year Experience
"I didn't realize how hard it would be, because every day could be a party if you wanted it to be," she said. "I thought, OK, I can prioritize easily, people are just exaggerating. But literally every time I come to my dorm and there are people there, and of course they're friends, every time I come in we're just talking, and I'm like, 'Guys, we have homework to do.'"
Searcy's not alone. Many first-year students struggle to find time to enjoy all their schools have to offer while succeeding at college's number one purpose: learning.
According to research, the trick to doing it all may be just that: Go ahead and do it all.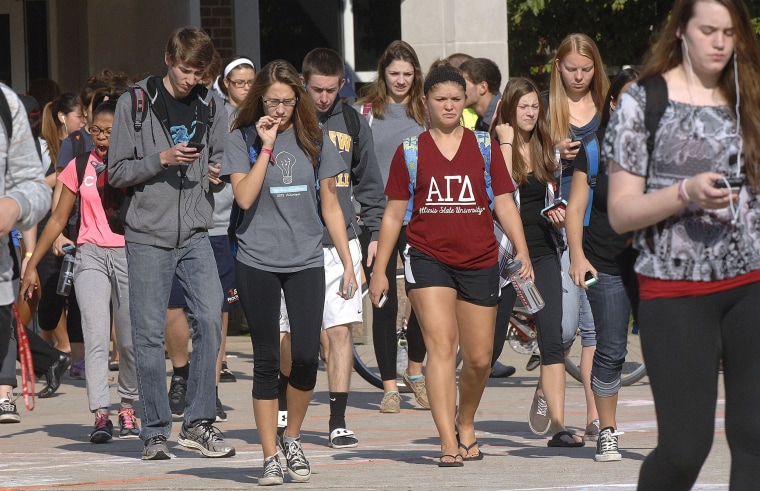 "One of the things that we have found is that actually some of the busiest students have some of the best grades," said Alex McCormick, Associate Professor of Educational Leadership and Policy Studies at Indiana University Bloomington, and the director of the National Survey of Student Engagement (NSSE). "You get this a fair amount with athletes — people who have their schedules really full, they know they have to stay on top of things. And they can't afford to get behind, because then all is lost."
RELATED: College Students Consider Themselves Financially Savvy: Survey
McCormick cautioned that students shouldn't overcommit, but that they should stay busy so that organization becomes a reflex.
"If you look at students who say they have mostly As, about 30 percent say they're spending more than 20 hours a week studying," McCormick said. "And with mostly Bs, it's about 21 percent, and with mostly Cs it's 16 percent. It's not rocket science, but they do have to take responsibility for their learning."
For Searcy and many like her, stakes are high. And many college students don't know about campus resources that could actually help them learn more efficiently.
"It's not just balancing time, but how you use the time, and taking advantage of the resources that are available to you," McCormick said. "We don't do a really good job of teaching students how to be students. We teach them the material, we give them the textbooks, we administer the tests, but we don't actually spend a lot of time saying, 'Hey, do you know how you can be an effective learner?"
Amy Lenhart, a college counselor at Collin College in Frisco, Texas, and the president of the American College Counseling Association, tells students to make a weekly chart and make study time non-negotiable.
RELATED: College Students: That Dreaded Freshman 15 Is Avoidable
"A lot of times, going from high school to college, students really don't have an understanding of how long it's going to take them to study," she said. "The recommendation when you're in college is for every hour of a one-credit class, you're supposed to study 2-3 hours outside of class. For a three-hour class twice a week, you should be studying at least 4-6 hours a week just for that one class."
Extracurriculars are important too, of course, as is good old-fashioned socializing. And after that, there's sleep (something college students are desperately in need of, according to studies), and time to themselves.
"Studies show that even 10 minutes a day can totally rejuvenate you and reduce stress," Lenhart said. "That helps you to have that balance, because when you have to study, it feels like all that time is being taken away."
Another important consideration: Work. "Realize that if you're going to work a full-time job and you're also going to take a full schedule of classes, that's actually two jobs you're balancing," Lenhart said. "And we often recommend that you only, if you can, work no more than 20-25 hours a week."
RELATED: Busted! University of Michigan To Tell Parents of Alcohol Violations
Finally, if the stress of doing it all while trying to enjoy it all feels like too much, seek out counseling.
"When you feel so overwhelmed that you don't function well on a daily basis, having a hard time with sleeping, your eating habits have changed, maybe you're more irritated with people, all those are indicators that you should talk to somebody," Lenhart said, "because maybe that stress is something more serious."