The nation's economic recovery has limped along for so long that some Gen Xers are coming to a dour conclusion: Rather than just a temporary setback, these years of economic malaise may end up costing them — and their children — the future they once took for granted.
That's not just a problem for workers who are languishing through what should be their prime earning years. It also could threaten to further drag down a recovery that already faces plenty of other headwinds, if these consumers are falling behind financially at a time when they should be fueling economic growth.
"That's really a serious problem because those people in the middle are in the years when your balance sheet should be improving the most," said Randall Olsen, a professor of economics at Ohio State University. "A lot of the unemployment … has struck prime age workers. There's a serious possibility they may never work again," he said.
As of mid-2013, the average American household's net worth was around 14 percent lower than the pre-recession peak seven years earlier, Olsen found. Americans between the ages of 35 and 54 were still 27 percent below their peak net worth, considerably higher than both older and younger age groups.
It's a story Nicole Portwood, of Brimfield, Mass., knows all too well. After moving from Silicon Valley in 2009, Portwood said her husband — whose high-tech skills had always been in demand before — struggled to find work. The family relied on Portwood's income as a professional clown and, at one point, food stamps to make ends meet.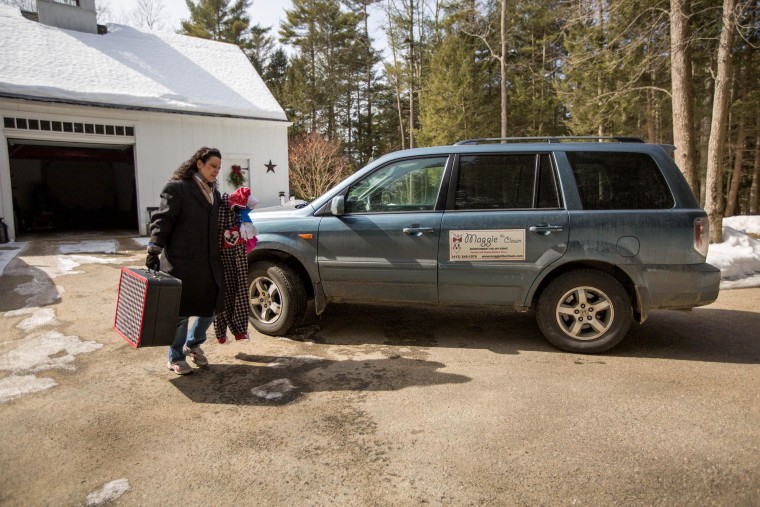 "I thought you had to be really, really poor to get food stamps," she said. As it turned out, her income was about half the threshold to qualify for her family of four.
A year ago, her husband finally landed a job, although at half his former salary. "We were so desperate, we're happy with that," she said.
As of mid-2013, the average American household's net worth was around 14 percent lower than the pre-recession peak seven years earlier.
This drain that extended unemployment has on household wealth affects the current economy — last quarter's GDP data was revised down to an annualized growth rate of just 2.4 percent — but it's more troubling for what it foreshadows about this generation's ability to secure its own financial future as well as that of its children.
A 2013 report by the Pew Charitable Trusts found that between 2007 and 2010, Gen X households lost 45 percent of their wealth, seriously hurting their goal of a comfortable retirement. "At the median, Gen-Xers will have enough resources to replace only about half of their preretirement income," Pew predicted.
A January study published by the Insured Retirement Institute found that only 65 percent of Gen Xers have anything saved for retirement, down seven percentage points in just two years. It found that more than 40 percent have less than $50,000 saved. The same number — 42 percent — said they're not confident that they'll have enough money for a comfortable retirement, a figure that's more than doubled since researchers last asked the question two years ago.
For many in this age bracket, the slide in household income started well before the recession. For the middle quintile, income peaked in 2000; for the bottom 20 percent, it was 1999. Real income has fallen for each group by around 9 percent and 16 percent, respectively, since then, the Insured Retirement Institute found.
"This has not been a good time, and a lot of that hay that should have been made years ago has not been made … especially for retirement," said Anthony Carnevale, director of the Georgetown University Center on Education and the Workforce.
Wealth gap widens
This wealth gap doesn't just threaten the retirements of middle-aged Americans, though. It often leaves these families with little to spare for their kids' college funds.
Given that the line dividing the haves and have-nots in America is increasingly tied to higher education, this sets up a harmful dynamic in which the younger generation slips further behind, said Jon Miller, director of the Institute for Social Research at the University of Michigan.
Miller said both recession and recovery widened the gap between rich and poor Americans. "It probably increases the spread between the top and the bottom, just as we've seen in general," he said. "The people who are getting hurt are getting hurt a lot."
"There's nothing that middle class people fear more — that they'll fail their children in economic terms, that they'll be downwardly mobile."
For middle-income workers, many who lost jobs had to liquidate retirement accounts at the market's trough to stay in their homes. Even though many have since found work again, the jobs often pay less, so they missed out on the subsequent stock market rebound because they didn't earn enough to reinvest.
"They're going to be harder pressed to send their children to college, which comes to the issue of opportunity," Miller said. "It is the lower middle groups that will struggle more with college expenses."
Georgetown's Carnevale agreed. "It affects the ability of one generation to do one of its essential missions … which is to prepare the next generation," he said. "There's nothing that middle class people fear more — that they'll fail their children in economic terms, that they'll be downwardly mobile."
Karen McFee, of Sturbridge, Mass., is working toward a degree in human services after Lyme disease forced her out of a physically demanding career in healthcare.
"I'm in college and I see so many people my age back in there because their unemployment benefits have run out and they have to do something," the 44-year-old said. "It's like we have to chase our jobs down."
McFee said her health issues qualified her for financial aid, but her 21-year-old daughter couldn't find a job that paid enough to move out, let alone pay for college tuition.
"I don't see this recovery," she said. "Are there more jobs created? Possibly, but they're very low quality…. Wages are not livable," she said. "This generation is just picking through the rubble."