In the aftermath of the police shooting of 18-year-old Michael Brown in Ferguson, Missouri, last August, police officers from throughout St. Louis County were dispatched there to respond to mounting protests. Though the officers were doing the same jobs, they were paid starkly different wages, some as low as $10.50 an hour.
Data obtained by NBC News from 24 municipal police departments in St. Louis County reveal a gulf between police officer pay in poor, majority African-American northern cities and wealthier, whiter cities further south. Average annual patrol officer pay ranges from $23,000 in Hillsdale to nearly $70,000 in Town and County and Des Peres.
The police pay gap in St. Louis County is mirrored in metropolitan areas and rural communities around the United States, with some officers earning a comfortable middle-class living and others scraping by on poverty and near poverty wages, forced to take second and third jobs to cover basic costs.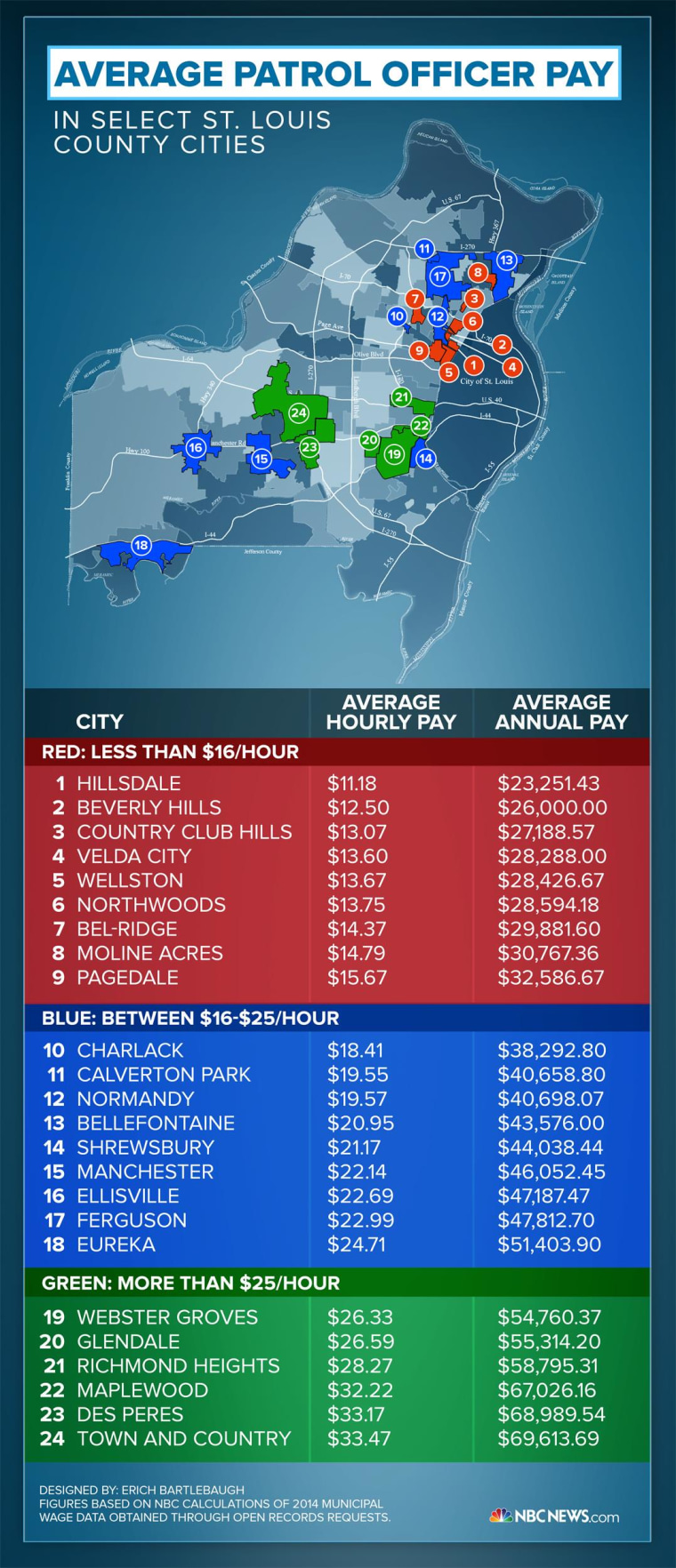 The wage gap affects not only the police officers themselves, experts say, but the communities they are paid to serve.
"In areas without a tax base to speak of, where residents live in poverty already, communities are saddled with a police force that is underpaid and under resourced in other ways," says David Harris, a University of Pittsburgh law professor who studies policing. "It's another form of a penalty for being poor."
Robert Howard, 37, earns $10.50 an hour working in the police department of economically-struggling Hillsdale. The city of 1,500, its blocks pocked with empty lots, has one of the lowest-paid police forces in the county—and in the country, according to wage data collected by the federal Bureau of Labor Statistics.
Howard lists his mounting overdue bills: rent, electric, trash, cell phone, two delinquent payday loans, and payments on the used Volkswagen in the driveway. He pays more than $300 each month in child support to an ex-partner. Howard is thousands of dollars in debt.
Howard lives in a small rented house on a quiet street in Ferguson with his family—his wife Jamie, a bank teller who is now pregnant, their two-year-old son, and Robert's 15-year-old brother, who's lived there since their mother passed away from cancer last December. In August, Howard installed a security camera system that he couldn't really afford. Sitting in a chair that he bought through a high interest rent-to-own store, he explains that protesters threatened his family, "because I'm an officer and they know that."
Raised in a low-income family on the north side of St. Louis, Howard served in the Marines for three years after high school. He bounced from job to job—private security, pizza delivery—and graduated from the St. Louis Police Academy in 2009. Since then, he's worked for three different police departments in St. Louis County, all paying between $10.50 and $12.50 an hour.
"This is not what I expected," said Howard. "I thought being a police officer was a really good job."
"We live day to day," he added.
Howard can commiserate with some of the protesters in Ferguson. He rejects what he calls protester "violence that makes us all look bad," but says, "there are real problems for people here."
Howard's checking account has a negative balance, and his savings showed just $25 on a recent day, which is why most meals consist of cheap food like hotdogs and ramen, a menu that doesn't help his high blood pressure. He doesn't take medication because it costs $95 for a month's supply.
"This is the life of an urban police officer and his family," he says. "I come to work thinking, 'What are we going to eat today?'"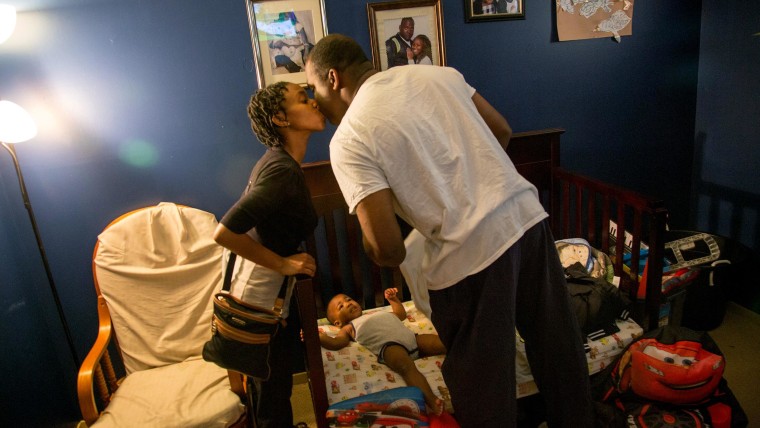 Like many police officers, Howard also picks up private security gigs that pay in cash, most recently for an auto parts and salvage shop. Two nights a week he works from 8 p.m. to 1 a.m. at a local bar.
During the explosive protests after the Brown killing, Howard, who'd been called in to support the Ferguson Police Department, stood shoulder-to-shoulder with officers from some municipalities who likely earn more than three times his income. "There's something wrong with that, don't you think?" Howard said.
Ferguson, with a higher per capita income than many of its neighbors and significant commercial revenue, pays its officers close to the county average of $50,000. Darren Wilson, the police officer who killed Brown on August 8, earned $45,302, the St. Louis Post-Dispatch reported, twice what Howard earns three towns away in Hillsdale.
"This is not what I expected. I thought being a police officer was a really good job."
Low pay is not a problem unique to St. Louis County police agencies. Around the country, patrol officer compensation varies dramatically from one jurisdiction to the next. In more than a quarter of American metropolitan areas, including large swaths of the South and Midwest, Bureau of Labor Statistics figures show that at least one in ten police officers earn less than $15 an hour.
In San Francisco, California and parts of Long Island, New York, the lowest-paid group of police officers earn more than $29 an hour, or $60,000 a year. Average annual pay for officers in these parts of the country is $90,000.
"It has to do with the tax bases of our communities," says Police Chief John Buchannan of Beverly Hills, Missouri, which has a population of 574 and employs nine full-time police officers who are paid an average hourly wage of $12.50 to patrol less than a tenth of a mile that comprises the city, plus neighboring Velda Village Hills. "Other places have more people and lots of business that produce revenue," Buchannan said.
Small, low-resource departments, experts say, often function as training grounds for police officers hoping to move to higher-paying departments. Half of the 14 police officers on the Hillsdale force were hired in 2013 or 2014.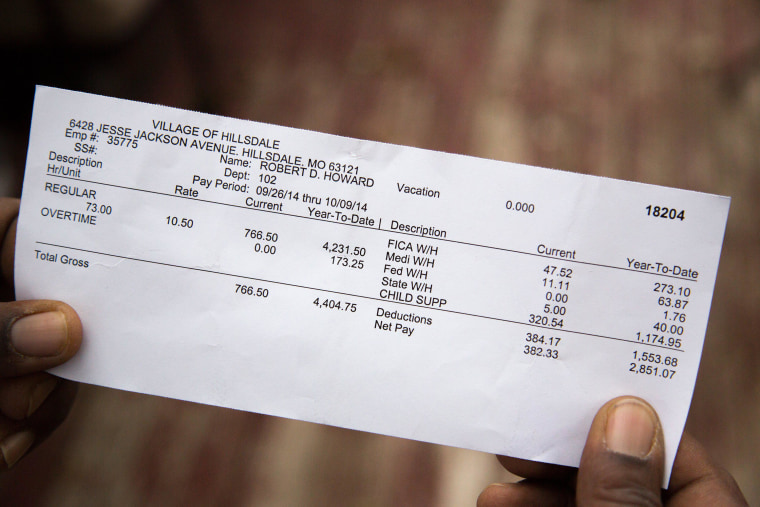 Yet some officers say they're stuck at the bottom rungs of the local police hierarchy. "Once you work at one of these departments," Howard said, "it's hard to get out." Two other officers from nearby departments who declined to be named said they also felt trapped in low-paid police jobs. Howard has applied for jobs at higher-paid departments in other parts of the county, but hasn't been hired.
Part of the reason these officers may have a hard time moving up is that their departments carry the stigma of scandal. NBC reported in September that St. Louis County's small city officers have been hit with a barrage of federal charges for beatings of teenagers and sex assault, state charges of murder and private lawsuits for police brutality.
"We should not assume that the most poorly-paid cops are the worst cops," Harris says. "But the chances increase that you don't attract the best officers."
Two Hillsdale police officers were arrested last year on federal drug charges for allegedly selling heroin.
Howard says low pay may contribute to this kind of misconduct. "If you are not making enough to pay for what you need, people do stupid things," he said.
"Once you work at one of these departments, it's hard to get out."
Seventeen St. Louis County communities have chosen against having their own department, instead contracting with the St. Louis County Police Department. Black Jack, a suburb north of Ferguson with a population not unlike Hillsdale's has never had its own police force. The city paid the St. Louis County Police Department $714,300 last year for seven dedicated officers, who earn around $70,000, plus a sergeant and two police cars.
The contract costs the town less than it would take to start its own department, even if it paid cops lower wages, says Black Jack Mayor Norman McCourt.
"You have officers who know how to do their work professionally," McCourt said. "That's different than other smaller police departments where officers flow from city to city."
For his part, Buchannan of Beverly Hills sees a benefit in small-city departments like his. "The officers know people's names," he said. "These small communities provide that."
Meanwhile, Howard says he's waiting for calls back from at least one larger department about higher-paying jobs. Until an opportunity comes along, he tries to make it home for dinner with his family. But on a recent night, he rushed home from his 12-hour patrol shift, showered, and hurried to his shift at the bar.
"I need to provide as a father and a husband and a brother," he said. "This is the reality."