UPDATE (August 18, 2014):
Two months after her disappearance, missing person Erin Corwin's body has been found. On Sunday, Christopher Lee, Corwin's former neighbor and alleged lover, was arrested in Alaska for the murder.
According to a press conference held Monday, Corwin's body was found at the bottom of a mine shaft.
Check back for more information as the story develops.
UPDATE (July 22, 2014):
The San Bernardino County Sheriff's Department released a statement Tuesday saying they have received information regarding possible locations to be searched for evidence of foul play in the disappearance of the then 19-year-old missing woman, Erin Corwin.
"Investigators from the Sheriff's Specialized Investigation Division have spoken to numerous persons who knew Erin prior to her disappearance looking for any and all information that may lead them to Erin's whereabouts," the statement read.
Search warrants have been issued as part of the ongoing investigation.
Christopher Brandon Lee, who was known to Corwin, was arrested on a felony charge, not related to her disappearance. He was charged with the possession of a destructive device found in the 700 block of Geronimo Trail in Yucca Valley.
While the arrest is unrelated, the location was searched as a result of Lee's contact with Corwin before she disappeared.
According to the statement, police do not have enough evidence to rule out that Corwin went missing voluntarily, and continue to request that anyone with information contact the Sheriff's Specialized Investigation Division at (909) 387-3589 or Sheriff's Dispatch at (909) 387-8313.
"It is imperative investigators determine whether or not there was foul play," Sgt. Trevis Newport said.
For anonymous tips contact the Sheriff's Specialized Investigation Division at (909) 387-3589 or Sheriff's Dispatch at (909) 387-8313.
Read more here: http://www.nbclosangeles.com/news/local/Missing-Pregnant-Marine-Wife-Was-Having-Affair-Court-Documents--268158752.html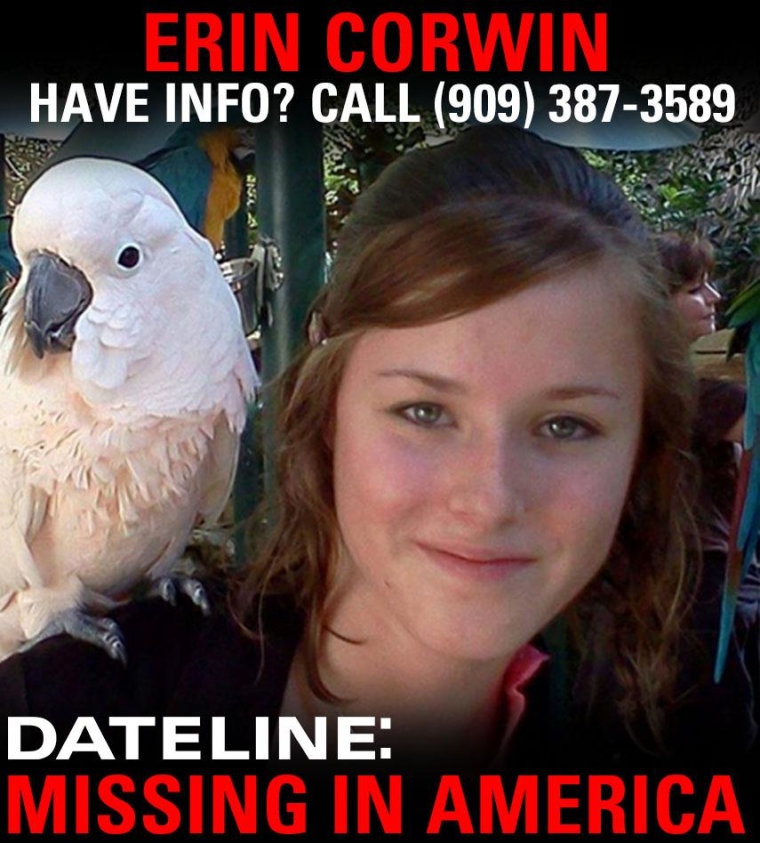 Just over one week ago, Erin Corwin, the pregnant wife of a marine, went missing in Southern California.
Corwin, who is 19-years-old and three months pregnant, disappeared after she left home on June 28th to visit Joshua Tree National Park. Her husband, Jonathan Wayne Corwin, a corporal in the Marines, reported her missing on Sunday.
The San Bernardino County Sheriff's department believes that the circumstances surrounding her disappearance are suspicious, and that there is a possibility that foul play was involved.
Her car was located several days after she disappeared near the Twentynine Palms Marine Corps base, where she and her husband lived.
Corwin is 5'2'' tall, weighs 120 pounds, and has light brown hair and blue eyes.
Anyone with information is asked to contact the San Bernardino County Sheriff's Specialized Investigations Division-Homicide Detail at (909) 387-3589.
Those who wish to remain anonymous can call the We-Tip Hotline at 1-800-78-27463 (1-800-78-CRIME) or leave information on the We-Tip Hotline at www.wetip.com.
Her family has set up a Facebook Page, 'Locate Erin' to share updates.