The Toronto Police Service has been disallowed from marching in uniform in the Pride Toronto parade this year, but an invitation from an LGBTQ officers group in New York City means the Canadian officers could be marching alongside the NYPD.
The Gay Officers Action League (GOAL) of New York invited members of the Toronto Police Service to participate in uniform in the NYC Pride March on Sunday, June 25, the same day as Toronto's event.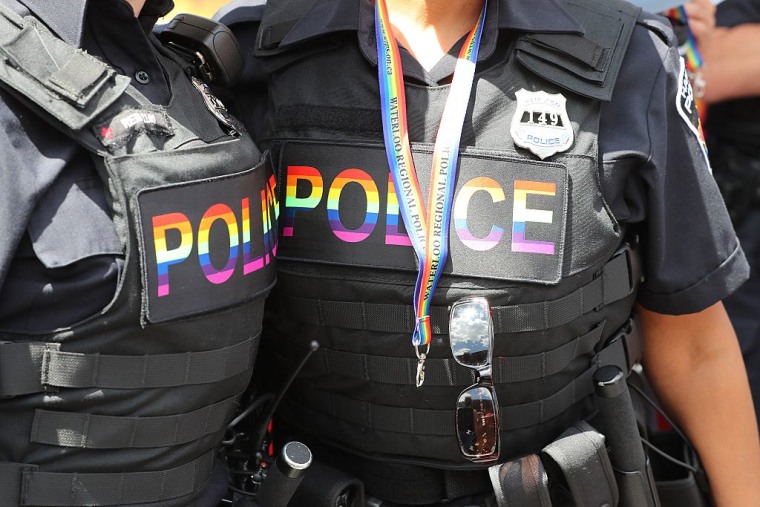 "It was an invitation due to the fact that they were not allowed to participate in their own march," Brian E. Downey, president of GOAL NY and an openly gay NYPD detective, told NBC Out. "We've always had guests from other jurisdictions participating with us, so we just wanted them to know it was available to them."
The Toronto Police Service was barred from marching in uniform at Pride Toronto after the event's organizers agreed to a list of demands from the local Black Lives Matter (BLM) chapter earlier this year. BLM Toronto demonstrators briefly stopped Pride Toronto marchers last year from carrying on and presented demands for increased support and representation. One of their demands was the exclusion of police floats from future parades.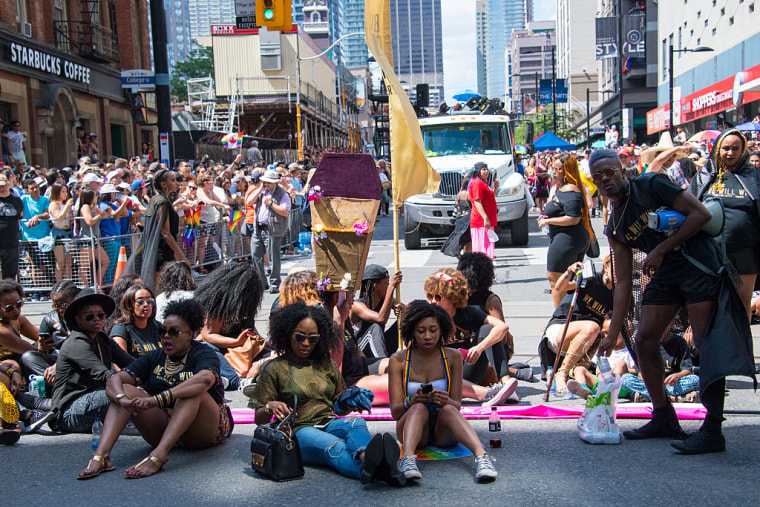 In a statement provided to NBC Out, Pride Toronto said "LGBTQ+ police officers and their allies are not banned from the parade," but there are certain limits to their participation.
"We welcome and encourage their participation to add to Pride this year as members of our community. We are simply requesting that their participation not include the following elements: uniforms, weapons, and vehicles," the statement explained.
Mark Tugash, a spokesperson for the Toronto Police Service, confirmed that officers have been granted permission to participate in the NYC Pride March in uniform.
"Our chief has given his permission for Toronto police officers to wear their uniforms if they go down to New York, minus their use of force options," Tugash told NBC Out.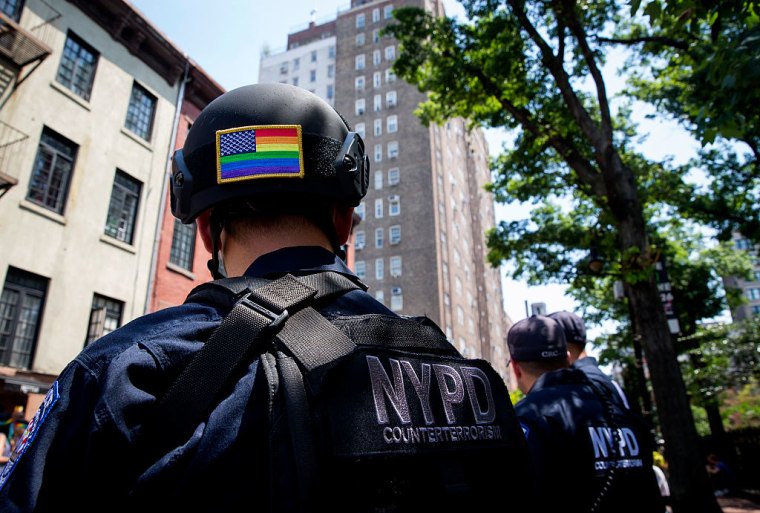 Rodney Diverlus, co-founder of Black Lives Matter Toronto, pointed to the fraught history between police and black communities, as well as queer communities, in his response to GOAL's invitation.
"I think it's outrageous to be honest with you," Diverlus said in an interview with NBC Out. "This is coming from one of the most violent police forces in the world, the NYPD, and it just shows the lack of commitment from our police force to be addressing any of the real issues with this action."
BLM has been protesting police brutality since its inception in 2013, after the acquittal of George Zimmerman in the shooting death of unarmed black teenager Trayvon Martin in Florida.
In March of last year, BLM protested outside of Toronto police headquarters to demand the release of the name of the officer who fatally shot Andrew Loku, a black man and a father of five who police said was wielding a hammer. The shooting was later called "legally justified" by Ontario's Special Investigations Unit.
"The invitation from New York police to Toronto police does nothing to better the relations between police forces and black communities. We're talking about how black and queer people face violence from police and how queer communities can be more inclusive to black communities," Diverlus said. "We're talking about life and death."
Related: Transgender Police Officer Is a Force for Change
James Fallarino, a spokesman for the NYC Pride March organizers, noted in an interview with NBC Out that the invitation to the Toronto Police Service did not come from NYC Pride organizers. However, he said GOAL was welcome to invite whomever they'd like.
"Our policy around the NYC Pride March is that anybody who wishes to register can do so, and then they're welcome to invite anyone they like to march with them," he explained. "In the context of that, we look forward to having police officers from all over representing GOAL."