Fox News Channel's morning show, "Fox and Friends," aired a segment Tuesday about the criticism President Donald Trump has been facing from the "political left" following his slow response to the deadly white-nationalist attack in Charlottesville, Virginia.
During the four-minute segment, the topics discussed included an escalating "culture war," the "alt-left media" and Trump's Twitter account, but it was a surprising comparison made by the segment's guest, Center for Urban Renewal and Education President Star Parker, that stood out.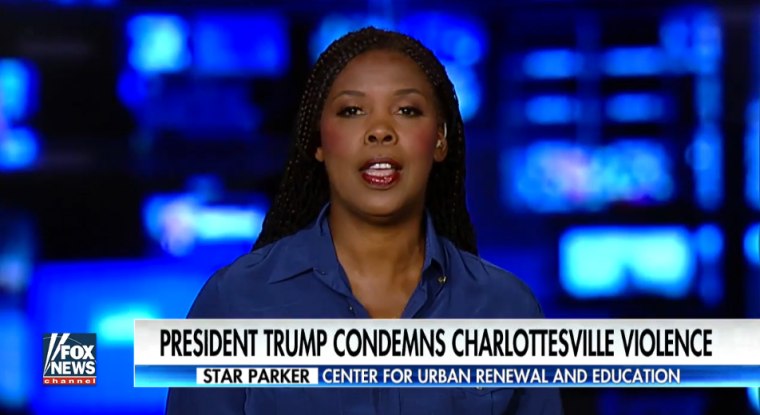 "The same people that are demanding that the confederate flag comes down are the same people that are insisting that the rainbow flag goes up. These two flags represent the exact same thing — that certain groups are not welcome here," Parker told host co-host Steve Doocy in response to a question about House Minority Leader Nancy Pelosi's criticism of President Trump.
"If Nancy Pelosi wants to say that we're going to start shutting down First Amendment rights of a certain group of people, then what happens the next time that the homosexuals want to walk through an American city and protest, and counter-protesters come out?"
Doocy did not provide a response to Parker's comments and ended the segment following her rhetorical question.
This is not the first time Parker has made disparaging comments about the LGBTQ community. She has claimed same-sex marriage is a sign that "we are sick as a country"; has attributed the "growth in black lesbianism" to "a culture where families already have been destroyed"; and has claimed "public acceptance of homosexuality" is a product of the "moral unraveling of our society."
Fox News Channel did not immediately respond to a request for comment regarding Parker's appearance on "Fox and Friends."