INDIANAPOLIS — A massive video game convention that once threatened to leave Indianapolis during an intense public debate over LGBTQ rights announced Tuesday that it has signed a contract that will keep the event in the city through 2021.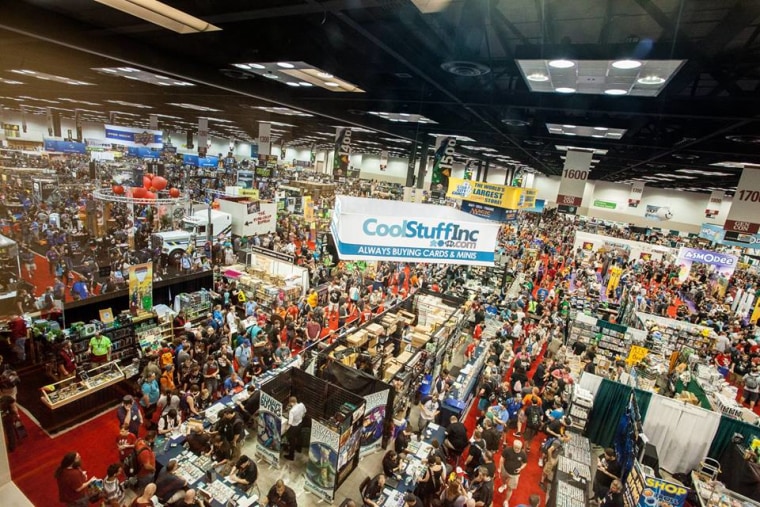 Gen Con, one of the largest gaming conventions in the U.S., says that it is extending its contract an additional year, according to a joint news release with Indianapolis officials.
"We have never, nor will we ever, take their business for granted," said Chris Gahl, a spokesman for Visit Indy, the city's tourism bureau.
The convention is a boon for Indianapolis. In 2016, it posted admissions of more than 200,000 over the course of the four-day event and has a net economic impact of $72 million, according to city figures.
But in spring 2015, after Indiana governor and Vice President-elect Mike Pence signed a religious objections law that critics deemed discriminatory to gay people, the convention threatened to leave amid a national uproar.
Indiana does not have statewide protections for lesbian, gay, bisexual or transgender people, but the city of Indianapolis does under a municipal ordinance. The bill signed by Pence created a legal defense for business owners and employees with religious objections to serving or accommodating gay people, provoking an intense social media backlash that led lawmakers to make changes that prevented the state law from overriding municipal LGBTQ ordinances.
Indiana isn't the only state that has seen business and tourism prospects imperiled by legislation deemed discriminatory toward LGBTQ people. North Carolina has been criticized since state lawmakers passed a law that requires transgender people to use restrooms corresponding to the sex on their birth certificates in many public.
The NBA moved its 2017 All-Star game out of Charlotte, the NCAA pulled seven championship events from the state and well known performers, including Bruce Springsteen, canceled concerts.
"We're not the only city and destination in the nation who has been stepping through the delicacy of this issue," said Gahl. "Gen Con's renewal to Indianapolis clearly shows we are a viable city and one that does welcome all, and our local (LGBTQ) ordinance shows that."
Gen Con draws throngs of fans interested in gaming, fantasy and role playing from more than 64 countries and all 50 states, according to Gen Con figures. Downtown sidewalks team with attendees dressed in colorful, elaborate — and sometimes risqué — costumes.
Representatives of Gen Con were not immediately available for comment Tuesday. But in a statement, CEO and owner Adrian Swartout alluded to the city's municipal LGBTQ protections.
"Indianapolis has warmly welcomed Gen Con with its Hoosier hospitality for more than a decade, and we appreciate the city's commitment to making all of our guests feel at home," she said.
The prospect of losing Gen Con and other conventions in the wake of the religious objections law was deeply troubling to city officials, who have worked for decades to build-out Indianapolis' downtown while marketing the state's central location.
A study commissioned by Visit Indy, the city's tourism office, released earlier this year found the public relations fallout from the uproar cost Indianapolis up to $60 million in revenue from hotel stays, restaurant visits, taxes and fees that are generated by convention goers. The survey also found that 12 out-of-state groups all cited the uproar over the law as one reason they chose different locations for their conventions.