When Wade Earp's partner passed away from HIV in 1997, it was his friends from the gay rodeo circuit that offered the most solace during that dark time in his life. His fellow competitors provided much-needed emotional support, while charities affiliated with the rodeo helped pay for his partner's bills and assisted the couple in preparing for his partner's eventual passing.
"Over the years it literally has become some of the toughest times of my life, and some of these people have been there, and we've been there for each other," Earp told NBC Out, becoming visibly emotional. "I finally found a place where I felt like I belonged."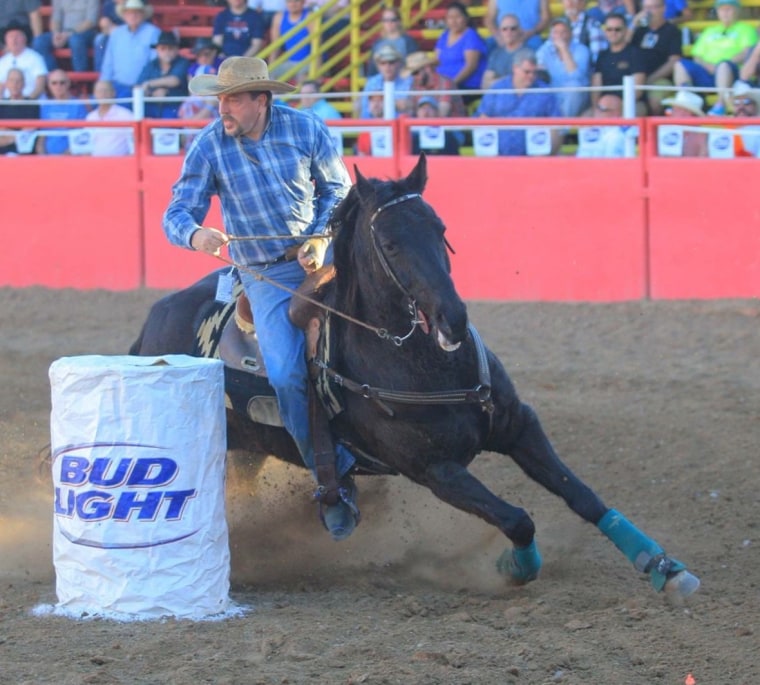 Earp, 51, is a longtime member of the Texas Gay Rodeo Association, an affiliate of the International Gay Rodeo Association (IGRA), which supports LGBTQ-friendly rodeos around the world. There are currently 20 gay rodeos under the umbrella of the IGRA, according to the association's spokesman, Ryan Reed.
Phil Ragsdale of Reno, Nev., came up with the idea of creating a gay rodeo event in the mid-1970s as a way to help raise money for the local LGBTQ senior citizens' Thanksgiving Day dinner. He hoped the event would raise money for a good cause while at the same time helping to erase some of the stereotypes and misconceptions people had about the LGBTQ community.
The first gay rodeo event was held near Reno in 1976, and by 1985, the International Gay Rodeo Association was founded. The first full IGRA rodeo season occurred a year later with rodeos in Texas, Arizona, California, Colorado and Oklahoma, Reed said.
"Charity has always been at the core of IGRA-sanctioned rodeos," he added. "As noted in the history, even the first gay rodeo was a charity fundraiser. By the time the 1980s rolled around, the LGBT community was facing the AIDS epidemic, and gay rodeos turned their focus to fundraising specifically to help out AIDS-related service organizations."
In recent years, Reed said IGRA rodeo organizers have chosen charity partners both within and outside of the LGBTQ community.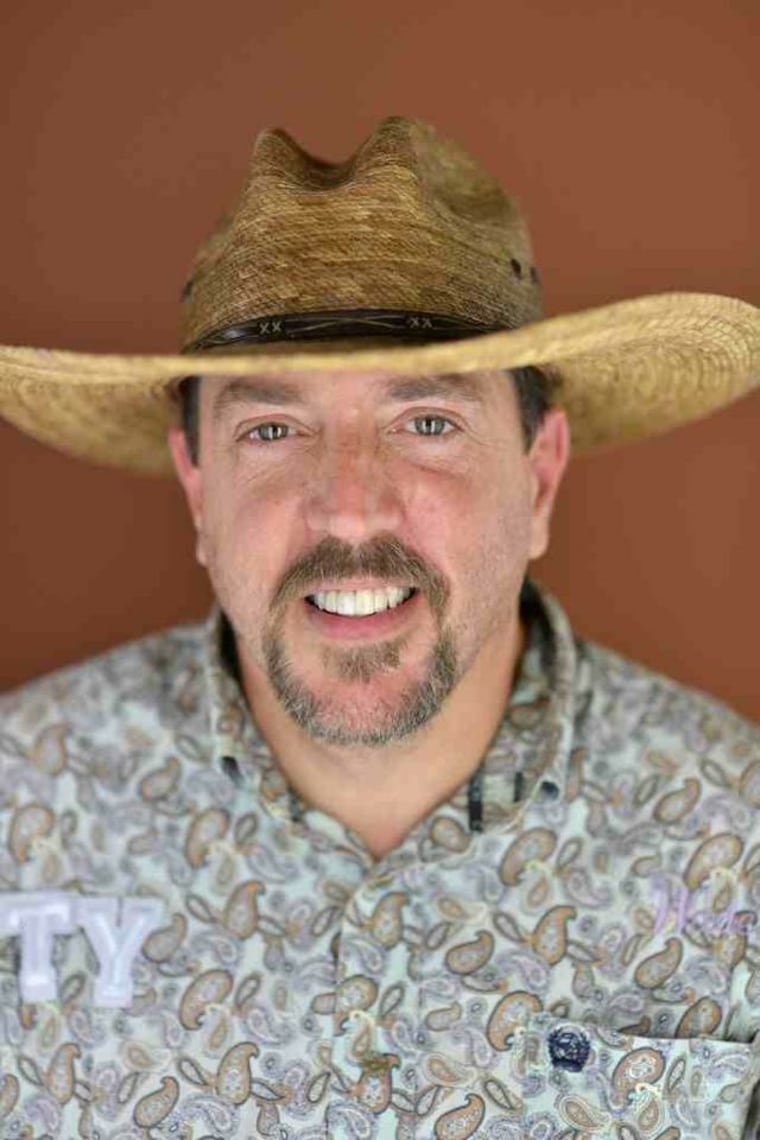 Earp, who's based in Dallas, has been involved in the rodeo circuit for nearly 25 years. After participating in a dance competition at a local saloon hosted by the Texas Gay Rodeo Association, Earp eventually transitioned to rodeo events. He started with one event and eventually competed in all 13 — even becoming the world bareback bronc riding champion.
"[Rodeo] seemed like more of a family-type atmosphere, where once you were included in the group, they would do things together — go out dancing or go to different fundraisers [and] go out and eat," he said. "Once I got involved, it was just very welcoming, and I finally found a place where I could belong."
Through the rodeo community, Earp said he has been able to dispel many of the misconceptions he had about coming out and being openly gay. At one point, he thought living his truth would prevent him from being accepted at his church and lead his family to disown him. All of that proved to be untrue, he said, noting that his mother even preached at the funeral of his partner.
"When you first feel you're different, you kind of feel like you're the only person like that, so when you start finding like-minded individuals, you start thinking 'I'm not the only one,'" he said.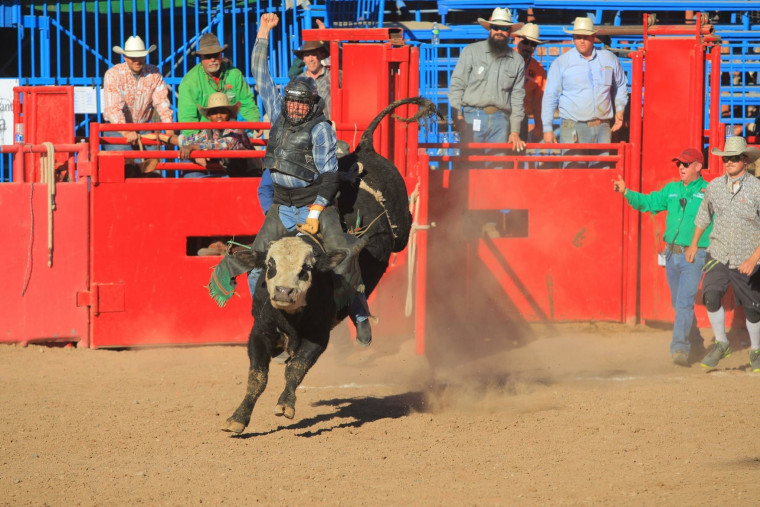 Over the years, the rodeo has allowed Earp to meet people from all over the world. He even participates in rodeo schools, where he teaches people with little to no experience how to compete in some of the events.
"There are a lot of people who see what we do and say, 'I want to try that,'" he said. "A lot of people think they have to own the horses or be living on a farm or ranch or something like that, but I've also gotten to teach some inner-city people."
Earp said it's especially satisfying seeing people who initially just want to casually learn about rodeos become more and more involved with the activity.
Mary Arbuckle, now the executive director of the Oklahoma City-based Great Plains Rodeo Association, is one such person. After coming out in 1982, Arbuckle became involved with Other Options, an HIV/AIDS organization founded by her mother that serves as a charity partner of the rodeo association Arbuckle now runs. After a few years of being involved with the rodeo as a charity partner, Arbuckle eventually decided she wanted to participate as a competitor.
Arbuckle, now 53, first started chute dogging (steer wrestling), then she moved to steer riding and now she's a three-time world champion in the wild drag competition, an event including — you guessed it — drag queens. More than half of gay competitors get their start in such campy events that are unique to LGBTQ rodeos, according to the IGRA.
"I love the challenge, but the rodeo group, we really just like to see everyone do well," Arbuckle said. "Even though we're competing, we're really not."
About 100 people participate every May in the Great Plains Rodeo Association competition, according to Arbuckle, who said the event has become a community staple. "We're always looking for people that want to come in and join us. If not competing, we have people who do the judging and the timing," she noted, adding that it's an all-volunteer event.
While many of the first gay rodeos were founded to help out LGBTQ organizations, the fundraising efforts have since expanded to include organizations that work with children, women and people with disabilities, according to Earp. He and other LGBTQ participants are also adamant that IGRA-affiliated rodeos are dedicated to openness and inclusivity.
"We're not just for the LGBT community," Earp said. [Straight allies also] feel that sense of family and choose to stay within our rodeo, so they feel like they are a part of something."