The day before Election Day, you might start dreading the different problems you could run into when you get to the polling center. You might wait in line for a long time. You might have a sudden change of heart or feel unsure about for whom you'll vote. You might run into a number of menial obstacles. The experience, however, could be vastly different for transgender voters.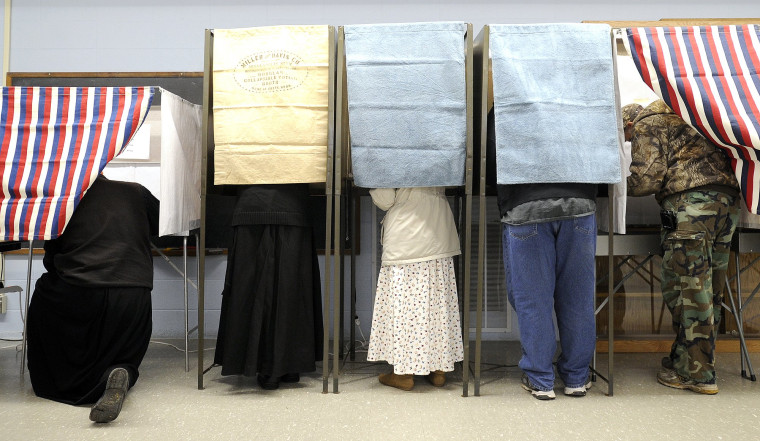 "On Election Day, transgender people may encounter difficulties if a poll worker is confused or distracted if the person's gender presentation does not match their gender marker or their photo on the ID," Arli Christian of the National Center for Transgender Equality told NBC OUT. "Poll workers who are not familiar with or have bias against transgender people may wrongly assume their ID is suspicious or not valid for voting purposes."
The National Center for Transgender Equality (NCTE) recently updated their Voting While Trans Checklist in order to better prepare trans voters for November 8.
"NCTE hopes to arm transgender voters with the information they need to advocate for themselves and successfully cast their ballot at the polls. We hope our information written for poll workers and election officials helps clear up any confusion so that transgender individuals are not hassled or unnecessarily scrutinized because of who they are."
"It is more important than ever that transgender people are making their voices heard in the issues that affect us all."
The NCTE's guide focuses much of its information on voter ID laws and the ways that they directly hinder trans people from voting.
"Even though transgender people are not specifically targeted by voter identification requirements, strict voter ID laws have a disproportionate impact on transgender voters," Christian explained. "Many transgender people have difficulties accessing updated accurate identification documents, which may cause a poll worker to wrongly believe the ID is invalid or suspicious just based on a transgender person's appearance. Trans voters should prepare themselves with the facts and their rights before heading to the polls."
RELATED: Best Practices for a Transgender-Inclusive Workplace
Before Election Day, the checklist advises that voters confirm that they are registered and to research the voter ID laws that may be applicable in their state. If ID is required, then the name and address on your registration should match those on your ID, but it is not required for your gender presentation or identity to match your name, photo or gender on your ID.
The checklist goes on to list certain techniques trans voters can implement if they face opposition once they make it to the polling center, including showing poll workers sections of the checklist for detailed explanations of voter ID laws or showing utility bills as further proof of identity. The checklist also highlights early and absentee voting as ways to avoid possible bias at the polling center and provides links to check how to take advantage of early or absentee voting in each state.
Although the Voting While Trans Checklist is just just one of the many projects the National Center for Transgender Equality undertakes in its mission to combat bias against the trans community, it is an especially pressing one in a year when issues such as the passing of HB2 have hit the national spotlight.
RELATED: Will NCAA, ACC Pullout of N. Carolina Be Final Straw for HB2 Bathroom Law?
"NCTE works to ensure that transgender people can participate freely in all parts of society, and that includes active participation in the democratic process! It is more important than ever that transgender people are making their voices heard in the issues that affect us all."