In January 2011, with few possessions other than a handwritten sign he clutched as cars whizzed by, Ted Williams stood in the cold at a busy intersection in Columbus, Ohio, hoping for a miracle.
"Broke, homeless, standing on a corner, addiction kicking my butt. My family had all given up on me," Williams told NBC News in an interview this week.
The former radio announcer was trying to piece his life back together after it was ravaged by drugs and alcohol.
But he didn't know where to start.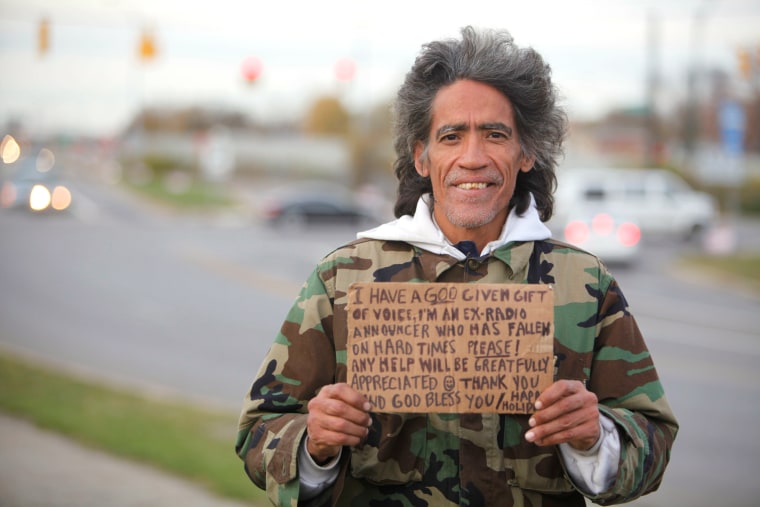 Williams' dream of getting off the streets and back in front of a microphone unexpectedly came true when a Columbus Dispatch reporter noticed his sign, which pleaded for help and boasted about Williams' "God given gift of voice."
The Dispatch posted a video of Williams' attention-grabbing baritone voice — and overnight, Williams went viral. He got a haircut, a shave and offers for big-time work, including voicing commercials for Kraft Macaroni & Cheese.
"I'm having the time of my life."
Now, nearly five years later, "the man with the golden voice" has another dream: to give back to the homeless community in which he once languished.
He's starting out with something small: doling out socks.
"A lot of homeless people, if they were like me ... went to jail a lot. And there's nothing worse than being incarcerated and not having socks, let alone being bothered by the elements, the cold weather and all. So I go out and I give packages of socks," Williams, 58, who was behind bars dozens of times before cleaning up his life, said.
But he has even bigger aspirations.
"I want to open up a homeless laundromat," he said. "A lot of times, homeless people discard clothes, or they walk down the street with millions of clothes, and they're never in the most presentable shape."
He envisions a laundromat where volunteer attendants wash and dry homeless people's clothes so they have a shot at getting back to work, like he did.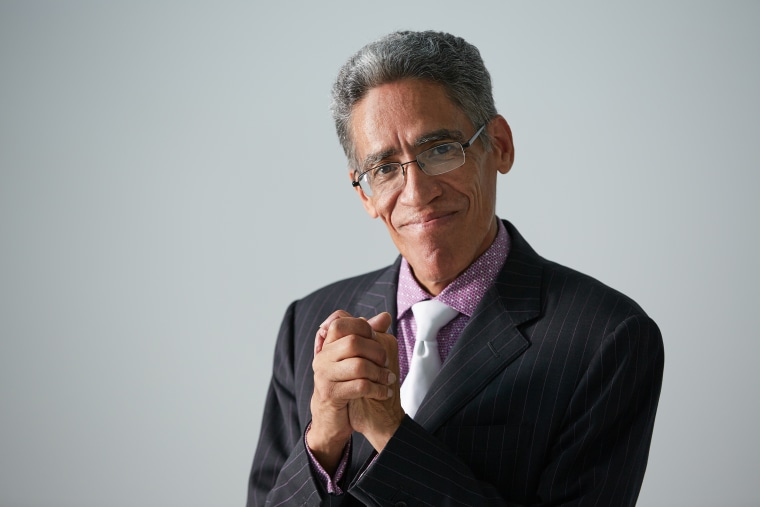 His surprise road to fame has had its bumps. He celebrated four years' sobriety a couple months ago, but his path to getting clean was punctuated by depression, failed attempts at rehab and bad business relationships.
Nonetheless, Williams landed a $300,000 book deal — "A Golden Voice: How Faith, Hard Work, and Humility Brought Me from the Streets to Salvation" came out in May 2012 — and has been the voice of Kraft Mac and Cheese since 2011. A month ago, Pepsi debuted a new ad voiced by Williams, which is running now and will run during the Super Bowl.
And in his spare time, Williams gives motivational speeches all around the country.
"I'm having the time of my life," he said.
He particularly enjoys speaking to children. "They don't have the time to break away, other than for social media," he said. "When I make it on the scene, it's like, 'Oh man, look at the homeless guy with the voice!'"
Over the summer, he briefly considered launching a presidential bid as an Independent, but later decided he could make a difference in other ways.
"I wanted to focus on other things. I wanted to inspire and encourage," he said.
Faith has kept him away from his old lifestyle, he said. With a rap sheet that extends for pages — Williams' first time in prison was when he was 21, after he was caught stealing from his father — he often turns to religion to keep him strong.
"I was focusing on my own personal relationship with God (when I was homeless)," he said. "I didn't think anything of getting a blessing of this magnitude."
He still lives in Columbus, only now with a home to call his own.
Reminders of his past are everywhere. Occasionally, he said, he will saunter through aisles of stores where he used to pocket items.
"Then, all of a sudden, I'm slapping myself and saying, 'What am I doing?' I know I'm not going to buy nothing here, but I'm certainly not going to steal."
Even in the worst of times, Williams held onto his dream of doing voiceover work again. When he was in jail, he said, he would entertain fellow inmates by doing fake radio commercials.
"They would actually think that I was on the air," he said.
Williams, who was adopted and raised in Brooklyn, New York, has nine children and stepchildren, and 16 grandchildren. Despite prior rocky relationships with family, he has reconnected with many of his relatives since getting sober.
A field trip as a child to a meet a radio deejay inspired him to make a career out of his own voice. While his second chance at life has surpassed his expectations, there's one company he's still hoping will someday call him: Disney-Pixar.
"They're going to write an animated feature that has my voice on it. I promise you," he said. "You'll be like, 'Wow, that's Ted, he made it!'"
This story is part of NBCU's Season of Kindness. Follow the series on Facebook, Twitter and Instagram. Read more from NBCNews.com at Season of Kindness. #ShareKindness