Circumcising baby boys has clear health benefits and parents should feel free to have it done, but they shouldn't feel pressured to do so, the top U.S. pediatricians group said on Monday.
Circumcision lowers the risk of a range of diseases, from AIDS to herpes, and doesn't hurt sexual performance or pleasure in adulthood, the American Academy of Pediatrics said. While the Academy doesn't go so far as to recommend circumcision as routine, it's the group's strongest endorsement yet of the sometimes controversial procedure.
"Evaluation of current evidence indicates that the health benefits of newborn male circumcision outweigh the risks," the AAP says in its latest update of its circumcision policy, released in the journal Pediatrics.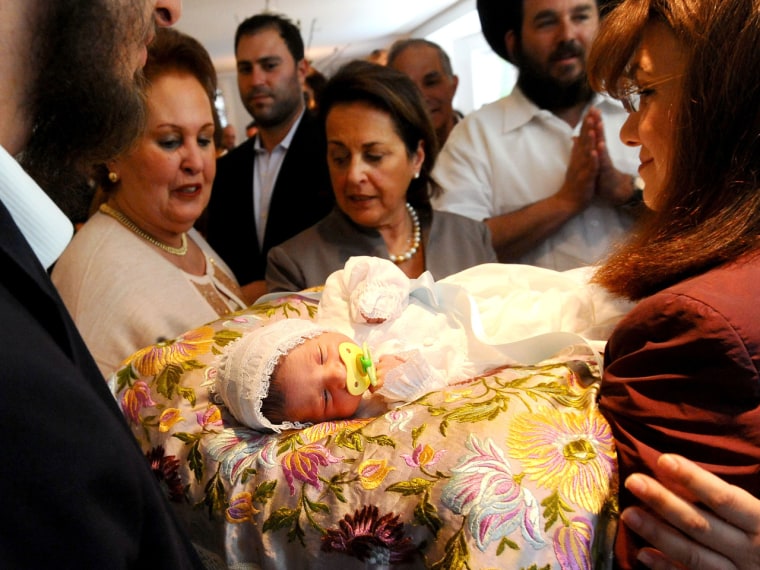 "Although health benefits are not great enough to recommend routine circumcision for all male newborns, the benefits of circumcision are sufficient to justify access to this procedure for families choosing it and to warrant third-party payment for circumcision of male newborns." In other words: Health insurance should pay for it.
The decision is certain to anger anti-circumcision activists, who call the practice genital mutilation. Doctors who support circumcision say the Academy's on-the-fence stance up to now has encouraged such groups.
"In the policy itself, the changes are actually fairly small," Dr. Doug Diekema of the University of Washington, a member of the AAP's task force, said in a telephone interview.
"What has changed mostly is the tone. The statement from 1999 said that there were some benefits of circumcision, there were some risks, and essentially it was a pretty close call. This time around the policy says, based on the evidence, it appears there are still some benefits of circumcision and those benefits outweigh the risks."
Circumcision is becoming less and less common in the United States. It's routinely done for religious and cultural reasons among groups such as Jews and Muslims, and U.S. hospitals once circumcised newborn boys routinely.
But the numbers dropped -- from around 79 percent of newborn boys in 1980 to around 55 percent to 58 percent in 2010, according to the U.S. Centers for Disease Control and Prevention. This is mostly because public insurance programs such as Medicaid often don't pay for it any more. Eighteen states have stopped paying for circumcision under Medicaid, the state-federal health insurance plan for the poor.
News that the decision was coming started to leak out last week and groups opposed to circumcision -- there are more than a dozen -- have already prepared their responses.
"It is clear that the AAP is blind to the mounting worldwide movement against the genital cutting of boys," Georganne Chapin, Executive Director of Intact America, said in a statement posted on the group's website. "This American physician organization is disregarding the risks and harms of the procedure. It also is ignoring the fact that circumcision is rare in Europe, with no negative health consequences, and that European politicians and physician groups -- in increasing numbers -- are calling for doctors to refuse to perform the procedure," she added.
Diekema said the Academy is familiar with the arguments. "I think every member of the task force has gotten thousands of emails, most of them copycat emails," he said.
"Our task was not to base our decisions on which people yelled the loudest about the issue. Our task was to look at the evidence," he said. 
The evidence shows circumcision rarely causes complications and can also reduce medical costs.
Earlier this month, a team at Johns Hopkins University projected that U.S. medical costs will go up as circumcision rates fall. They used data showing that urinary tract infections would triple and HIV rates would go up 12 percent if circumcision rates fell to 10 percent. The bill for all these extra infections? Half a billion dollars a year, they wrote in the Archives of Pediatrics and Adolescent Medicine. Already, the decline in circumcision rates has cost $2 billion, they calculated.
How does circumcision prevent infections? The foreskin of the penis, which is removed during the procedure, is loaded with immune system cells that are easily infected by viruses such as HIV and herpes. Bacteria can collect under the foreskin, causing infections in both males and their sex partners.
A circumcised penis develops thicker, strong skin that can more easily withstand little tears and cuts that admit germs, as well, infectious disease experts say.
A German court banned circumcision in June, saying the procedure was inflicting bodily harm on babies who could not consent. The ruling dismayed and angered Jews and Muslims.  There is a similar battle in Austria. 
In July 2011, a judge prevented activists from putting a circumcision ban on the ballot for November in San Francisco but groups say they'll keep trying.
The AAP says that in the United States, the decision should be between the parents and doctors or certified professionals who perform circumcision. Pain relief is important for the baby and it's important for doctors to be neutral in discussing the pros and cons of circumcision.
"I would like to see parents making this decision thoughtfully," Diekema said.
Related stories: