Drug shortages worsened by Hurricane Maria's devastation on Puerto Rico are now threatening some of the most tiny and vulnerable patients in the U.S. — premature babies.
Power outages caused by the hurricane are still hitting production of saline solution, one of the most widely used medical supplies. But they're also causing bottlenecks in the supply of amino acids used to feed very ill patients, including preemies, the Food and Drug Administration says.
"It's devastating for pediatrics and babies because hospitals were telling us they were down to just a few days' supply and they were really getting extremely concerned," said Captain Valerie Jensen, Associate Director of the Drug Shortages Program in the FDA's Center for Drug Evaluation and Research.
"Yesterday we announced we were going to have a pediatric formulation imported."
Amino acids are the building blocks of protein, and patients who are unable to eat or to be fed via stomach tube need infusions of various combinations, depending on their nutrition needs.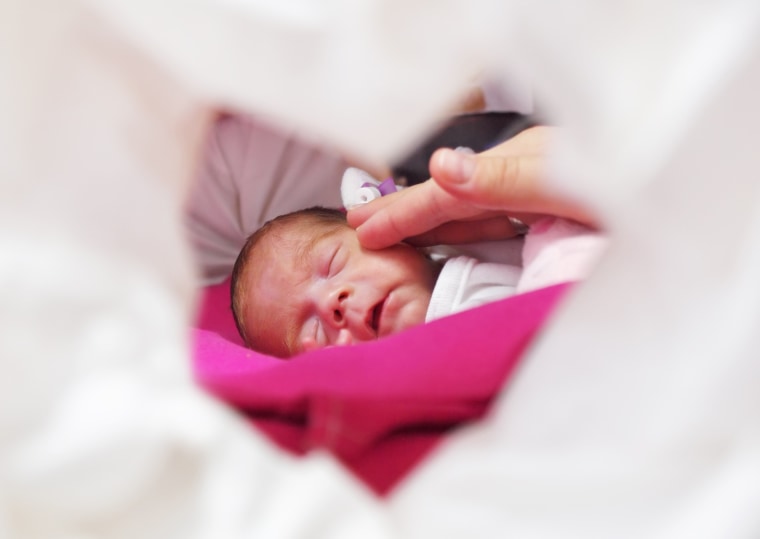 The product must be especially pure for newborns, who are sensitive to contaminants such as aluminum.
Related: Hurricane Maria hits Puerto Ricans in their pocketbooks
"This is their protein source. It is absolutely critical," Jensen told NBC News.
As with saline, there had been disruptions to the supply of amino acids, the FDA said. The main supplier of saline, Baxter, is also a major supplier of amino acid medical products to the U.S. market. And some of its main facilities are in Puerto Rico.
"In order to help mitigate this shortage, the FDA has worked with Baxter to facilitate the temporary importation of amino acids for pediatric and adult formulations of IV amino acids from Baxter facilities in the United Kingdom and Italy," FDA director Dr. Scott Gottlieb said in a statement.
The FDA has also made deals with the government in Puerto Rico, a U.S. territory, to make sure that medical manufacturers get their electricity restored first. Months after Maria hit, power has only been restored to about half the island.
Related: Months of power outages face Puerto Rico
"We're also working with other manufacturers of amino acids to increase supplies to address the shortage, including ICU Medical and B. Braun. ICU Medical had experienced manufacturing delays, but now plans to return to the market soon, which will further help address the shortage," Gottlieb said.
Jensen said the FDA speeds up inspections, provides advice and encouragement to help manufacturers of critical supplies such as saline get back up and running. She said ICU Medical should start production early next year.
The FDA has been struggling to keep saline solutions flowing since 2014, when increased demand caused spot shortages. The hurricane made things worse.
Baxter makes what are called mini-bags of saline in Puerto Rico — smaller 50 ml and 100 ml bags used to dilute and administer cancer chemotherapy drugs, antibiotics and other treatments.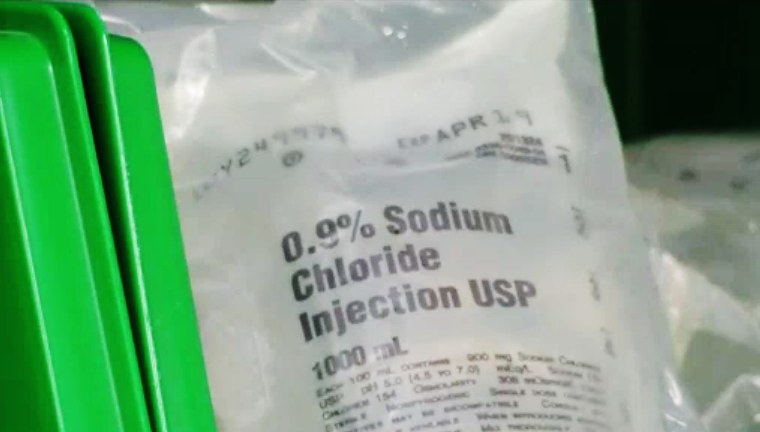 Dick Stapleton, a cancer patient at Hackensack University Medical Center in New Jersey, noticed the shortage for the first time this month. Usually, his chemo is delivered in a large bag of saline, which is infused slowly over several hours.
Now, he says, a nurse has to "push" his chemo treatment manually. "It takes less time, but it requires a special nurse to do it," said Stapleton, who is retired.
"It's a little less comfortable." And it requires clinics to keep more special staff on duty, which raises costs.
Related: Drug shortages hit hospitals
Chris Fortier, chief pharmacy officer at Massachusetts General Hospital, says the shortage of intravenous saline is affecting doctors and nurses alike.
"I'm not kidding you. Every day it's like, what do we get today? How much do we have on the shelf? Will the shipment come in today? Is it all that we expected?" Fortier said.
"We've been putting strategies into place that result in better conservation of the bags we have and get. From a fluid perspective we're telling our physicians to think if a patient really needs that fluid," Fortier added.
It's cut back on waste, at least.
"We're trying to use things appropriately. We need to be able to use things as efficiently as possible. We also have to educate nurses how to deal with the bigger bags," Fortier said.
"There are small, empty bags and we put the fluid from the big bags in the small empty bags. "
The FDA has been worried that hospitals and clinics might succumb to the temptation of stocking up on saline so they'll have ready supplies.
"We also want to discourage hoarding of products by some health care providers. We're concerned that shortages of some products may be exacerbated in part because of hoarding behavior," the FDA says on its website.