Newborn syphilis cases, which can be fatal, have risen more than tenfold in the last decade and almost 32% in a single year, according to a report from the Centers for Disease Control and Prevention released Tuesday.
The CDC said that cases have reached "dire levels" in the United States. More than 3,700 cases were reported to the agency last year, up from 2,855 in 2021 and 335 cases in 2012.
Syphilis is a sexually transmitted infection caused by bacteria that can linger in the body for many years. If untreated, symptoms may disappear temporarily, but the infection can become active again months or years later. Late-stage syphilis, though rare, can be fatal because of damage to the heart, brain or other organs.
Mothers can also pass the disease to their children during pregnancy. This form of the infection, known as congenital syphilis, can potentially result in stillbirth, miscarriage, death or developmental disabilities such as blindness or hearing loss.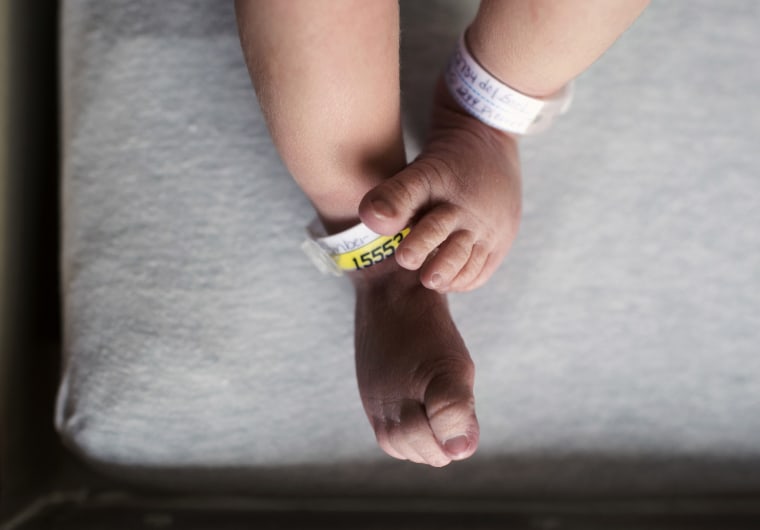 Last year, 51 cases of congenital syphilis resulted in infant deaths and 231 in stillbirths.
But almost 90% of those cases could have been avoided with timely testing and treatment during pregnancy, according to the CDC report. In 40% of cases, there was no evidence that the pregnant person had received prenatal care at all.
"It is unbelievable how this could all be prevented if we just had patients get in for screening and treatment," said Dr. Irene Stafford, a maternal-fetal medicine physician with UTHealth Houston, who wasn't involved in the report.
Communities of color bear the greatest burden: Babies born to Black, Hispanic or American Indian/Alaska Native mothers in 2021 were up to eight times more likely to have congenital syphilis compared with babies born to white mothers, according to CDC data.
The agency recommends that all pregnant women get screened for syphilis via a blood test at their first prenatal care visit. But in an ideal scenario, they would get screened as soon as they see a health care provider, said Dr. Robert McDonald, the report's lead author and a medical officer in the CDC's Division of STD Prevention.
The report calls for more testing and treatment in emergency departments, prisons and substance use treatment facilities — settings that see patients with otherwise limited access to health care who are at high risk of syphilis. Those screenings should still be covered by insurance, McDonald said.
"We are recommending that screening really increase for syphilis outside of traditional prenatal care," he said.
Challenges with detection
Syphilis is a centuries-old infection that has seen a resurgence in the U.S. The CDC said Tuesday that the country is currently seeing the highest number of congenital syphilis cases in more than 30 years.
Most syphilis cases in the U.S. are among gay, bisexual and other men who have sex with men. But during the last decade, the infection has spread to more heterosexual men and women.
As of 2021, more than 70% of people in the U.S. lived in counties with high rates of syphilis — more than 4.6 cases per 100,000 people — among reproductive-age women, according to the CDC. The infection usually begins with a painless sore in the mouth, rectum or genitals, then can progress to more sores or a rash that typically doesn't itch.
Stafford said cases during pregnancy often go missed because they can be asymptomatic or nondescript.
"Sometimes people have a rash and they think it's dermatitis or they think it's eczema," she said. "They don't necessarily have a ton of concerning symptoms that a person would associate with an STI, so they often get overlooked."
Many pregnant people aren't even aware that they're vulnerable to infection, said Dr. Natasha Bagdasarian, chief medical executive for the state of Michigan.
"Many young women of childbearing age don't know that syphilis is something that is still around, let alone that they could be at risk and that their unborn baby could be at risk," she said.
Stafford said even some doctors lack awareness.
"When you ask the average doctor, the average obstetrician, they say, 'Syphilis is a problem?'" she said.
Why aren't more people getting tested?
There are several reasons why pregnant people don't see a regular doctor such as an OB-GYN: They don't have a car or health insurance, they have a job or caretaking responsibilities, or they struggle to find a provider who speaks their language, Stafford said.
Many of these people end up going to the emergency department for their health concerns, said Dr. Kimberly Stanford, an assistant professor of medicine at the University of Chicago.
"We actually looked at the pregnant woman who utilized our emergency department. Of the ones coming in the first trimester, more than half of them had no plan for prenatal care. They didn't have an appointment. They didn't have an OB. They didn't know how they were going to get one," said Stanford, who wasn't involved in the CDC research.
The Covid pandemic made accessing prenatal care even harder for people, which may help explain why congenital syphilis has risen so starkly in the past few years, Bagdasarian said.
Many clinics and doctors' offices shortened their hours or switched to virtual visits, which led to fewer STI exams, she said.
"Covid made a lot of things worse," Bagdasarian said. "Syphilis was one of those things that it exacerbated, in part due to less preventative care, routine health care, in-person visits."
Screening in emergency rooms
Syphilis screenings should be standard practice for people who are sexually active and live in areas with high rates of infection, but few emergency departments routinely test for it.
To confirm a diagnosis, doctors typically draw blood and send it off to a lab for testing. Hospitals, however, may not want to perform screenings because they worry they won't be reimbursed for the cost of blood tests or don't have enough staff to follow up with patients about their results, Stanford said.
Her emergency department at the University of Chicago has found ways to overcome those hurdles, she said. For more than four years, it has routinely tested people for syphilis alongside HIV. The program detected high rates of undiagnosed syphilis within roughly the first six months: 97 people were positive out of almost 9,200 screened.
"A lot of facilities will feel like it's going to be extra work. It's going to make a visit take longer, it's going to disrupt the workflow," Stanford said. "One of the things that we found in rolling this out on a really large scale is that most of those barriers really weren't an issue."
McDonald, the CDC officer, said syphilis screenings can easily be integrated into other programs that regularly test for HIV, such as syringe service programs — which give people who inject drugs sterile supplies to prevent infection.
Getting people treated right away
Testing someone for syphilis doesn't necessarily mean they'll get treated, though: Out of almost 2,200 congenital syphilis cases last year in which the infant's birth parent received timely testing, just 12% received adequate treatment, according to the CDC report.
One of the main reasons for that, doctors said, is that patients don't return for a follow-up appointment.
"After people leave the emergency department, they often don't answer their phones," Stanford said. "They can be very difficult to reach again."
While blood tests are the most common means of diagnosis, hospitals have a second option, McDonald said: Rapid tests involving a finger stick can tell right away whether someone has had syphilis in the past, though the results are less accurate.
"For someone who you think may not be able to make it back in for treatment, that person should be screened with a rapid test and then could be treated there on the spot," McDonald said.
Once pregnant people and their babies are diagnosed, there's only one recommended treatment: an injectable version of penicillin called Bicillin. Mothers often have to return for up to three injections (one per week), and babies usually require an IV for 10 days.
The Food and Drug Administration is reporting a shortage of Bicillin right now, but McDonald said the CDC hasn't received any reports of people not being able to access it while pregnant.
Stafford said the shortage could be preventing people from receiving immediate treatment though.
"What I'm noticing is that other clinics who have a hard time getting the penicillin don't know what to do," she said. "They just try to refer the patient somewhere else, and then that's a missed opportunity."