Pediatricians gave a final thumbs-down Tuesday to the only needle-free flu vaccine on the market, saying they do not recommend the FluMist vaccine for kids this year.
It's a symbolic rejection: Vaccine advisers to the Centers for Disease Control and Prevention have already recommended against FluMist nasal spray vaccine for this season, saying it has barely protected against influenza for the past few years. Distribution companies are not even offering it to pharmacies or clinics and clinics have not been ordering it.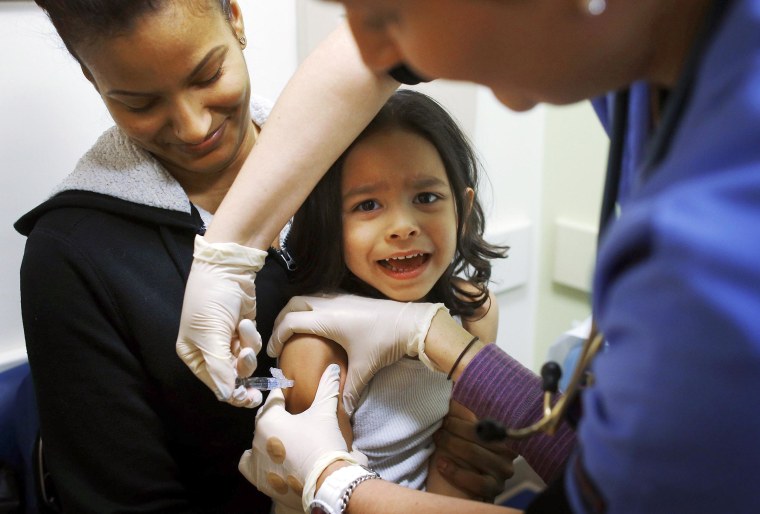 But it's a blow to parents of kids who hate needles — which is to say parents of most children.
Instead, kids are going to have to get flu shots.
"New research shows that the flu shot provided significantly better protection in recent flu seasons compared with the nasal spray vaccine," said Dr. Henry Bernstein of Cohen's Children's Medical Center in New Hyde Park, New York. He is one of the doctors who wrote a statement on the flu vaccines published by the American Academy of Pediatrics (AAP).
"Families want their children and themselves to be protected against influenza. Not having the option of receiving a flu vaccine intranasally or [via] a nasal spray is disappointing to some but I think that people recognize that flu vaccine is the best preventative measure that we have to protect everyone against influenza," Bernstein told NBC News.
Related: Why Didn't FluMist Work?
Dr. Roya Samuels has given the bad news to her kids.
"My 8-year-old son was incredibly disappointed," said Samuels, who works with Bernstein.
"Obviously, it's less traumatic to receive a spray in the nose than a big ugly needle in the arm."
"Obviously, it's less traumatic to receive a spray in the nose than a big ugly needle in the arm."
The CDC's Advisory Committee on Immunization Practices (ACIP) declined to recommend FluMist last June, citing studies that showed it only reduced the risk of getting influenza by 3 percent over the past three flu seasons.
AstraZeneca, which makes FluMist at its MedImmune subsidiary, disputed these findings and said European studies had shown it was effective. And a Canadian study published a few weeks later showed FluMist and flu shots appeared equally effective in kids.
But ACIP's recommendations usually command vaccine availability in the U.S. and clinics have already cancelled orders.
And Samuels says her kids know there is no escaping that annual flu vaccine ritual. "They know, having grown up with a pediatrician mom, that vaccines are an essential part of a healthy lifestyle and preventing illness," she said.
FluMist is a little different from other vaccines because not only is it spritzed up the nose, but it uses "live" flu virus. Researchers are not sure whether that was a factor — in previous years, FluMist had been shown to cause a stronger immune response than flu shots.
For that reason, some kids, such as those with asthma, usually cannot be administered FluMist, anyway.
Flu vaccines are reformulated and remade every year to match the circulating flu viruses.
"We need to recognize that the influenza virus is totally unpredictable," Bernstein said. "There are multiple influenza virus strains. We don't know which ones are going to predominate from one season to next. We don't know which ones are going to be more common in certain communities."
"We need to recognize that the influenza virus is totally unpredictable."
One strain may cause epidemics in the U.S. while a different strain makes most people sick in Europe, for instance. And often, later in the year, another strain may move through communities that have already been through their annual flu epidemics.
Related: Mom's Flu Shot Protects Baby
Flu vaccines used to include a cocktail of three influenza viruses. In recent years, companies have been offering vaccines formulated to protect against four strains. FluMist was one of those vaccines.
The AAP also repeated advice that pregnant women get flu shots — they protect both the mother and the baby and have been shown to be safe.
And it also supported the idea of mandatory flu vaccines for all health workers.
Flu usually hits the very young and the very old the hardest. Depending on the season, it kills anywhere between 4,000 and 50,000 people a year in the United States.
Six companies make flu vaccines for the U.S. market. They include shots that protect against either three of four flu strains.