Troy Stulen, a 20-year-old from Minnesota with everything to live for, was born with a rare genetic condition that doctors hoped could be cured with a bone marrow transplant.
The transplant at the National Institutes of Health clinical center in Bethesda, Maryland, was a success — but a year later, for reasons no one could understand, Troy was dying from an antibiotic-resistant bacteria that had killed six others at NIH.
"I can't even put into words how incredibly difficult it was to watch our son die at a premiere research hospital in the country from an infection that had no cure," said Larry Stulen, a 54-year-old accountant from Wilmar, Minnesota.
For the first time, Troy's parents are telling their son's story in the PBS investigative series FRONTLINE, airing Tuesday with "The Trouble with Antibiotics." It is a follow-up to its documentary on the 2011 outbreak, in which Troy's case was highlighted as "patient number 19."
"We don't want any other parents to have to go through the experience of losing a child," Stulen told NBC News."We hope that by telling Troy's story, it will help to raise public awareness."
Each year, at least 2 million Americans are infected with bacteria that are resistant to antibiotics and 23,000 of them die, according to the Centers for Disease Control and Prevention.
Troy Stulen died of an infection with the superbug klebsiella pneumoniae carbapenemase or KPC, a so-called Gram-negative bacteria that can cause pneumonia, meningitis or infections in the blood stream or in wounds or surgical sites.
KPC, almost unknown a decade ago, has now been found in hospitals in 44 states. The bacteria spreads through person-to-person contact or through environmental contamination. Those most at risk are usually being treated for other conditions, taking a long course of antibiotics and requiring ventilators and IV catheters.
NIH openly discussed its detective work on the KPC outbreak in the journal Science Translational Medicine. But because of privacy laws, no patients were identified.
But in October 2013 when the FRONTLINE episode aired, the Stulens watched and decided to reach out to its correspondent, Pulitzer-Prize winning author David Hoffman. "In this way, maybe we leave Troy's legacy," said Larry Stulen.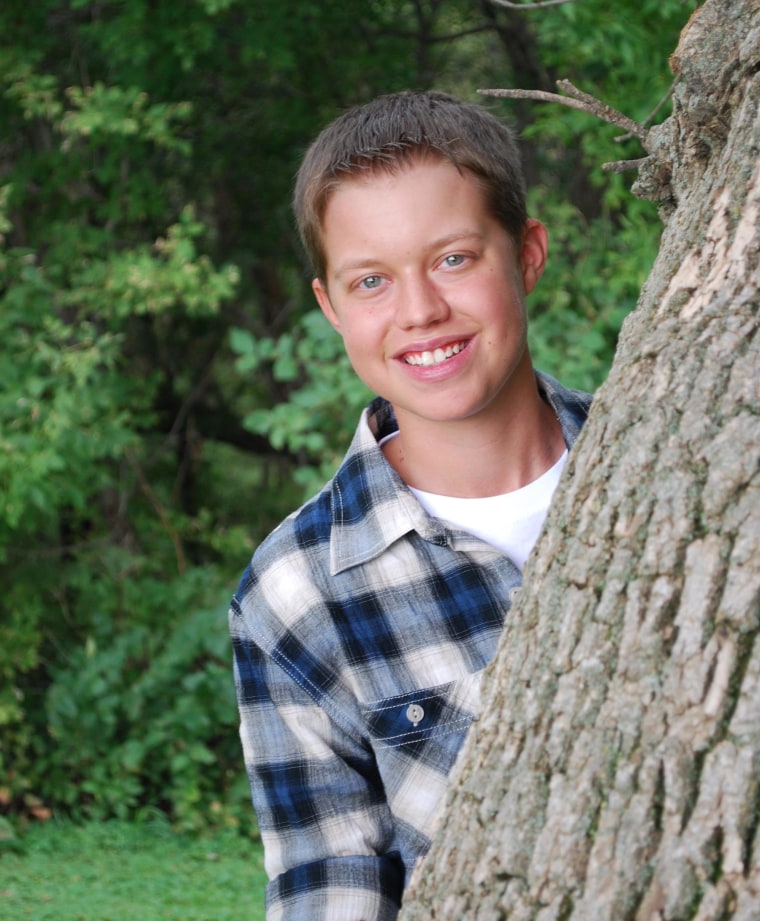 Troy was born with chronic granulomatous disease or CGD, an inherited immunodeficiency, which made him more vulnerable to infections.
At 5 months old, the boy had bladder surgery, but the incision kept opening up. Genetic tests revealed Troy had CGD. "Fortunately, we found out when he was very young," said Stulen.
Troy took a daily dose of antibiotics and had a shot of the immunotherapy drug interferon three times a week.
For the most part, he lived "a fairly normal life," said his father. At 1 year old, the boy had a staph infection that was successfully treated with IV antibiotics and at 14, he had a kidney stone. But he thrived in school and loved NASCAR as a boy, followed by football and baseball. He sang in the choir and performed in the jazz band.
"He had a bubbly personality and everyone loved him," said Troy's mother, Marilyn, a 55-year-old stay-at-home mom.
But in 2009, Troy began developing gastrointestinal issues and painful abscesses, one on his colon, and a Minnesota doctor recommended he go to the NIH. The family considered having the procedure at the University of Minnesota, but Troy had been interested in medical research and wanted to go to the NIH, said his parents. It was there that doctors recommended a bone marrow transplant.
The teen, who was deeply religious, took a positive attitude: "If I live I am cured; if I die, I go to heaven," he told his parents.
"Troy was an adult — he was 19 and we said, 'It's your body,'" said his father. "They'd also had a lot of success at NIH."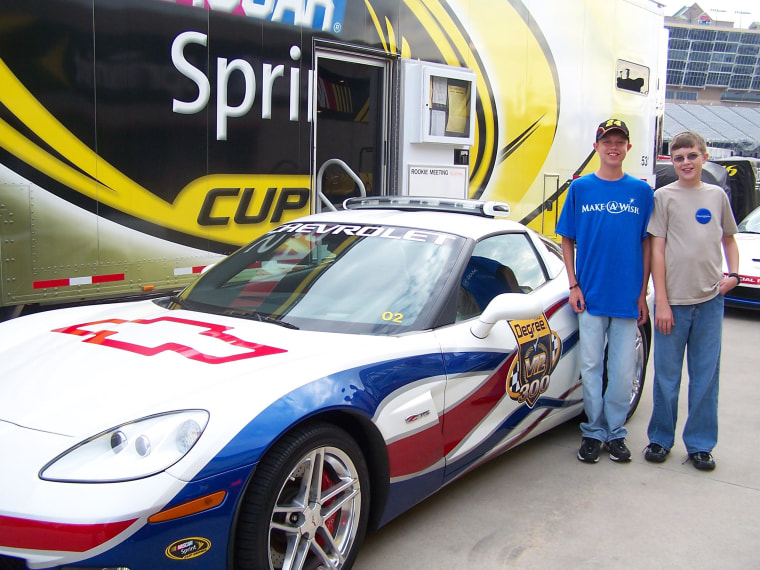 Meanwhile, NIH, by its own accounting of events, had admitted a patient infected with KPC in June 2011. They "stepped up" isolation and no spread was seen for a month.
But a few weeks later, a second patient in the intensive care unit was infected and despite intense cleaning — even with robots — and new protocols, infections had spread to 18 patients by the end of the year.
Genetic testing revealed that all of the cases could be traced back to the first patient. "Particularly disturbing was the fact that one of the infections could be linked to contamination of a ventilator that had been cleaned by thorough methods," said the 2012 NIH report.
Troy arrived ready for his transplant in July 2011, just as the outbreak had begun, but the family was unaware of it. The teen's release was delayed because his body was not producing enough platelets and he was not discharged until February 2012.
That April, Troy returned to the hospital for treatment of post-transplant complications and in August 2012, he tested positive for KPC.
At first, doctors treated him with Colistin, an older antibiotic that has been resurrected to treat acute infections from Gram-negative bacteria, and it worked. But several weeks later, Troy tested positive again, according to his father.
A chaplain and nurse told the Stulens to prepare their 20-year-old son to die.
Troy's vital signs began to fail and he was put on a ventilator. Doctors tried an experimental drug that gave him an extra week, but on Sept. 7, he died.
"It was very difficult," said Troy's mother. "I prayed a lot for God to give me strength to handle it."
She says her son's legacy was what doctors were able to learn from his treatment.
"He has a caring disposition about him," said Marilyn Stulen. "I think he hoped he would have an effect on this disease, to make a change, so other people don't get it."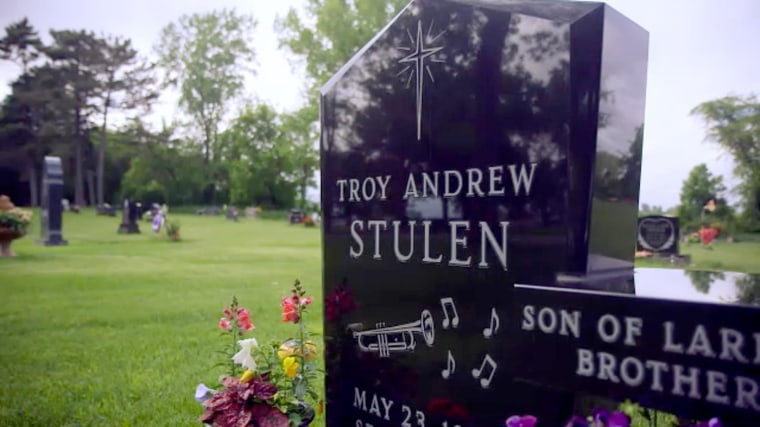 The FRONTLINE update explores the overuse of antibiotics in agriculture as a possible contributing factor for the rise of resistant bacteria that lurk in hospital ventilators, sink drains and door handles.
Hoffman, who has written about bioterror, sees public health as a greater security issue.
"We can spend billions of dollars in biosecurity for something that will never happen," he told NBC. "But these pathogens are real, and every day there are ongoing major problems."
The Stulens say they are still grieving for their son, but are adamant that Americans must start paying attention to what they see as a medical crisis and urge their legislators to take action.
"Troy's faith was important to him," said his father. "He had a strong belief in God. Even though he went in knowing there were risks, he was never afraid of the outcome. He knew he would be better than he was before."
"He has suffered so much during the transplant process, there were times, even though his body was spent, he was true to his faith. I am so very proud of the man he was and life he lived."