U.S. headache sufferers are racking up nearly a $1 billion a year on brain scans — and the vast majority of them are probably unnecessary, a new analysis finds.
About one in every eight visits to a doctor for an uncomplicated headache or migraine from 2007 to 2010 resulted in the patient getting an MRI or a CT scan, according to a study published Monday in JAMA Internal Medicine.
And the number of imaging procedures is going up, not down, nearly tripling from 5.1 percent to 14.7 of all visits, despite national guidelines that recommend against routine use. Experts say that brain scans detect serious problems in only a fraction — 1 percent to 3 percent — of all headache cases.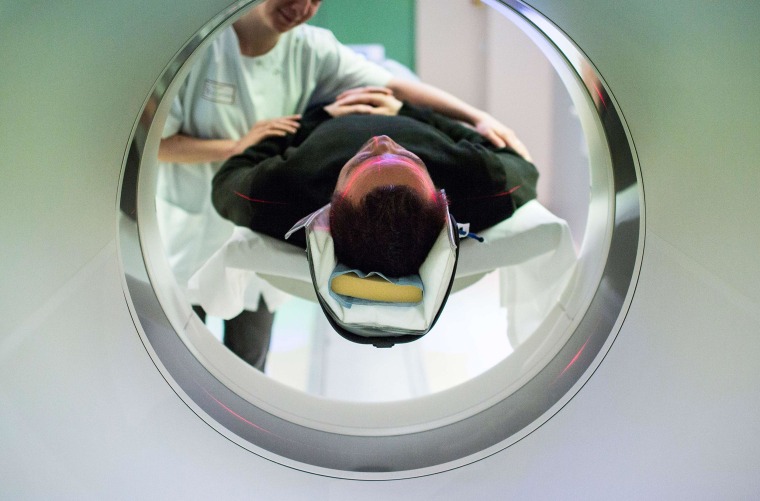 That makes doctors suspect that patient demand, not actual need, may be pushing the scans that drive up the nation's health care costs.
"The number one reason physicians give for ordering the scans is patient reassurance," said Dr. Brian Callaghan, the University of Michigan Health System assistant professor of neurology who led the study. "A billion dollars is a lot for patient reassurance."
In addition to boosting costs, unnecessary scans expose patients to potentially harmful radiation and can result in false positives that lead to unnecessary treatment and anxiety, Callaghan said.
The University of Michigan neurology team analyzed a large national database, the Healthcare Cost and Utilization Project, or HCUP, to track all headache and migraine claims in people older than 18 for four years.
They found there were 51.1 million headache visits, or nearly 13 million each year, with about half of the visits in patients with migraines. About 12 percent of those patients received brain scans, either magentic resonance imaging, known as MRI, or computerized tomography, CT scans, at a cost of about $3.9 billion over the study period — or nearly $1 billion a year.
Headaches can be debilitating and scary and ordering a brain scan can make patients feel like doctors take them seriously, Callaghan said. But educating patients about the likelihood of detecting problems — or making them pay out of pocket for the scans that can cost from $500 to $2,000 apiece — might cut down on overuse.
"There has to be trust that if the physician is saying you don't need it, the key is not to push them on it," Callaghan said.