Magic Johnson says an early checkup saved his life – warning him that he had HIV in time to start taking medication to stay healthy. Alonzo Mourning says a regular physical showed him he had kidney disease.
The two former basketball stars are kicking off a full court press by the White House to recruit young adults – specifically, young men – to sign up for health insurance.
Look for a lot more of this sort of thing, the White House says. The window of opportunity to sign up for health insurance on the federal and state exchanges closes March 31, and the administration is under extreme political pressure to sign up as many people as possible.
Plus, it's safe to send people to the exchanges now that most of them are working. "Now that there is a functioning website you will see a concerted effort across the board," David Simas, White House Deputy Senior Advisor for Communications and Strategy, told NBC News.
Most desirable are the healthy young adults who, it is hoped, will pay premiums without using much health care, making it cost-effective for insurers to provide care to older, sicker folks.
Earvin "Magic" Johnson, 54, is retired now. But he was a legend playing point for the LA Lakers. He'll push the message that good health care can help anyone, in any kind of shape.
"It saved my life," Johnson says in a video posted on the WhiteHouse.gov website. "I remember when I took my physical and they told me I had HIV over 22 years ago. If it wasn't for that quality healthcare that I had and the plan that I had, I probably would have been dead." 
That's because quick treatment with antiviral drugs can keep the AIDS virus suppressed, while people who don't get treated die of diseases ranging from pneumonia to cancer.
"Young people think they are like Superman, like nothing is going to happen to them," Johnson says in his video. "But trust me: One day something is going to happen. So make sure you get Obamacare."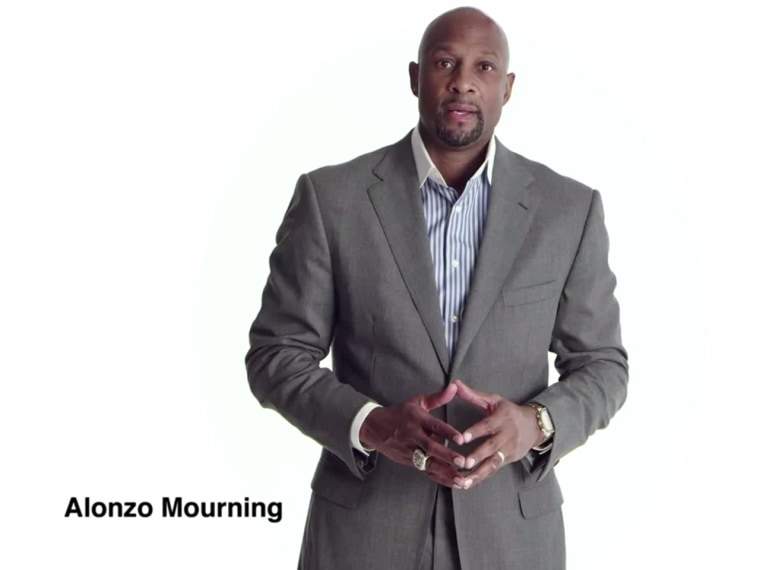 Mourning, 43, a retired center for the Miami Heat, tells how he learned he had kidney disease even as he was "at the top of my game". "Lucky for me, I was insured," he says. 
"We know the young and healthy audience responds well to sports figures, and these 30 second ads feature two NBA legends that each have a compelling health story," Julie Bataille, a spokeswoman for the Centers for Medicare and Medicaid Services, which runs the health exchanges, said in a statement.
"The ads will air nationally on ESPN, ABC, TNT, and NBAtv during NBA games and in local markets that have high concentrations of the uninsured. " They start airing Thursday and are also posted on YouTube.
States are running their own campaigns – Washington State, for instance, has a program with concert organizer LiveNation. And the administration has a bevy of proxies, from EnrollAmerica to Young Invincibles running their own advertising blitzes, as well as events at concerts, colleges, churches and elsewhere. And private insurers who are offering the bulk of the policies on the exchanges are expected to start their own advertising assault soon.
The campaign is a "way to touch people one time, two times, three times, four times, and generate a conversation among the peer group that leads to visiting healthcare.gov or one of the state exchanges," Simas said.
The 2010 Affordable Care Act aims to get health insurance to most of the 45 million people who lack it. 
The administration says about 2.2 million people got signed up during the first three months the exchanges were running. But the federal website – serving people in 36 states – didn't really work properly until December. People have until March 31 to sign up for this year, and the race will be on to sign up as many as possible before the deadline.
But the numbers suggest there's a lot of window-shopping going on: More than 53 million people have visited the state and federal websites, and 11.3 million calls have been made to call centers. Simas said this happened in Massachusetts, which started requiring universal health insurance in 2006 and which started its own online exchange then.
"What they saw in Massachusetts was that people would go back 5,6,7 times. They would look at the choices. Then they would call once, twice, maybe more. It is a very considered purchase and not an impulse purchase," Simas said.
Insurers need to get more under-35s signed up. About a third of the enrollees are aged 55 to 64, 22 percent are 45 to 54 and another 24 percent are 18 to 34, the new numbers show.
Most estimates suggest it's best to have 40 percent of new enrollees in that age group.
Simas says it's not a hard sell – more a matter of letting people know what's available. "Young adults value health insurance," he said.
The campaign is a "way to touch people one time, two times, three times, four times, and generate a conversation among the peer group that leads to visiting healthcare.gov or one of the state exchanges."
There's another reason for the pressure. It's an election year, and the Republicans will campaign hard against Obamacare. 
Congress hasn't let up at all. A House hearing Thursday highlighted security issues on HealthCare.gov with testimony from hackers who said the site wasn't safe.
·  Follow NBCNewsHealth on Facebook and on Twitter