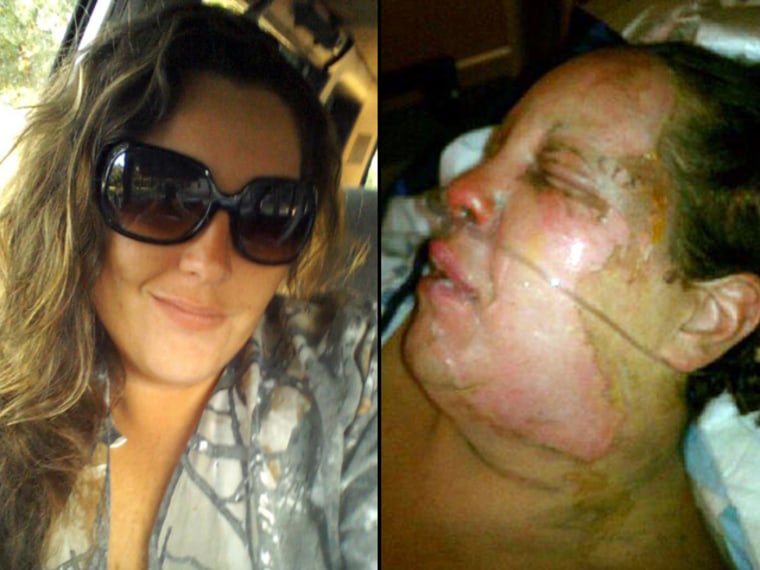 It was supposed to be a routine outpatient surgery to remove some growths from Kim Grice's head. But something went horribly wrong during the Tuesday morning procedure and a flash fire seared Grice's face and neck.
The 29-year-old mother of three was rushed by helicopter to the University of South Alabama Burn Unit with burns to her face and neck.
Grice's mom, who had been waiting in the lobby of the North Okaloosa Medical Center in Crestview, Fla., knew something bad had happened. 
"At 8 a.m. two patients were back there," Ann Grice told the Crestview (Fla.) News Bulletin. "One was my daughter. At 10:20 emergency medical and the fire department pulled up and there was a fifty-fifty chance that they were coming through the doors for my daughter. I went to the desk and no one would tell me what was wrong."
When hospital personnel finally explained that Kim's face had caught fire, Ann was stunned.
"I am in shock," she told the Bulletin. "This is not what happens with a routine outpatient surgery. She had headaches and the doctor was going to remove three cysts and biopsy them. But something went bad wrong and my daughter is now in a burn unit with burn specialists and I still don't know what happened. No one will tell me why or how this happened to her."
What happened to Kim Grice was not an isolated incident. Experts estimate that each year 650 fires flare up in operating rooms around the country. Some patients recover with scars and emotional damage. Some die from burns and smoke inhalation.
Surgeons and other hospital staff are often as surprised as patients when a fire sparks in the OR.
North Okaloosa Medical Center issued a statement with an update on Kim Grice's condition, promising a full investigation of the fire.
"The hospital deeply regrets today's event in which a patient sustained burns during a procedure in our ambulatory surgery center," the statement read. "The staff took immediate steps to respond, including moving the patient to the hospital's emergency department. The patient was fully alert and able to converse with the ED staff during the examination and initial treatment. She was stabilized and then transferred to the University of South Alabama Medical Center for further care.
Experts say it shouldn't be a surprise when fires flash in ORs. All the necessary ingredients are on hand to spark a conflagration.
These days more and more operations use electro-cautery devices and lasers. Those devices are what Dr. David Cowles calls the "trifecta" of elements – oxygen, alcohol prep and an ignition source - that lead to flash fires in the OR.
Story: Operating room fires hurt hundreds a year
"There's a basic simple chemistry and physics principle that when three elements are combined then a fire occurs," Cowles told NBC's Dr. Nancy Snyderman in a recent interview. "Likewise, if you remove any one of those elements it makes it impossible for a fire to occur.
The FDA launched a new initiative to prevent surgical fires, noting that though these are rare events, they are also highly preventable. The agency convened a special workshop to look for ways to stop fires from ever happening and to give medical personnel the tools and knowledge needed to deal with a fire if one occurs.
Until more hospitals learn about the danger of fire in the OR, each year there will be more patients like Kim Grice.
"I am so ready to see my babies," she told the Crestview Bulletin in a telephone interview Thursday from the South Alabama Medical Center's burn unit. "But I don't want them to see me this way."